Death of Mary of Burgundy
Posted on
Death of Mary of Burgundy
On this day in 1482, Mary of Burgundy died from injuries she suffered after a fall from her horse. Her early death was the last tragedy of a life that had suffered many such encounters.
Mary of Burgundy was born in February 1457. Her father, Charles the Bold, was the Duke of the wealthy duchy of Burgundy, while her mother was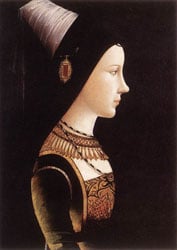 Isabella of Bourbon. Her mother died in 1465, leaving Charles with Mary as his only heir. The general view at the time was that a girl couldn't possibly rule, and therefore Charles decided to remarry. In 1468 Mary acquired a step-mother, Margaret of Burgundy, the sister of King Edward IV (and later, Richard III) of England. Margaret and Charles never had a child, but Mary became close to her step-mother, and it was Margaret who guided Mary's steps when tragedy struck again in 1477, when Charles died in the Battle of Nancy.
Charles had spent most of his life fighting against the French, and King Louis XI wasn't about to let sympathy for an orphaned girl stop him taking advantage of the situation. Luckily for Mary her step-mother was still alive, and she advised Mary to follow the marriage plans her father had set in place before his death. In August 1477, eight months after her father's death, Mary married Maximilian of Austria. They became co-rulers, with Margaret assisting in the background as both a mother figure to Mary and a popular Dowager Duchess to the people.
In July 1478 Mary gave birth to a son, named Philip, thereby ensuring the succession for her family. A daughter named Margaret followed in 1480, and another son called Francis in 1481, who died within a few months. Philip and Margaret would go on to have a double marriage with Infanta Juana and Infante Juan of Spain, the sister and brother of Catherine of Aragon.
Sadly though, Mary would never see her children's marriages. While out hunting in March 1482, Mary's horse fell, throwing her from the saddle, the resulting injuries left her in agony for several days before she died on the 27th March, aged just 25. Philip and Margaret were 4 and 2 years old respectively, and had to learn to rule Burgundy without their mother's advice.