On This Day: Death of Catherine of Aragon
Posted on
On 7th January 1536, Catherine of Aragon passed away at Kimbolton Castle in Cambridgeshire.
As her name "of Aragon" shows, Catherine was a Spanish "Infanta" by birth, the daughter of King Ferdinand of Aragon and Queen Isabella of Castile. Her parents had united Spain and driven out the Muslims, and then married off their children to various European Royal families to cement alliances. Two of her sisters were married to Kings of Portugal, one sister was married to the powerful Habsburg family, and Catherine herself was sent to England to marry Prince Arthur Tudor.
As any student of Tudor history will know, that was a marriage that did not last long or end happily. Catherine spent several years as a widow before marrying King Henry VIII within weeks of his father's death. There followed over twenty years of heartbreak as Catherine frequently miscarried, gave birth to stillborn babies or lost live children within weeks of their birth, with only one daughter name Mary surviving in to adulthood. To this day the reasons why the family was hit by so many tragedies has baffled scientists, especially as it then continued with Anne Boleyn (Jane Seymour had one live son but died herself, Henry's following three wives never had children by him).
Many people blame Anne Boleyn for Henry's attempts to divorce Catherine, despite evidence showing that he was considering getting a divorce before Anne was on the scene. Catherine was a strong woman, the daughter and sister of Queens, she fought Henry's divorce attempts with every weapon she had. But in the end Henry left her for Anne and she was moved from the comfort of beautiful palaces such as Greenwich, to cold stone castles in the damp East Anglian countryside. Her household was reduced, she was banned from seeing her daughter Mary, and she was spied upon. Eventually she succumbed to illness and died in Kimbolton Castle. Rather than bury her in Westminster Abbey, among other late Queens, she was interred in Peterborough Cathedral.
In a further piece of historical scandal, when the embalmers discovered a black growth on Catherine's heart. To the highly superstitious people of Tudor England, this was a clear sign that their beloved Queen had been poisoned, perhaps on the orders of her angry husband, or Catherine's long-term enemy Anne Boleyn. Nowadays it's safe to say that her cause of death was cancer, and even if Henry had kept her as his wife she would have died from it.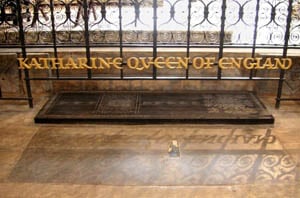 You can visit Catherine's grave at Peterborough Cathedral, where many tourists stop by to see one of England's best-loved queens. Nowadays the Cathedral holds an annual "Katharine of Aragon" festival, which includes laying flowers at her tomb and children dressing up in Tudor costume. You can find out more about it at their website. And if you're a fan of Catherine, we have a badge just for her supporters (or one for Henry)!
(Images from WikiCommons)