On This Day: Death of Nellie Bly
Posted on
On 27th January 1922 an incredible woman passed away in New York. Elizabeth Cochrane Seaman, who went by the pen name "Nellie Bly", was supposed to write about dresses and parties. Instead she had set a record, patented inventions, led mental health reform and annoyed the Mexican government.
Mexico
Nellie became a journalist almost by accident. On reading a misogynistic article in her local newspaper, she wrote a spirited defence to the editor. Her writing style impressed him, leading to first a trial offer and then a full time job as a writer for the Pittsburgh Dispatch. As a woman writer, she was expected to stick solely to the columns dedicated to "women's interest" - which primarily consisted of articles about fashion and beauty, and local celebrity gossip. None of this was of interest to her, so instead she moved to Mexico and began sending home a series of articles about life in the country and it's people. Afer a highly critical article about the Mexican government, Nellie was forced to flee back to America, where she not only published more criticisms on Mexico's politics, but collected her earlier articles and published a book.
Mental Health Reform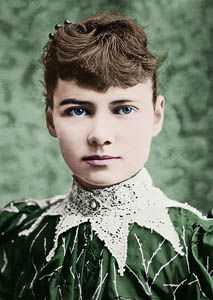 Back in Pittsburgh, Nellie was quickly reduced once again to the women's interest section. She soon got bored and quit her job to move to New York City, where she eventually managed to get a job interview with the New York World, the newspaper owned by Joseph Pullitzer. The paper had received reports of abuse being carried out at a mental asylum in the state, and Nellie was given the task of infiltrating the asylum to see what she could find. In order to be admitted she faked a bout of insanity, and after being brought before a judge and examined by several doctors, she was committed to the asylum. There she witnessed multiple acts of abuse, patients were beaten if they refused to be quiet, fed food that was either uncooked or had gone off, tied together with ropes and left on benches with no mental stimulation to keep them occupied, and occasionally deliberately drenched in freezing cold water.
Nellie spent ten days in the asylum, after which her colleagues at the New York World persuaded the judge that it had been an act and that she should be released. She promptly wrote a report detailing her experiences, which was later also published as a book titled "Ten Days in a Madhouse". One of the biggest scandals was that a woman who was completely sane had been deemed otherwise by medical professionals, leading to questions about how many other women had been mistakenly classed as seriously mentally ill. The abuse she witnessed led to a public scandal, which prompted reform in the mental health system of the state. Nellie frequently submitted her own suggestions for changes that should be made, many of which were implemented.
Eighty Days Around The World
In the book "Eighty Days Around the World", Phileas Fogg makes a grand attempt to circumnavigate the world in a hot air balloon. On 14th November 1889, Nellie started out on her own version of the journey, publically supported by the New York World. She left New York by steamboat, and proceeded to travel through England, France, Italy, Egypt, Sri Lanka, China and Japan, using boats and railways. She took minimal luggage, carrying just one bag with her, and travelled alone. She was also in direct competition, the New York paper "Cosmopolitan" sent their own woman journalist on the same trip, but in the opposite direction.
On 21st January 1890, Nellie's boat docked at San Francisco. Bad weather on the final leg of her journey meant that she was a few days behind schedule, but this was soon dealt with by Joseph Pullitzer, who paid for a private train to carry her back to New York from the west coast. She arrived home on 25th January, having travelled around the world in seventy two days, beating the Cosmopolitan's journalist by four days. Nellie only held the record for a few months, but she would always be the first person to travel around the world in less than eighty days, let alone the first woman to complete such a trip.
Inventor
On marrying in 1895, Nellie gave up writing to work with her husband (who was fourty years her senior) in his company, the Iron Clad Manufacturing Co. Nine years after they married, her husband died, leaving Nellie in charge of the company. She lodged two patents for products that the company made, but the business eventually collapsed as it was embezzled by employees. In the final decade of her life, Nellie returned to writing.
Her death in 1922 appears to have gone relatively unnoticed. She was buried in New York, but her grave was unmarked until 1978 when the New York Press Club paid for the erection of a headstone. However in recent years her accomplishments have been noted in numerous plays, tv shows and movies, which have frequently drawn on her work "Ten Days in a Mad-House", and she was the feature of a 2015 Google Doodle.
If you want to read about more women in history, you can check out my ebook on amazon.co.uk and amazon.com!