Annulment of Eleanor of Aquitaine's Marriage
Posted on
On this day in 1152, Eleanor of Aquitaine officially became a single woman. Her fourteen-year marriage had begun when she was just a teenager, now she was a mother of two daughters, and Duchess of Aquitaine in her own right. Her now former husband, King Louis VII of France, made sure that part of the divorce meant that Eleanor would have to ask his permission to remarry. Unfortunately for Louis, it wouldn't work out that way.
The Marriage
Eleanor and Louis had married in July 1137, within months of her father's death. As the eldest surviving daughter, with no brothers, Eleanor was the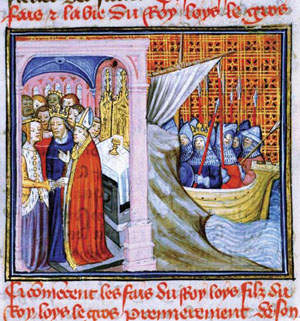 new Duchess of Aquitaine. Prince Louis' father spotted an opportunity to increase his kingdom, and promptly dispatched his son and heir to marry her.
Their marriage was not a happy one. There was a strong clash of personalities and cultures, there was a big difference between Louis' French court and the Aquitainian lifestyle that Eleanor was used to. Louis was also extremely devout, while Eleanor simply followed more traditional piety. They had one child, a daughter named Marie, before they went on Crusade together. While they were in Antioch, rumours flew around that Eleanor was having an affair with her uncle Raymond. Sources state that she suggested to Louis that they divorce, but he refused.
On their eventual journey home they visited the Pope, who worked to reconcile the arguing couple. Eleanor became pregnant with her second child, which turned out to be another daughter. This little girl's birth is probably what saved her from continuing her marriage to Louis, as the French court helped persuade him to divorce her, so that he could marry another woman who would give him a son. The annulment was granted on 21st March 1152 on the grounds of consanguinity, meaning that the Church felt the couple were too closely related. Eleanor once again became Duchess of Aquitaine in her own right, but Louis had to approve any future marriage she might consider. Their daughters were also left to be raised in the French court, rather than sent to Aquitaine with their mother.
The Aftermath
Eleanor raced back to Aquitaine, escaping several attempts to capture her and force her in to marriage. The fact that she travelled as quickly as she did shows that she was well aware of the danger she was now in, while travelling at all shows just how brave and determined she was to make her own life from now on.
In fact she was so determined that she ignored the requirement to see permission from Louis, and remarried eight weeks after her divorce. Her choice of groom was Duke Henry of Normandy, their marriage combined two large Duchies to create the kind of border problem that Louis had wanted to avoid. Henry was everything that Louis wasn't; brave, decisive, quick to take action. She and Henry would go on to have five sons and three daughters, and become King and Queen of England.
While the ending of her marriage to Henry was far from positive, at least the start of it was better than her marriage to Louis.
____________
Fans of Eleanor of Aquitaine should check out her badge!