Execution of Catherine Howard
Posted on
On this day in 1542 Catherine Howard, fifth wife of Henry VIII, was beheaded at the Tower of London. Her execution was the final chilling parallel to the reign of Anne Boleyn, Henry's infamous second wife, who was related to Catherine.
How were Catherine Howard and Anne Boleyn Related?
The actual family relationship between Catherine and Anne is pretty straightforward, despite the multiple marriages of various Howards. Anne's mother, Elizabeth Boleyn, was the younger sister of Catherine's father Lord Edmund Howard. Anne and Catherine were first cousins through a shared grandfather, and nieces of the powerful Lord Thomas Howard, 3rd Duke of Norfolk, who was high in King Henry's favour for most of his reign, and did his best to ensure that he stayed there.
How Similar Were They?
Apart from the manner of their deaths and their marriage to Henry, there's very little similarity between Catherine and Anne. The exact years of birth of both women aren't certain, but the age gap could be somewhere around twenty years. Anne's father, Thomas Boleyn, was a diplomat from a wealthy family. Thomas used his connections to ensure that his children were given good educations in some of Europe's greatest courts. Anne herself served in the courts of Burgundy and France before she returned to England, where her mother and sister were serving Catherine of Aragon.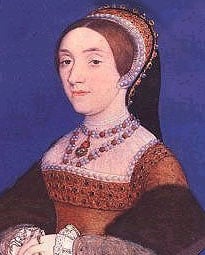 Catherine's father on the other hand was almost constantly in debt, he served at Henry's court but doesn't seem to have had the same flair and abilities as his older brother, or his brother-in-law. He eventually fled to Calais, often a stopping point for men whose debts were more than they could handle. Unable to raise his children himself, he had them farmed out to various wealthy relatives. Catherine, who was five years old when her mother died, was sent to live with Agnes Howard, the Dowager Duchess of Norfolk and step-mother to Thomas, Edmund and Elizabeth (making her a step-grandmother to Anne and Catherine).
Their backgrounds affected their education. Anne spoke several languages, played the lute, composed songs and could argue a theological case with the King with ease. Catherine, whose education was seriously neglected, could read and write. She was taught to dance, and had some music lessons with a man named Henry Maddox (with whom she also had a relationship), but she far from the educated, sophisticated woman that Anne was.
Their Marriages and Deaths
Their courtships by King Henry VIII were also very different. Anne had to wait six years before she was able to marry the King, as he was already married to Catherine of Aragon, and she refused to consent to a divorce. When Anne and Henry did marry it was in secret, Anne was already pregnant so speed was required, but her grand coronation was meant to make up for it. Anne gave birth to a daughter, Elizabeth, and had several miscarriages before she was arrested and put on trial. She was charged with adultery and incest, and had to go through the ordeal of a public trial before she was found guilty and executed. In total she was married to Henry for three years, although their relationship had been going for nine years if you count the time it took to get a divorce.
In comparison Catherine had a relatively short tenure. She joined the court as a maid in waiting to Anne of Cleves, Henry's fourth wife, sometime in early 1540 when Anne came to England for her wedding. By July 1540 Henry had divorced her, a much quicker process when the wife doesn't argue against it, and Catherine became Henry's wife on 28th July 1540. Theirs was a quiet wedding, and Catherine was never formally crowned so there was no coronation to make up for it. It's generally believed that she never conceived, she certainly never gave birth and there's no mention of any miscarriages in historical sources. In November 1541 Catherine was arrested and imprisoned in Syon Abbey. Instead of a public trial she was found guilty of adultery by a "Bill of Attainder". At the time of her execution she had been married for less than two years, and probably hadn't even reached her twentieth birthday.
The final difference between these two women is their guilt. Many historians now argue that Anne certainly wasn't guilty of incest with her brother, and probably wasn't guilty of incest with the other men executed alongside him. On the other hand it's generally believed that Catherine was guilty of having an affair with Thomas Culpeper, although many historians continue to debate just how far they had gone, and whether they were in love, or if Culpeper was using Catherine's affections for him to manipulate her.
After she was beheaded Catherine was buried near her place of execution, in the in the chapel of St Peter ad Vincula at the Tower of London. This was also where Anne Boleyn and her brother George were laid to rest after their executions. These two women, who lived their lives with so many parralels, now continue the pattern in death.
(Image used above is one that is believed to be of Catherine Howard. This particular image was from WikiCommons)
____________
You can also check my Catherine Howard badge.