Coronation of King Edward III of England
Posted on
What do you do when you've booted your husband off the throne? Name your teenager son as king and crown him as quickly as possible!
On 1st February 1327, Isabella of France did just that. After years of humiliation thanks to her weak husband and his favourites (you can read about her wedding here), she had led a rebellion against King Edward II, ably assisted by her lover Roger Mortimer. Isabella won, Edward senior was captured, and suddenly the Queen was left with a massive problem.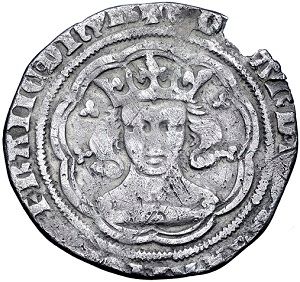 Since she was both a woman and French, Isabella couldn't claim the throne in her own right. Nor could Roger Mortimer, he wasn't a member of the royal family, and him ruling would lead to a serious civil war. Instead they decided to skip the key point of English succession, which required the former king to be dead, and had Edward junior named king. With his father bullied in to giving up the throne to his son (no English king had abdicated before), the fourteen year old boy was declared King Edward III on 25th January 1327.
The fact that the coronation was held a week later shows that Isabella needed to move fast. It wasn't the first rushed coronation, Henry III had to be crowned so quickly that there was no actual crown, his mother had to use a gold collar in it's place. But like Henry, Edward was facing problems within his own country. While many had hated his father, they weren't too happy about him being removed by a French woman and her lover. Not only that but at fourteen it was obvious he was too young to be allowed to rule on his own. Edward III's coronation simply showed the world that he was a puppet king, with mummy pulling the strings.
As it turned out, Edward III would go down in history as one of England's greatest kings. His fifty year rule saw changes to English law and culture, and with his wife Philippa of Hainault he had a large family, unique among those of his ancestors in that his sons actually got along with both him and each other.
Proof then that a rushed coronation didn't necessarily lead to a bad king.