George Harris and Gallipoli
Posted on
The Cape Helles landings were the starting point of the infamous Gallipoli campaign in the First World War. As the men disembarked on the shores of Turkey, my own brother's namesake was with them.
George Harris was born in London on 10th July 1890. He was the third son and sixth child of William John and Harriet Louisa Harris, with William John,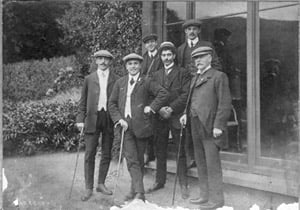 Amelia, Alice Maud, James Henry and Kate Harris (my great-grandmother) all ahead of him, and Albert Edward, Harry and May still to follow over the years.
The Harris family have always been a bit difficult for me to research as they moved around so much, although having such a large family certainly helps them stick out on the censuses! They lived in Chelsea in 1891 and Tothill Street in Westminster in 1901, but while several family members can be found living at Junction Road in Highgate on the 1911 census, George is missing.
The clue to his disappearance comes in his original army service number; 9941. On his medal card George is showing as serving with the Border Regiment under this number. One historian has done a lot of research in to the sequencing of these service numbers, and through his work I managed to work out that George joined the army in 1911, several years before war broke out. The problem with this comes from the fact that no one in my Mum's side of the family ever mentioned this, I suspect it was a little-known fact that was simply forgotten over the years. But it does mean that George had already seen more of the world than any of his brothers.
When war broke out the Border Regiment was stationed in Burma, although thanks to a lack of surviving records I can only assume that George was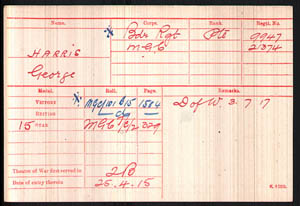 with them. They were promptly shipped back to the UK, and after a few months training were ready for deployment. But a lack of surviving service record hasn't stopped me from piecing together some of George's First World War history. His medal card shows that his first "theatre of war" was "2B", army shorthand for "Gallipoli", and that he first entered the war on 25th April 1915. On that date, 25th April 1915, one hundred years ago today, the 1st Battalion Border Regiment, including George Harris, took part in the Cape Helles landings in Gallipoli. It was while he was fighting in Gallipoli that his older brother, James Henry Harris, was killed by a sniper while fighting with the Duke of Cornwall's Light Infantry in France in September 1915.
Gallipoli had made casualties, but George wasn't one of them. When the troops were evacuated to Egypt in January 1916 he went with them, and while out there was transferred to the Machine Gun Corp in February 1916. Such as a transfer was quite common as it meant that soldiers already trained in certain weapons, such as machine guns, could replace dead or injured soldiers, and thus keep up battalion numbers. It was also at this point that George's service number changed to 11042, it was only after the First World War that soldiers were assigned one permanent service number during their time in the Forces.
As part of the Machine Gun Corp George was then sent to France, progressing up to Belgium. At some point in July he was severely injured. On 3rd July 1917 he died of his wounds. His burial place, Canada Farm Cemetery, indicates that he died at a casualty station, rather than passing away during or after transport to a hospital. Family legend has it that one of his brothers was with him when he died, but this is impossible for me to prove.
James and George were the only two casualties of the Harris family. What's rather surprising to me is that while they fought thousands of miles apart, in death there isn't a great deal of distance between them. James is buried at Fleurbaix cemetery near Lille, George is up near Ypres. Given all the other places he could have died, at least he isn't thousands of miles away from his brother.