Isabella of Austria
Posted on
On this day in 1501, Isabella of Austria was born to Philip of Burgundy and his wife Juana "the Mad" of Castile. I first came across Isabella when researching 30 Women in History, and her story has always struck me as one tinged with sadness.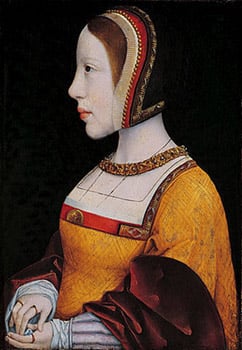 Isabella of Austria (image from Wikipedia)
Her family life was unconventional even for the time. She was left with her father's step-mother-in-law, and then his sister, while her parents frequently travelled to Spain. Philip died when Isabella was only five years old and her mother was declared mad and eventually locked up in Castile by Isbella's grandfather Ferdinand of Aragon. She was under the care of her aunt Margaret, with her grandfather Maximilian, the Holy Roman Emperor, acting as father in Philip's place.
When she was fourteen she was married to King Christian II of Denmark, making her Queen of Denmark. But Christian had a mistress, Dyveke, and Isabella found that she came second in both her husband's heart and at court, where she had very little influence. She only came into her own after Dyveke died.
She and Christian had three sons (of whom two died in infancy) and two daughters, as well as a further stillborn son. But in 1523 her husband was overthrown as King of Denmark (and Norway, and he had also conquered Sweden for a short time) and she was given a choice between exile with her husband or staying in Denmark under the protection of the new King. She chose her husband, and the pair of them moved to Germany, seeking allies who would help Christian regain his throne. It was in Germany that Isabella came in contact with Lutherism. It is believed that she had been considering a conversion to what would become Protestantism, but when her fiercely Catholic Hapsburg relatives heard about her new interest they were furious and Christian encouraged her to keep her feelings quiet, probably because he was worried her family would refuse to help him regain his throne.
In 1525 Isabella fell ill and never recovered. She died later that year near Ghent in modern-day Belgium. She was only twenty four years old. Even in an age of high mortality and powerless women she seems to have had more than her fair share of problems, and it's quite sad that she is rarely remembered.