On This Day: Birth of Arthur Tudor
Posted on
On this day, 20th September 1486, Elizabeth of York, Queen of England, gave birth to a baby boy at Winchester. He was christened with the name Arthur, and his birth symbolised the hope of the new Tudor dynasty.
Childhood
Arthur's birth has caused some historical controversy as his parents were married on 18th January 1486. Over the centuries some have questioned whether Elizabeth of York and Henry VII were lovers before their wedding, citing Arthur's date of birth as proof. Others have argued that he was premature, citing it as a cause for his later illnesses and early death. Regardless, Arthur was given a splendid christening in Winchester cathedral, ordered by his paternal grandmother Margaret Beaufort, with tapestries, carpets, and the font placed on a raised stage so that the crowds could get a good view of their future king. The choice of name was a good propaganda move, as a new king of a new dynasty Henry VII needed to boost the popularity of his line. By naming his son Arthur he was telling the crown that under his family the country would return to the glorious days of Camelot, an extremely popular tale in the medieval period.
Arthur grew up in Farnham in Surrey, close enough to London for his parents to be able to visit him but far enough away that he was protected from the plague and other virulent illnesses which were rife in the city. As the heir to the throne he was assigned a household to care for him, two years after his birth a woman named Elizabeth Darcy was put in charge of his nursery, she had had a similar role for Arthur's maternal uncle Edward. In time Arthur would be sent to "rule" the principality of Wales, while his siblings (including his brother Henry) grew up at the palace of Eltham.
Marriage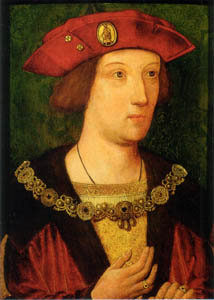 The future of the Tudor dynasty, and it's place in European politics, seemed to be cemented when King Ferdinand and Queen Isabella of Spain proposed a match between Arthur and their youngest daughter Catherine. As the prospective bride and groom were both toddlers at the time it took a while for negotiations to come to a solid conclusion. They finally underwent a marriage "by proxy" in 1499, and in October 1501 Catherine arrived in England. Arthur met her for the first time at Dogmersfield in Hampshire, and would not meet again until their wedding day. Instead Arthur and his father watched Catherine's ceremonial London entry on 12th November from the top floor of a house, out of sight of the Spanish princess.
On 14th November 1501 Prince Arthur and Princess Catherine were married at St Paul's Cathedral. As with his christening, Arthur's marriage ceremony was held on a specially constructed stage so that all those who had been able to squeeze in to the church could see the heir to the throne. After the ceremony the Royal family travelled to Baynard's Castle for the wedding feast. In the evening the couple were put to bed, an event that would lead to serious controversy several decades later over the question of whether the marriage was consummated or not.
Death
Within weeks of the wedding Arthur was dispatched back to Ludlow, taking his new bride with him. They resided in Ludlow Castle, albeit in separate sets of rooms. Their marriage ended up being rather short-lived, on 2nd April 1502 Arthur died after a short illness. The illness that killed him is another cause of debate, with some believing that it was the dreaded "sweating sickness" that had cut through swathes of England in recent years. Others argue that it may have been a measles outbreak, and some believe that it may have been tuberculosis.
Arthur was buried at Worcester Cathedral, where his monument still stands. His throne and his wife both went to his younger brother, Henry VIII.