Royal Mistresses: Athenais de Montespan
Posted on
Many Kings had mistresses, either as brief flings to more long-term commitments. Only the French court turned this in to a semi-official role, with the title "maitress-on-titre" waiting to be bestowed on a favourite with real staying power. In the case of one woman it lasted over a decade, and faced regular condemnation from the Catholic church.
Francoise-Athenais de Rochechouart de Mortemart (or just plain "Athenais" for the rest of this post) was born in to the grand Rouchechouart-Mortemart family in October 1640. The family were known for their education, including the women, and their sharp-tongued wit. Athenais grew up not only to be witty, to be a beauty. With golden hair, big blue eyes, and a curvy figure, she was lucky enough to have the kind of looks that were fashionable at the time, and which attracted the King.
Early years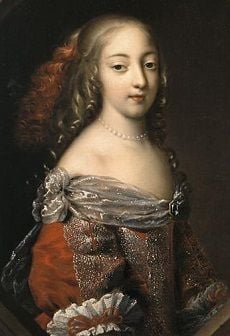 Athenais grew up with close connections at court. Her mother was a lady in waiting and close friend of Louis' mother Queen Anne. Her father was a notable courtier, albeit a not particularly well-off one. The lack of money couldn't have been helped by the older man's taste for gambling and mistresses. The couple had four daughters and a son. Eventually they went their separate ways, Athenais' mother retired to a convent, and her father lived openly with his mistress.
When she was twenty two Athenais was betrothed to the Marquis d'Antin. Sadly the young man was killed in a duel, but luckily his brother the Marquis de Montespan was there to step in to his place at the altar. It proved to be a marriage as unhappy as that of Athenais' parents. Montespan had little money and Athenais had an appetite for beautiful things. A place at court required a certain lifestyle that Montespan couldn't fund without getting in to debt.
Athenais fell pregnant almost immediately after the wedding. A daughter named Marie Christine was born in November, and a son named Louis-Antoine came along in the following September.
By 1666 Montespan was in serious debt. To help pay off some of what was owed he and another brother joined the army. While her husband disappeared to the south to fight for his country, Athenais turned her attention to the King. When he left for the battle lines in Flanders in May 1667 Athenais went along too, albeit as a lady in waiting to his wife Marie-Therese. Their affair might have begun before then, or it might have started while they were on the road. But at some point before the summer Athenais became the King's latest paramour.
Babies and angry spouses
By 1668 the war was over. Louis as back from the border with the Netherlands, and unfortunately for Athenais her husband was back from the border with Spain. Rumours about Athenais and the King had already reached Montespan and he was furious. Rather than step graciously to one side and accept the favours that the King would no doubt bestow on him and his family, he instead hurled abuse at Athenais. Eventually his behaviour landed him a week in jail, after he loudly criticised the King's decision over the appointment of a tutor to the Dauphin. Once his week was up he was dispatched home, away from the court, taking his and Athenais' son and daughter with him.
For Athenais the abuse would have been bad enough, but on top of it all she was pregnant with Louis' child. The King had already had five illegitimate children by his previous mistress Louise de la Valliere, although only two were alive (a daughter named Marie Anne, and a son also named Louis). Although everyone would have known that the child was the King's, legally it would be the child of Montespan himself. Athenais worked hard to keep her pregnancy a complete secret from everyone but the King, and a few trusted servants. She left court briefly to give birth in a small rented property, her daughter was born in March 1669, and returned shortly after. The little girl wouldn't live past the age of two, but three months after her birth Athenais was pregnant again. Louis Auguste was born in 1670 and lived in to his sixties. In total Athenais and the King would have seven children together. Louis Auguste was followed by Louis-Cesar, Louise-Francoise, Louise-Marie (sadly died aged 6), Francoise-Marie, and Louis-Alexandre.
Of course none of these children could be raised in the Royal nursery. Instead a home was created for them in Paris, with a widowed woman Francoise Scarron (nee d'Aubigne) as governess. Francoise was educated, from a good but poor family. She loved the children as her own, taught them to read and write, and created a warm, domestic family home for them.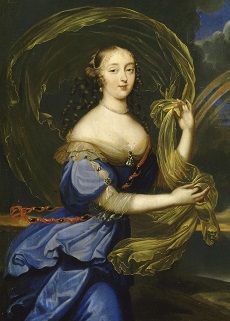 But while she was in the height of favour Athenais was thoroughly indulged by her King. She had her own apartments in various Royal properties, which were decorated according to her tastes. She spent huge amounts of money on gardens and gardening staff, and kept a menagerie of animals. At Versailles she was granted the property "Clagny", which was built according to her specifications and included a home farm with more animals. She set trends at court, developing a series of loose, flowing dresses that hid her pregnancies and became hugely fashionable. She also carried out the kind of artistic patronage that the King's wife generally neglected. And when she didn't get what she wanted she could unleash her fearsome temper, even aiming her tantrums at her royal lover without fear of repercussions. The only thing she couldn't get away with was disrespect to Louis' queen, Maria Theresa. But even then it was the lightest of rebukes, and the other woman would loathe and resent the favourite for the rest of her life.
Separation
In December 1673 the King formally acknowledged his first children by Athenais, legitimising them legally. However he deliberately kept the name of their mother off the record in order to prevent Montespan showing up and claiming them as his own. Athenais went through the process of officially separating from her husband, giving future children the chance to escape him completely. By July 1674 Athenais was formally free of Montespan. But where Montespan had failed, the church succeeded. As Easter 1675 approached Athenais was refused absolution, a requirement if she was to take communion at Easter itself. The Catholic church was determined to break the King's indulgence in adultery and have him remove Athenais from his life. Two weeks later the pair separated. Athenais retired to Clagny and Louis focused on the on-going war with the Dutch.
Their separation lasted 15 months, a period during which Athenais was still treated as the official mistress and received plenty of presents from Louis, despite his attention turning to other women. When Athenais came back in to his life she made short work of these rivals. By August 1676 she was pregnant again, Francois-Marie was born in March 1677, and her last child Louis-Alexandre was born in June 1678. The fact that this was her last child has led to speculation that Louis stopped sleeping with her, although she retained the position of official mistress. Instead the King had brief liaisons with other women at the court (and the occasional additional illegitimate child).
Scandal at court
The Affair of the Poisons was a scandal that rocked the French court, with accusations of poison and witchcraft thrown at numerous members of the court. Olympe Mancini, another former mistress of the King, was accused of killing her husband with poison. She fled the court and went in to self-imposed exile in Spain (although she was probably innocent). Athenais suddenly found herself in a vulnerable position. Not only was she accused of trying to purchase poisons to kill the King, but she was also accused of taking part in a Black Mass.
At this point Louis stepped in. Athenais might have been an adulteress, but she was still a devout Catholic. Taking part in something as dark as a Black Mass, risking her soul to damnation for eternity, was completely out of character. As for poison, Antonia Fraser has suggested that she may have tried to purchase aphrodisiacs. Her hold on Louis was slipping and in desperation she may have tried to buy powders that she hoped would bring him back to her bed. But killing the King would not have saved her position, it would have made it worse. No doubt she would know about how Diane de Poitiers spectacularly fell from grace after Henri II's early death in 1559. If Louis died then his son would be King, with Queen Maria Theresa as the widowed Dowager Queen. Athenais had not been particularly kind to the scorned woman over the years and would not have been able to expect any mercy from her or her son.
The King not only stepped in to ensure that all those who were making accusations were locked up for the rest of their lives, he also had all court papers seized and kept locked up in his apartments. He continued to publicly acknowledge and visit Athenais, showing the court that he had no faith in the accusations and felt perfectly safe in her company. But she no longer had the influence over him of their earlier years together. Now another woman in the King's life held sway.
Final years at court
Although Athenais was still acknowledged as official mistress, in reality it was Francoise Scarron, the woman who had loved and raised Athenais' illegitimate children, who was now the key influence in the King's life. Athenais still got the luxurious apartments, and was still visited by the King, but Francoise was the true favourite. She even encouraged him to have a better relationship with the Queen, earning her gratitude in the process.
In 1683 Queen Maria Theresa died. Louis was with her to the end, but it was Athenais who played the lead role in the funeral as she had been superintendent to the Queen's household (a position that Louis had given her to keep her close). Not only did Athenais lose her "job", but she was to lose much more. Some time between October 1683 and January 1684 (the exact date isn't known) Louis decided to marry Francoise Scarron. As she wasn't a noblewoman the marriage was morganatic, so Francoise could never be given the title or role of Queen. But this still meant that Athenais had to move out of her apartments at Versailles to a lesser (although still very grand) set of rooms.
By 1691 she had had enough. In a fit of temper she declared that she was leaving the court, and took herself off to Paris. Rather than chase after her and bring her back to court, as he would have done in his youth, Louis simply gave her apartments to their son Louis-Auguste. The King gave her a generous pension, but after her death he reportedly stated that she had been "dead to him" for years. Once a woman left his court he never saw them again.
Atonement
Athenais retired to the convent Filles de Saint-Joseph in Paris. Here she replaced her silks and furs with coarse fabrics, and swapped indulgent banquets for small meals and regular fasting. She lost so much weight that she was virtually unrecognisable, while her golden hair reportedly turned white. She dedicated the rest of her life to making shirts for the poor, taking part in cooking for and feeding visitors to the convent, and donating her considerable pension from the King to hospitals and schools. In 1703 she used her money to purchase a building that was set up as a hostel for 100 poor men and women, giving them a place to stay and a hot meal. She was visited regularly by her eldest surviving daughter, Louise Francoise, developing a closer relationship than they'd had in Louise's earlier years. By now all of Athenais' children by Louis had been legitimised, and would all have prestigious (albeit rather unhappy) marriages.
Athenais died on 27 May 1707, after travelling to Bourbon-l'Archambault to drink the waters. The King refused to allow court mourning for her, even by their children. She was buried with a simple stone bearing her name and title. Nothing to indicate that for over a decade she had been the beloved mistress of the King.
---
Last month's Royal Mistress was Alice Perrers.
If you're a fan of King Louis XIV then you might like his badge!