Almost Kings - Nixa of Russia
Posted on
I've previously written about an English "Almost King", Prince Arthur Victor, whose early death led to his younger brother claiming both his crown and his pretty bride. The Romanov dynasty of Russia went through a similar situation a few decades earlier, although in their case the prince concerned was far more promising.
Tsarevich Nicholas "Nixa" Alexandrovich was born in September 1843 to the heir to the Russian throne, Alexander Nikolaevich, and his first wife Maria Alexandrovna (originally Wilhelmine Marie of Hesse). He had an older sister, Grand Duchess Alexandra, but as the eldest son he became the future heir to the throne at birth. He would be joined by five more brothers and another sister, including a brother named Alexander (nicknamed "Sasha") who was born when Nixa was just 18 months old.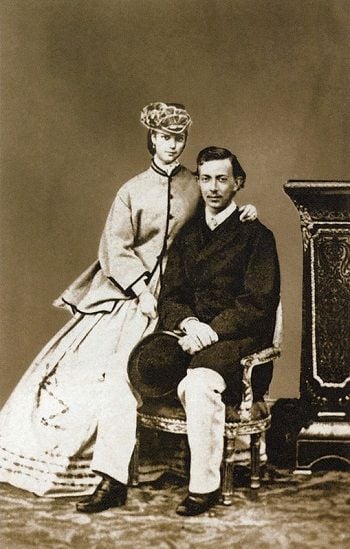 Nixa grew up in a close family. His parents were considered to be a love match. Alexander had met and fallen for Maria when she was just a fourteen year old living in Germany, and they had married shortly after her sixteenth birthday. She spent the two years becoming fluent in Russian, which endeared her to her new in-laws, but she found the Russian court and it's activities to be bewildering and boring.
However, in her youth Maria had received an excellent education on the orders of her mother, and Alexander himself had been well prepared for the time when he would become Emperor. It may have been this shared experience of the benefits of a good education that led to their decision to have Nixa so well educated. He was appointed a tutor and a range of teachers to give him a good start in life, and they appear to have been aided by his own natural intelligence. His family were impressed by his intellect as the boy grew up.
In 1855 Nixa's grandfather Emperor Nicholas I died at St Petersburg after contracting pneumonia. With his father becoming Emperor Alexander II, Nixa was now Tsarevich and first in line for the throne. Had he lived, Russia would have had an Emperor Nicholas II far earlier.
His education expanded as he grew. He was granted a tutor in Russian law, so he would be familiar with the legislation of his country, and he was sent on a tour of the country so he could see and understand the land he would one day rule. His father also ensured that he witnessed his own ruling first hand. When he signed a law emancipating the Russian serfs, Alexander invited Nixa to his study to witness him signing the document. It would have been an impressive moment in history for an heir to watch.
In 1864 Emperor Alexander dispatched his heir on a second tour, this time covering Europe. He was now twenty one years old and the family must have been starting to think about arranging a marriage for him. For several generations the Romanovs had found wives from western Europe, primarily from Germany. His mother was from a German principality, as was his paternal grandmother, and his father's paternal grandmother.
One of the places on the itinerary was the kingdom of Denmark. Nixa had seen a picture of a pretty Danish princess, Dagmar (sister of Alexandra, wife of King Edward VII of England), and reportedly took a shine to her. The pair met when he arrived in Denmark to be hosted by her family, and they quickly formed an attachment. Soon Nixa was writing enthusiastically about her to his mother, describing her as "lively but shy". Together they stole a kiss after lagging behind on a Danish family walk, and soon there was talk of the connection being made official. An engagement was proposed, complete with an official photo of Dagmar sitting on the arm of a chair, one arm around the shoulders of a seated Nixa.
With some reluctance Nixa left Denmark and his betrothed to return to his European tour, which still needed to take in Italy. But he complained of a sharp pain when horse riding and by the time he had reached Italy he was in agony with a "swelling" on his back. He was prescribed a range of treatments but his condition failed to improve. He and Dagmar kept up a devoted correspondence for months.
In November 1864 Nixa was transported in a Russian ship to Nice, where he was met by his mother Empress Maria. Five months later he was finally diagnosed with cerebrospinal meningitis, and moved further inland to the Villa Bermond, where it became clear that he wasn't going to improve.
News that his beloved son was dying caused Emperor Alexander II to dash across Europe, bringing two of his younger sons with him to say his goodbyes. His second son Sasha had already made the journey and was in Nice supporting the Empress. Dagmar was also summoned, and escorted by her mother, she met up with the Russian contingent in Berlin and joined them for the journey through France.
In Nice, Nixa was thrilled to find his father and his brothers had arrived, and overjoyed when Dagmar was brought into the room. But soon after their arrival his health took a turn for the worst.
One morning the family were woken with news that Nixa could no longer stomach the medication he was being given. They rushed to his bedside for the final farewell. In his final moments Nixa reportedly held both his brother Sasha and his fiance Dagmar by the hands and seemed to indicate that he wanted Alexander to marry the Danish princess in his place. Poor Dagmar kissed him one final time, and then he died.
If it was Nixa's wish then it was ultimately granted. After being given time to grieve in her home country Dagmar welcomed a visit from Tsarevich Alexander in 1866. They were married in September that year in St Petersburg, at which point she took the name Maria Fyodorovna.
Dagmar had six children and survived the Russian revolution, dying in Copenhagen in 1926. Although she had wanted to be buried next to her husband, the political situation at the time meant she was originally interred at Roskilde Cathedral in Denmark. In 2006 she was finally laid to rest next to Emperor Alexander.
---
Last month's Almost King was Don Carlos, Prince of Asturias.