Desperately Seeking Sons: Leopold, Margaret Theresa, Claudia, Eleonore
Posted on
When he became Holy Roman Emperor in July 1658, Leopold I was already very familiar with how essential a spare to the heir was.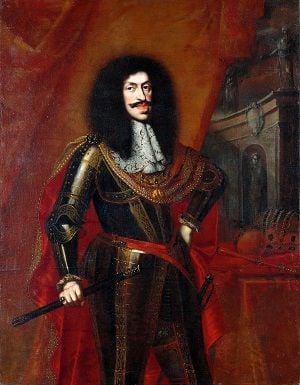 He had been the fourth son of Holy Roman Emperor Ferdinand III, with his older brother Ferdinand first in line for their father's crown. But the young Ferdinand had been felled by smallpox in 1654 at the age of 21. Leopold's other brothers, Philip and Maximilian, had both died in infancy, and so the crown fell to the last of four boys.
Archduke Ferdinand had been due to marry his cousin the Infanta Maria Theresa of Spain. His death left a vacancy for the role of "bridegroom", but the match was not rearranged with Leopold taking his place. Instead Maria Theresa went on to marry another of her cousins, King Louis XIV of France, and her younger half-sister Margaret Theresa of Spain was ultimately substituted.
Margaret Theresa of Spain
Like her husband Margaret Theresa was familiar with the need for a large royal nursery. She was the daughter of King Philip IV of Spain by his second wife (and niece) Mariana of Austria, who was also Leopold's sister.
Philip's first wife Elisabeth of France died in 1644, and although she and Philip had had eight children together only two had survived; Balthasar Charles, Prince of Asturias, and the Infanta Maria Theresa. But in 1646 Balthasar had died, leaving Maria Theresa as sole heir to the Spanish throne. Desperate for a new male heir Philip and Mariana were married in 1649. Margaret Theresa was their first child, born in 1651, but the only other surviving child was her younger brother Charles.
For many the deaths of so many children would be bad luck, but the constant intermarriage between Spain and the Holy Roman Empire was the root of the real issue. There were multiple first cousin and uncle-niece marriages over the generations, leading to serious health issues in the resulting offspring.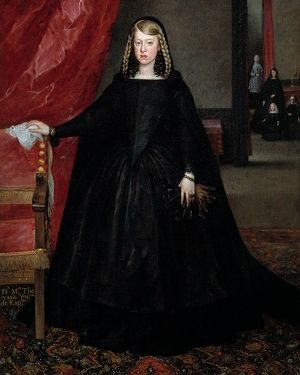 Margaret Theresa may not have been aware of it, but she seems to have avoided the worst of the genetic lottery. Her younger brother Charles suffered frequent bouts of serious health problems, but Margaret Theresa was rarely ill. Growing up in Madrid meant that she was kept close to her parents and her mother saw that she had a good education.
In 1660 Margaret's sister Maria Theresa was married to the King of France. In the terms of the marriage agreement it was stated that Maria Theresa renounced her claims to the Spanish throne, in theory denying King Louis a chance to claim Spain in right of his wife if Prince Charles died without a male heir. This just left Margaret Theresa as the only other acceptable heir to the Spanish throne.
Discussions about her marriage primarily focused on Leopold, with one Spanish ambassador in France also suggesting King Charles II of England (a proposal that was quickly refused by King Philip). Philip was hesitant about any marriage due to Margaret Theresa's status as heir. He wanted her to be sole ruler of Spain if the time came, without a powerful husband who could claim the kingdom and push her aside. But she had to marry someone. After negotiations the pair were officially betrothed in April 1663, and the marriage contract signed in December. As Margaret was only 12 she didn't leave Spain immediately, but several portraits were sent to Leopold so he could see his bride.
Marriage preparations began, but were postponed when King Philip died in September 1665. Prince Charles was only three years old so Margaret Theresa's mother Mariana became Regent. Knowing Philip's reluctance to marry their daughter to Leopold, Mariana delayed the wedding repeatedly, with the proxy ceremony finally held in April 1666, and the Spanish Royal Fleet finally embarked with it's precious cargo in July. Margaret Theresa crossed Italy and Switzerland before finally meeting Leopold on the outskirts of Vienna in November.
The official marriage ceremony was held in Vienna in December 1666, with extensive celebrations being thrown. Despite the 11 year age gap, Margaret was just 15 and Leopold was 26, the pair had some shared interests. Leopold commissioned operas and ballets to amuse his wife, and they shared a love of music. Margaret Theresa was allowed to keep her Spanish entourage and set up her own little home away from home at her new court.
Children soon began to arrive, but the same infant mortality problem followed. A son named Ferdinand was born in September 1667, but died months later. Maria Antonia arrived in 1669 and survived. But John Leopold died within hours of birth in 1670, and in 1672 baby Maria Anna lived a mere two weeks. Margaret Theresa is also believed to have had at least two miscarriages, possibly in the two years between John and Maria Anna.
The succession of pregnancies and miscarriages, followed by births and then grief at her losses, seriously damaged Margaret Theresa's health. She was just 21 years old when she died in March 1673, leaving Leopold to grieve his "only Margareta". But his only living child was his daughter Maria Antonia, who at just four years old could be felled by illness at any moment.
Just four months later Leopold was back at the altar with his second wife, Claudia Felicitas of Austria.
Claudia Felicitas of Austria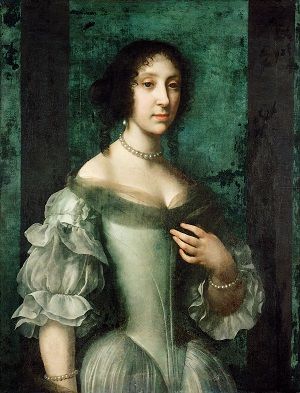 Born in 1653 Claudia Felicitas held an impecable pedigree. Her father was a member of the "Tyrolean" Habsburg line, descended from a younger son of Holy Roman Emperor Ferdinand I, while her mother was a member of the Tuscan De Medici family. Her parents were double first cousins, and Anna was twelve years older than her husband. Together they created an elegant court filled with music and artists. Claudia became a talented musician, able to play multiple instruments and even compose her own music.
Claudia's father died without a son in 1662, leaving his brother as the next in line. But after her uncle also died without a male heir, Claudia and her sister became joint heiresses. In 1669 Claudia's sister also died, leaving her sole heir to her father's Tyrolean estates.
Anna did her best to defend her daughter's inheritance and act as Regent, but the lands had devolved to Emperor Leopold and he rejected her attempts to gain control. In the end Margaret Theresa's death meant that the dispute could be solved the old-fashioned way – through a marriage. Claudia accepted the proposal, hopefully she was unaware of just how upset Leopold was at the death of his first wife.
The wedding was held in October 1673 and after the usual celebrations Claudia relocated to Vienna with her new husband. At least this Empress could speak German with her courtiers. She and Leopold appear to have grown close quickly, but she had a frosty relationship with his highly influential stepmother Eleonora Gonzaga.
However, the real aim of the marriage was to produce male heirs. Their first child was born September 1674, but the hoped-for boy was actually a girl. The little Archduchess was named Anna Maria but like her half-siblings her time was short and she died a few days before Christmas that year. Claudia quickly fell pregnant again, but the baby born in October 1675 was another girl, Maria Josepha.
Like her predecessor Claudia's health was poor after two pregnancies and births in quick succession. Six months after Maria Josepha's birth Claudia died in Vienna aged just 22. She is believed to have had tuberculosis. Baby Maria Josepha died three months later. Once again Leopold was struck with grief and even retired to the seclusion of a monastery to grieve in private. Once again he was widowed and in need of legitimate offspring. The hunt for a new wife was on!
Eleonore Magdalene of Neuberg
Eleonore Magdalene didn't want to be a wife or, presumably, a mother. She wanted to become a nun and dedicate her life to God.
Born in January 1655 she ended up being the eldest of seventeen children (although several died in infancy). She grew up deeply pious, dedicating her days to visiting the poor and the sick and reading religious texts. She was also very clever and was given an education to go with it. In particular she showed an apt for languages, eventually becoming fluent in Latin, German, French and Italian. She combined this talent with her faith, spending her spare time translating various religious works into German.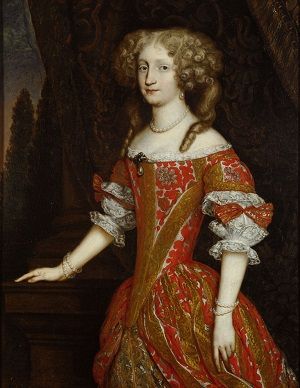 As she grew up Eleonore became more focused on the ideal of a religious life. She expressed a wish to join a convent but her parents refused. With her intelligence and beauty she could have her pick of men, at 1671 she was proposed to by one James, Duke of York, who would eventually marry Mary of Modena and become King James II of England. But she refused to accept him, while on the other side of things her parents refused to let her dedicate her life to the Church.
In 1676 Eleonore was 21 years old and still unmarried. Her fathers connections and her mothers fertility brought her to the attention of the Imperial Court. The negotiations carried on for months, but in November she and Leopold were officially betrothed.
Eleonore was still a reluctant bride but her parents had made it clear that they would never give permission for her to become a nun, and Holy Roman Empress might as well be a suitable second place prize (her next surviving sister was only 11 so if she'd been resolute in her refusal there wasn't a backup in the family and Leopold would have had to look elsewhere).
The marriage was held in December 1676 with the usual celebrations. A healthy boy named Joseph was born in July 1678 and was followed by Maria Christina in 1679 (although she didn't live long), Maria Elisabeth in 1680, Leopold Joseph in 1682 (died in infancy), Maria Anna in 1683, Maria Theresa in 1684 (died aged 12), Charles in 1685, Maria Josepha in 1687 (died aged 5), Maria Magdalena in 1689, and Maria Margaret rounded off the nusery in 1690 but died the following year.
But five out of ten children surviving was enough to give Leopold the heir and the spare that he had needed. And it wasn't just her fertility that made her an asset to her husband. Although he was also fluent in multiple languages she may have been the better translator, and he trusted her with his political papers and letters. She overhauled the imperial courts expenses while simultaneously expanding charitable contributions. Religious building, orphanages and hospitals were all funded by the imperial family, spreading their prestige and improving their popularity.
On paper Eleonore appears to have had a charmed life as the beloved wife of an Emperor. But her husband's lands faced multiple threats that repeatedly disrupted her family's lives. Outbreaks of plague forced the family to move several times and smallpox claimed the life of at least one of their children, twelve year old Maria Theresa. Leopold also faced peasant rebellions in his lands, and invasions from the Ottoman Empire. But there were also happy moments. Eleonore arranged her children's marriages, beginning with her eldest son Joseph who married Wilhelmine Amalie of Brunswick in February 1699.
In May 1705 Eleanore became a widow when Leopold died in Vienna. This may have been an opportunity for her to retire to the monastic life that she had dreamed off as a child, but while she dressed in mourning for the rest of her life she chose to remain politically active. As a result she and her daughter-in-law, now Empress Wilhelmine, occasionally clashed. However, they managed to agree on two things; that Joseph should stop having affairs, and (years later) that his and Wilhelmine's daughters should take priority in the line of succession. She may have been closer to her other daughter-in-law, Elisabeth Christine of Brunswick-Wolfenbuttel, whose married to Eleonore's younger son Charles was arranged by Wilhelmine. Elisabeth had been raised a Lutheran but was required to convert to Catholicism in order to marry Charles, and Eleonore took the lead in training her in Catholic ways, even taking her on pilgrimage in 1706. Elisabeth was sent out to Spain, where Charles was attempting to claim the Spanish throne, in 1708 and the pair were married there in August that year.
Emperor Joseph didn't spend long on his throne as he died of smallpox in April 1711. He and Wilhelmine had had three children; Maria Josepha (born in December 1699), Leopold Joseph (born in October 1700), and Maria Amalia (born in 1701). Leopold Joseph died before his first birthday, and an STD that Wilhelmine contracted from her husband may have made her infertile. As a result Joseph's male heir was his younger brother Charles, who was still residing in Spain at the time of Joseph's death. Eleonore took over as Regent while Charles began the journey home with Elisabeth in tow.
In the following years Eleonore worked with Wilhelmine to advocate for her eldest granddaughters. Charles and Elisabeth had four children, Leopold Johann was born in April 1716 but was dead before the year was out. Maria Theresa, Maria Anna, and Maria Amalia, all followed between 1717 and 1724, but no other sons were forthcoming. Charles spent the rest of his life campaigning to have Maria Theresa acknowledged as his heir over Joseph's daughters, in direct opposition to his mother and his sister-in-law. She also intervened in the marriage of her niece, Maria Clementina, to the Jacobite pretender, James Francis Edward Stuart. Charles had his cousin arrested as she tried to make her way to Italy to marry the Pretender, but Eleonore intervened and managed to arrange for her niece to escape.
It would prove to be her last political act. On New Years Day 1720 she suffered a stroke and was paralysed on her right hand side. Wilhelmine and Elisabeth united to nurse her through her final illness while her family gathered to say their farewells. She died 19 days later and was buried in the Imperial Crypt in Vienna. In keeping with her pious tendencies she reportedly requested that she be interred in a plain wooden coffin, but in 1755 she was reinterred in a more decorative resting place on the orders of her granddaughter Maria Theresa.