Desperately Seeking Sons: Manuel, Isabella, Maria and Eleanor
Posted on
King Manuel I of Portugal is known as "Manuel the Fortunate" because he wasn't supposed to become King. He was the youngest of his parents nine children and the last of their six sons, but illness and murder conspired to leave him as the sole heir to both his parents lands and the family's claim to the Portuguese throne.
Although he was a bachelor when he came to the Portuguese throne, Manuel ultimately married three times. His first two wives were sisters and his third wife was their niece. Although none of his predecessors had married sisters, local politics meant that many Queen Consorts of Portugal were from Castile or Aragon, interspersed with Portuguese noblewomen and one English noblewoman, and Manuel was simply following this convention.
Isabella of Aragon
Isabella was the eldest sister of England's Queen, Catherine of Aragon. For the first seven years of her life young Isabella, who was born in October 1470, was the heir to the kingdoms of Castile and Aragon. Although Castile had a history of accepting Queens Regnant, Aragon didn't. Despite this both countries were relieved when her brother Juan was born in June 1478. He was followed by Juana in 1479, Maria in 1482, and Catalina (Catherine) in 1485. With only one son there was always a chance that Isabella might yet becoming Queen of Castile or Aragon, or both.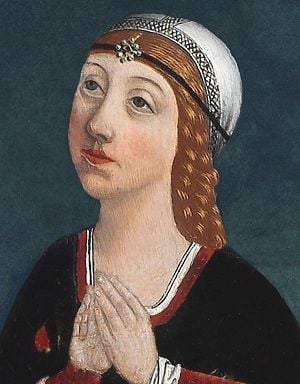 Isabella's mother, Queen Isabella of Castile, had had to fight Portugal for her throne. In the resulting peace treaty the young Princess was required to live in Portugal, effectively as a royal hostage. The same treaty agreed that Isabella would marry the heir to the Portugese throne, Prince Afonso. Her three years in Portugal included a period living with the young Prince and his grandmother. Afonso was five years younger than Isabella so the pair wouldn't have much in common, but the experience did make Isabella familiar with both the language and the Portuguese court.
The marriage was finally realised in 1490 with a proxy wedding in the spring and then in-person in November that same year. Isabella was 20 years old and Afonso was 15. It quickly proved to be an excellent match. Isabella fell in love with Afonso, and his family loved her. The scene was set for a popular and happy future.
But sadly the marriage didn't even last a year. Afonso died on 13th July 1491, reportedly after being thrown from and trampled by his own horse. Isabella returned to her parent's court a widow and swore that she wished to join a convent and take a vow of perpetual chastity. She had loved her young husband and had no wish to be married to anyone else.
Prince Afonso had been the only surviving legitimate male heir of King John II and his death led to a brief succession crisis. At first John tried to arrange for his illegitimate son to be acknowledge as heir but when this failed he turned to his closest male relative, Duke Manuel of Beja and Viseu. When King John died in 1495 Manuel was unmarried and now King and thus a very eligible bachelor.
But Manuel didn't just want anyone as his wife. Having met her at the Portugese court when she was Afonso's wife, Manuel was keen to have Isabella as his Queen and after some persuasion from her parents (who made Manuel swear to persecute his Jewish population in return for their support) Isabella finally consented. Her second marriage took place in September 1497. But it was marred by a second tragedy. As she and her family moved towards the Castilian-Portugese border for her wedding her only brother Juan fell sick and died. As a result Isabella was now Queen of Portugal and prospective Queen of Castile and possibly even Aragon.
Isabella and Manuel left Portugal for Castile, where Isabella's mother arranged for her courtiers to swear allegience to the pair as her heirs. They then moved on to Aragon, where Isabella gave birth to a baby boy on 23rd August 1498, who was named Miguel. But Isabella, whose health may have been poor for some time, died shortly after he was born. Manuel now had his required heir, but he was a widower and needed a new Queen.
Maria of Aragon
Born in June 1482, Maria was reportedly the survivor of a set of twins (although sources differ over whether her sibling was male or female). Like her sisters her parents were keen to arrange a good match for her, but unlike her sisters there didn't seem to be a "stand out" candidate for her hand. Isabella was betrothed to Afonso at an early age, Juana's marriage was arranged as a joint match with the Duchy of Burgundy (Juana married Philip "the Handsome" and her brother Juan married Philip's sister Margaret), and Catalina was the favoured candidate for England from the age of three.
Maria was proposed as a potential wife for the King of Scotland, but instead the King married the English princess Margaret Tudor. Nothing was set in stone for her when her sister Isabella died, and suddenly there was a neighbouring King in need of a wife. Manuel and Maria had met when he and Isabella had visited Castile and Aragon so they knew each other, and while Maria didn't have the same familiarity with the Portugese court as her sister she was still a well educated Princess.
Maria and Manuel were married in October 1500. The wedding may have had a certain urgency as little Miguel had died the previous month so Manuel was now heirless. But that problem was soon forgotten about. In June 1502 Maria gave birth to a boy named John. This was the start of fourteen years of pregnancies and births, giving Manuel a total of ten children, of whom eight survived infancy.
As Queen, Maria appears to have been focused on her family. She had received an excellent education and ensured that her children were also well taught. She was deeply pious and supported religious initiatives such as religious houses, and her husband's plan to conquer the Muslim world, regain control of Jerusalem, and destroy Islam's two holiest sites – Mecca and Medina.
Maria's fertility was great for the Portugese nursery, but terrible for her in the long run. Her health slowly got worse with each subsequent pregnancy until the birth of her last son Antonio in September 1516. Antonio died within hours of birth, and Maria struggled to recover in the following months. When she died in March 1517 she left Manuel with six sons and two daughters. Her death was probably caused by her pregnancies, she may have been suffering from pernicious anaemia or another deficiency. Manuel had her buried at the Jeronimos Monastery, where their tombs can still be found side by side.
Eleanor of Austria
Despite his overflowing nursery Manuel decided to marry again. Once more he looked to his neighbours for a wife, and eventually settled on Maria and Isabella's niece Eleanor of Austria.
Eleanor was the first child born to Maria and Isabella's sister Juana by her husband Philip. Philip was the heir to both the Duchy of Burgundy and the Holy Roman Empire. Fifteen months after her birth she was joined by a brother, Charles. Over the following years more siblings arrived; Isabella, Ferdinand, Maria and Catalina were born between July 1501 and January 1507. However, Ferdinand and Catalina were primarily raised in Spain while Eleanor, Charles and Maria resided in the Netherlands.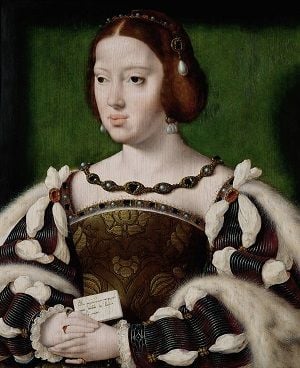 The early death of Philip in 1506 (Juana was pregnant with Catalina at the time) meant that Eleanor's future would be at the command of her younger brother. The pair were raised together with their sister Maria, under the care of their great-aunt Margaret (sister of England's King Edward IV) and then their aunt, also named Margaret (Philip's sister). From their early years they shared a schoolroom with the same tutors, lived in the same household, and travelled together when the court moved.
But while they were close Charles would prove to be a man who did not let affection for his siblings get in the way of what he felt was best for the countries he ruled. As they grew up the question of marriages began to be raised, particularly for Eleanor since she was the eldest. From an early age there were plans to marry her to the young English prince, Henry Tudor. Since Eleanor's aunt Catherine had been married to Henry's brother Arthur there were questions over whether it was appropriate for her to marry Henry. Had the old King Henry VII lived a few years more the prince might have found himself being sent down the aisle with Eleanor at his side, but since he was single when he came to the throne he was able to choose himself. He chose Catherine, and Eleanor remained unattached.
But there was no shortage of candidates for a young and well-connected princess. King Louis XII of France was elderly and in need of a son and on his death his cousin, who became King Francis I, was also thought of as possible groom. King Sigismund I of Poland remained unmarried until his mid-forties, while the Duke of Lorraine was a mere 9 years older than Eleanor and could be a useful ally for the Netherlands.
But as the years went by and a husband failed to appear on the horizon Eleanor seems to have tried to take matters into her own hands. She fell in love with a member of her brother's court, Duke Frederick the Elector Palatine, and they ended up exchanging love letters. Eleanor appears to have been genuinely in love with Frederick, whether he was in love with her or cynically manipulating a young woman's crush is difficult to tell. Eleanor may have been building up to ask Charles for permission to marry Frederick, but before she could do so she appears to have been betrayed by one of her servants. Charles forced the couple to confess all the details before banishing Frederick from court. Their aunt Maria was already dead and it seems that Charles had already proposed Eleanor as her replacement, and no mere Elector Palatine was going to get in the way.
When Charles left the Netherlands for Spain in 1517 Eleanor went with him. It took time for a marriage to be negotiated, and there seems to have been some question over whether Eleanor would be a better match for Manuel and Maria's eldest son John. But in July 1518 it was Manuel whom Eleanor was married to. She became stepmother to Maria's children, the eldest of whom was only four years younger than her. In February 1520 she gave birth to her first child, a boy named Charles. Sadly for Eleanor he died of illness in April 1521, and two months later she delivered a daughter named Maria.
In December 1521 Manuel died suddenly after contracting the plague. His eldest son by Maria became King John III. Eleanor may have wanted to stay in Portugal with her baby daughter but Charles persuaded her to return to Spain with the promise that he would not force her to marry again. He named her as Regent of Castile in October 1523 when he left to fight in Navarre, but by this point had already broken his promise by arranging her betrothal to the Duke of Bourbon.
The marriage to Bourbon never went ahead. Instead in 1526 Eleanor was betrothed to King Francis I of France. Three years later the peace agreed between Charles and Francis confirmed that the marriage would go ahead, and she married Francis in July 1530, while her coronation was held in May 1531. It was not a happy marriage. Francis was more interested in his latest mistress and his wife had very little influence or power. Once again she had become a stepmother and raised Francis' daughters Madeleine and Marguerite in her household. She and Francis had no children and it was rumoured that this was because Francis rarely went to bed with her, again preferring his mistress.
While she had no obvious political power or influence over her husband, Eleanor did act as a go-between for France and her brother. She wrote to Charles with news from the French court and on at least one occasion gave him valuable insight into Francis' frame of mind (an insight which Charles ignored which ultimately led to him getting a less favourable treaty). Several times she was present at or actively engaged in peace negotiations between Francis and Charles.
Francis died in March 1547, once again leaving Eleanor a widow. Again she returned to Charles' court, this time at their childhood home in the Netherlands. Charles abdicated as Holy Roman Empire and King of Spain in October 1555 and in August 1556 Eleanor and their sister Maria returned to Spain with Charles, where he entered a monastery. Eleanor and Maria lived nearby and frequently visited their brother.
In 1558 Eleanor's daughter by Manuel, Maria, was given permission to visit her mother. The pair met at Badajoz near the border with Portugal, where Maria stayed for three weeks. They hadn't seen each other in 28 years and Maria was unmarried and the wealthiest woman in Portugal, almost as rich as the King. Despite Eleanor's pleas Maria refused to move to Castile permanently to live with her and ultimately returned to Portugal. As Eleanor returned home she fell ill and died on 25th February.
Despite the number of sons Maria had provided Manuel, the early death of their grandson King Sebastian led to a succession crisis that saw Charles' son King Philip II of Spain add Portugal to his extensive holdings. Eventually the throne would be claimed by their great-great-grandson John, descendant of their sixth son Duarte. Eleanor and Manuel's daugher Maria never married.
---
Last month's Desperately Seeking Sons was on James, Madeleine, and Mary.