Desperately Seeking Sons: Louis, Eleanor, Constance and Adela
Posted on
At the birth of Prince Louis of France some time during 1120 there was no guarantee that he would become King. He was the second son of King Louis VI, aka "Louis the Fat". With an elder brother, Philip, who looked to be a relatively healthy child it was hoped that the "spare" would not be needed.
As a result Louis was raised to be a man of the cloth. A religious life was considered to be a suitable occupation for royal younger sons as the hope was that they would be able to influence the wider clergy to support their family. A particularly skilled young man (or one backed up by a lot of money from the royal coffers) could even dream of being Pope one day.
Prince Philip had been crowned as co-King by his father in 1129. This French custom helped smooth the succession when the old King died, by ensuring that the heir was recognised as such during his father's life time. Two years later, in October 1131, the Prince and his friends were riding through Paris when his horse was tripped and fell. Philip was thrown from his mount and was so seriously injured in the fall that he died the next day.
The King was devastated but pragmatic. The young Louis was crowned two weeks after his brother's death, and from then on it was clear to everyone that instead of King Philip II, they would have a King Louis VII. He was only 11 years old, but now the weight of the crown of France and all it's responsibilities rested on him. And that included fathering the next King.
Eleanor of Aquitaine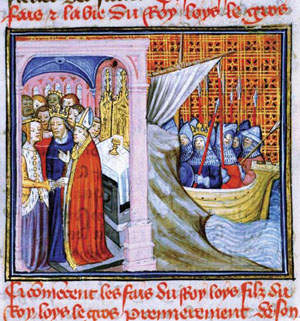 When Eleanor of Aquitaine walked down the aisle in July 1137, she was fifteen years old and the heiress of the highly valuable Duchy of Aquitaine. Her father's untimely death while on pilgrimage meant that she was suddenly in a deeply vulnerable position, and King Louis "the Fat" of France had moved quickly to secure Aquitaine for his crown.
The groom was, naturally, Prince Louis. Now aged seventeen, Louis had never lost his propensity for intense piety and a deep respect for the holiness and sanctity of the church. He had been raised by monks to be the epitome of a chaste, learned, man of the cloth, and that tendency hadn't really left him. His bride, on the other hand, had been aware that her father had no surviving male heir for a number of years, and knew her own value both to Aquitaine and to the wider world of medieval Europe.
The plan was for the Prince and his new bride to travel around Aquitaine, with Louis getting to know his new wife and see the towns and cities that now belonged to him through her. But their honeymoon was cut short. A week after their wedding they became King and Queen of France, as King Louis died of dysentery. Suddenly Louis was King proper, and Eleanor was now a Queen.
They were never going to be a well-matched couple. Eleanor had a strong sense of her own self-worth. Aquitaine was wealthy and cultured, her grandfather was a notable poet, and Eleanor's status as heir meant that her father had seen she was well educated. There was no cowing her with the luxury of the French court, or treating her as a barely educated womb. She wasn't particularly impressed with her husband or the wider French court, in later years she would be heard complaining that she had married a monk instead of a man.
To make things worse, the son that Louis needed was not forthcoming. A daughter named Marie was born in 1145, eight years after their wedding. This was a long gap by many standards, even taking in to account Eleanor only being fifteen when they were married. Eleanor even went on Crusade with her husband, probably in the hope that she would fall pregnant and deliver a boy while they were in the Middle East. Instead Eleanor and her women were blamed for the failure of the Crusade, and Eleanor was even accused of having an affair with her paternal uncle Raymond of Antioch. She and Louis may have already been discussing the end of their marriage as they travelled back home. But they broke their journey in Rome, where the Pope encouraged them to stay together and even arranged for them to share a bed while they stayed with him.
Another daughter, Alix of France, was born nine months later in 1151. But the birth of a second girl was the last straw. Eleanor agitated for a divorce and was backed up by her own barons. Louis caved in and joined the appeal for their marriage to be dissolved. In March 1152 the annulment was proclaimed on the basis that they were too closely related, but their two daughters were declared legitimate and left in their father's custody.
Eleanor rode off to Aquitaine, now once again independent from the French crown. Eight weeks later she was a married woman once more – her groom was Henry, Duke of Normandy, future King of England.
Constance of Castile
With his marriage to Eleanor officially over, Louis began the search for a new bride. His choice landed on Constance of Castile, a Spanish princess and the daughter of King Alfonso VII of Leon and Castile, and his wife Berengaria of Barcelona.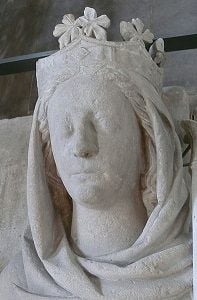 As with so many princesses of her time, Constance's early life is mostly unrecorded. She is believed to have been born some time between 1136 and 1140, and was probably the elder of Alfonso's two daughters. Her surviving siblings, Sancho, Ferdinand, and Sancha, were joined by two half-siblings after Berengaria's death led to their father remarrying. Somewhat insensitively, Alfonso and his new wife Richeza of Poland gave their two children the names of two of Constance's living siblings, Ferdinand and Sancha.
Constance's education would have involved piety and household management, the traditional roles of a princess being to set a good religious example, and to manage her estates effectively. However, for Constance there may also have been tales of her paternal grandmother, Urraca. This formidable woman had inherited Castile and Leon on the death of her father, King Alfonso VI, and had resolutely held on to them until her son was old enough to stake his own claim. Urraca's frequent taking of lovers, and her several illegitimate children, were probably swept under the rug so the princess didn't get any funny ideas about Queenly behaviour. But the importance of a male heir, and the role that a Queen could play in keeping hold of a kingdom for an underage son, would have been suitable lessons for the young girl.
Depending on her date of birth, Constance could have been as young as fourteen or as old as eighteen when she married King Louis in 1154. Since their first child wasn't born for another three years it's quite possible that Constance was at the lower end of the age range. In theory she was also step-mother to Eleanor's two daughters by Louis, Marie and Alix, but if she was only fourteen then she may not have had much of a motherly interaction with a nine year old and a four year old.
Louis must have been full of hope and expectation when Constance fell pregnant with their first child, hoping that this time he would have the son he needed. Instead a baby girl named Margaret was born some time in 1157 or 1158. Ultimately Louis made the best out of a bad situation, and set about arranging a marriage for Margaret with Prince Henry, the eldest son of his own ex-wife Eleanor and King Henry II of England. In the meantime Constance conceived again, and once more Louis could hope and pray for a boy.
The result instead was disaster. The baby was a fourth daughter, who was named Alys and who would also have connections with the English court. But worst of all, Constance died soon after the baby's birth in October 1160. Louis was distraught at the loss of his wife, and he was back to square one, now the father of four daughters and no sons. As a result he would need to drag himself up the altar again.
Adela of Champagne
It's quite possible that Adela of Champagne was chosen to be Louis' third wife due to her geographical proximity, as well as her family's proven fertility and the need to cement a peace between France and Champagne. Not only did her mother, Matilda of Carinthia, produce nine children for her husband, Theobald II of Champagne, but even more remarkable was that all of them survived infancy.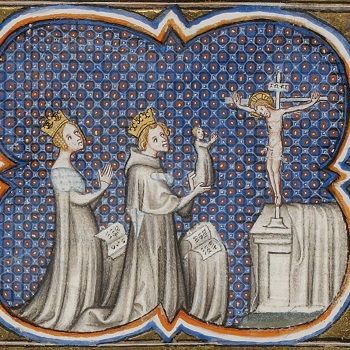 Adela was the third child and eldest daughter of Theobald and Matilda, and may have been born around 1140. Through his mother, Theobald was a descendant of King William I of England, and had been the elder brother of King Stephen. In her infancy Theobald and King Louis were actually at war, but everyone was ready to patch up that quarrel by the time she was old enough to marry the King.
On 13th November 1160, a mere five weeks after Constance's death, Adela was celebrating her wedding to Louis and her coronation on the same day. Louis was depressed at Constance's death. Now aged 40, he was convinced that he would die without a male heir and would leave his kingdom in chaos.
It took another five years, but in August 1165 Adela delivered the son that Louis had desperately needed. Baby Philip was given the nickname "Dieu-Donné", meaning "God given", to commemorate his special place in the Capetian line. Another daughter named Agnes eventually followed around 1171. The long gap between their marriage and Philip, and then Philip and Agnes, suggests that there may have been fertility problems for one side. Or perhaps Louis found it hard to reconcile any beliefs he may have had about the sinfulness of sex, stemming from his religious upbringing, with the need to get to his wives pregnant.
Louis' greatest fear never came to pass. Philip survived and thrived and was crowned as co-King in November 1179. When the King died 1180 he left behind a fifteen year old son, and France did not descend in to chaos or civil war.
Queen Adela outlived her husband by another twenty six years. Her relationship with Philip was rocky at first, she disliked his wife Isabella of Artois, and actively worked to turn her son against his own wife. She almost succeeded, but Isabella outmanoeuvred her. Isabella herself died in 1190, leaving Adela as the first lady at court once more until her son remarried. When Philip went on Crusade in 1190 it was Adela who was left as Regent for a year until his return. She died in 1206, and was buried next to Louis at Barbeau Abbey.
---
Last month's Desperately Seeking Sons post was on Philip, Maria, Mary, Elisabeth and Anna.