Desperately Seeking Sons: Philip, Maria, Mary, Elisabeth and Anna
Posted on
King Henry VIII is known for having six wives in his obsessive quest for legitimate male heirs. But Henry wasn't the only King in history to have this problem. While no one in Western Europe quite managed to top his total of six, there were a few kings that married multiple times before they got the desired heir, and occasionally a spare.
King Philip II of Spain was married a total of four times. His second marriage is quite well known in British history, as his wife was Queen Mary I of England. But before Mary and after her there were several women to whom he was married, and three of them were related to him, one way or another.
Maria Manuela
Philip's first wife was the Portuguese Infanta, Maria Manuela. Born in October 1527, their age was not the only close thing about them. They were one of the earlier examples of the Habsburg interest in intermarrying between different family branches. Her father, King John, was the son of Maria of Aragon, a sister of Philip's grandmother Juana of Castile (and sister of Mary of England's mother Catherine of Aragon), and her mother Catherine was Juana's youngest child. Similarly, Philip's mother was King John's sister, and his father was Queen Catherine's brother.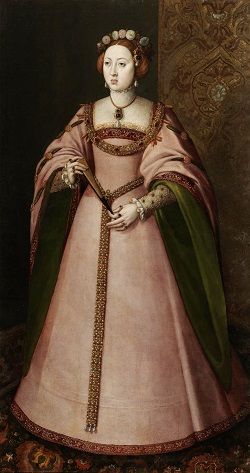 While John and Catherine had nine children, Maria was their only surviving daughter. For several years she was even the heir to the Portuguese throne, her older brother Prince Afonso died before she was born, and over the years her siblings Isabella, Beatrice, Manuel, Philip, Denis and Anthony all died in infancy, leaving just Maria and her little brother John Manuel.
The only daughter of the Portuguese King was a valuable player in the European Royal marriage market. But really there was only one suitable husband – her cousin Philip, heir to the Spanish throne. Like Maria, bad luck had left Philip with only two surviving siblings out of a total of six, in his case it was two sisters.
Maria's mother ensured that her daughter had a thorough education, including the female scholar Joana Vaz, who was fluent in Latin, Greek and Hebrew, and who was tasked with educating the Infanta. Whether Maria ever achieved fluency in all three languages isn't known, but she would almost certainly have grown up learning both Portuguese and Spanish. Catherine also collected pottery, and exotic curiosities and gemstones. Maria thus grew up in a court where the Queen was the centre of culture and refinement. She must have had some hopes and ideas for how she would have her own court when time granted her the title Queen of Spain.
Philip and Maria were married on 12th November 1543, with the usual celebrations of dancing and feasting accompanying the couple, before they were allowed a few private hours together. Once the celebrations were out the way the married couple were not given much time to get to know each other. Philip's father was very clear that Philip and Maria should spend as little time together as possible. Charles had only come to the Spanish throne because his maternal uncle, Prince Juan, had died young. It was commonly believed that the sickly Juan had died from exhaustion after spending too much time in bed with his wife. Charles was anxious that his only son not run the same risk, and so Philip and Maria's time together was carefully scheduled by the servants.
However, while Charles was anxious that Philip didn't spend an excessive amount of time in Maria's bed, he was also upset when he discovered that Philip seemed reluctant to spend any time in his young wife's company out of the bedroom. Constant supervision and courtiers observing their every move and word spoken, was hardly the best way for anyone to get to know their wife.
Despite the limited time spent together, Maria became pregnant. On 8th July 1545 she gave birth to a healthy baby boy, who was promptly named Carlos after his paternal grandfather. At first she may have appeared to have survived, but four days later she died. Philip was distraught at her death, and retired to a monastery for a week to grieve in private.
Queen Mary of England
Philip's second wife was also a member of the extended family. Queen Mary I of England was the daughter of Catherine of Aragon, Philip's great aunt. She was also eleven years older than him, and had been considered as a potential bride to his own father many years ago.
In July 1553 she became Queen of England in her own right. She was 37 years old and had never married, her uncertain status as King's Beloved Daughter or Unwanted Royal Bastard had made it hard for any interested party to work out what they were getting, and eventually the offers had dried up. Now she was Queen, Mary was suddenly very interesting to a lot of people, especially those who saw a chance to bring England back into the Catholic fold.
Charles moved quickly and offered Philip to Mary as a potential bridegroom. Now aged 26, Philip was an adult, but he was also a dutiful son who would do as his father commanded. Once a treaty between Charles and Mary was signed Philip left Spain for England. The pair were married at Winchester Cathedral on 25th July 1554. Letters from Philip's courtiers reveal that he wasn't exactly thrilled with the match, primarily because of Mary's age, but he knew that his position was only secure if he and Mary had a living child together, preferably a son, and was willing to "do his duty" to secure said heir.
By November, Mary was sure she was pregnant and could feel the baby kicking. Plans were made for the birth and the care of the anticipated infant, but in early 1555 it became clear that nothing was going to happen. Mary appears to have had a phantom pregnancy, there's nothing to suggest she miscarried or had a stillborn baby. She was devastated, and she was even more upset when Philip left her to sail to Europe, on his father's orders.
Poor Mary was desperate for love. She had been the adored only child of Catherine of Aragon, but Henry VIII's fury kept them apart and meant that Mary wasn't allowed to see her mother before she died. Over the years Henry had been emotionally abusive to his eldest child, alternating between fury when she refused to acknowledge Anne Boleyn or the Princess Elizabeth, and drawing her close and treating her kindly when encouraged by his later wives, and then pushing her away again when she did something he disliked.
Cold, serious-minded Philip was not the man for her, but she was convinced he was. She adored him, and was willing to support his fight against the French. But in the end it lost her Calais, and the love and respect of her people.
Mary and Philip were separated until 1557, when he returned in March that year. It was a fleeting visit, by July he was back in Europe. In the last months of the year Mary became convinced that she had fallen pregnant during the final weeks of Philip's visit, and that the baby would be due in March 1558. But just like last time, it slowly became apparent that there was no baby. The Queen was in increasingly ill health, crippled by pain and mentally distraught at how the war with France was going. Philip never returned to her, and when she died in November 1558 she was with just a few members of her household, and her husband far away.
Elisabeth of Valois
Seven months after Mary's death, Philip was down the aisle again. This time his bride was French, and 18 years his junior.
Elisabeth of Valois was a French princess, the daughter of King Henri II and Catherine de Medici. She grew up sharing a bedroom with her brother's betrothed, Mary Queen of Scots, and developed a close friendship with the junior monarch.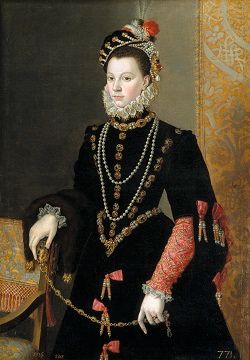 In her childhood it looked as if Elisabeth could be Queen of an entirely different country. England's King Edward VI came to the throne when he was still in his minority, and no marriage had been arranged by his father as a result. Despite opposition from the Pope, Elisabeth's father was keen to secure an English crown for his daughter, but Edward's death put an end to French hopes.
Elisabeth met her new groom for the first time on 30th January 1560, with their wedding held shortly after. Their marriage didn't get off to the best start. Elisabeth was only fourteen, and had grown up indulged and a little spoiled. Her immaturity was bound to come off badly to the dour and rather controlling King of Spain. She spent her money on beautiful clothes and gambling, and seems to have been a "late to rise, late to bed" type.
But she appears to have realised that Philip was less than enamoured with her, and decided to do something about it. Philip had hired a court painter to help teach his wife a cultured skill, now Elisabeth sought her own tutor to teach her Spanish, so she could communicate more easily with her husband. The pair lived mostly separate lives for the first four years of their marriage, but when Philip returned he found a grown up young woman in place of his teenaged bride. Her Spanish lessons may have helped bridge the age gap between them, they started to spend more time together on excursions out of their palaces, and Philip grew to appreciate his wife's intelligence and quick wit.
Elisabeth appears to have fallen pregnant quite early in their marriage, but the baby was stillborn and may have been premature. In August 1564 she miscarried twin girls, a further blow to Philip who still only had one son as heir. But the King of Spain was becoming a doting husband, dedicating several hours a day to sitting by his wife's sickbed as she slowly recovered.
Philip was by Elisabeth's side when a healthy daughter, Isabella Clara Eugenia, was born in August 1566. Fourteen months later Catherine Michelle joined the Royal nursery. Two healthy Infantas were a positive sign, but Philip was hoping that a boy would be along next, to help shore up his legacy. His only son Carlos was not everything his father had hoped he would be. He demanded positions of authority and power, and showed no interest in them when they were granted to him. In 1562 he fell down the stairs, with some sources suggesting he was chasing after a servant girl he tried to assault, and others suggesting that a physical impairment (he had one leg shorter than the other) meant that he missed a step and slipped. Whatever the true nature of the accident, the head wound he suffered nearly killed him. Afterwards he was plagued by poor mental health, swinging wildly from anger and paranoia to anxiety and fear.
In January 1568 Philip had Prince Carlos arrested and imprisoned. His behaviour was out of control, especially for a time that had no real concept of mental illness and no way to treat it. Six months later Carlos was dead, with rumours abounding that Philip had ordered his murder.
But that didn't really matter, because Elisabeth was pregnant again, and initially all the signs looked right. When she fell ill again in September Philip was back to visiting her sick bed and holding her hand while the doctors carried out a range of painful treatments that probably made her condition worse. On 3rd October 1568 Elisabeth had another miscarriage, a baby girl, and then died a few hours later. Philip was now left with no son, no wife, and two infant daughters.
Anna of Austria
Philip was devastated at Elisabeth's death. As with his first wife, he retired to a monastery to grieve in private, and refused to deal with any work. When he emerged he moved to the Escorial Palace, where he continued to cut himself off from other people. But he knew that he couldn't remain in mourning for long, and his own family were already working to arrange a suitable marriage for him.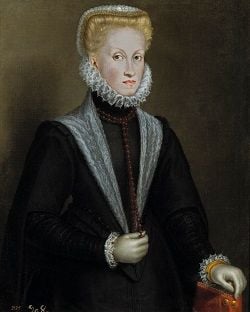 Anna of Austria was Philip's niece, her mother was his sister Maria (who had married their cousin Maximilian, the Habsburgs did this a lot!), and originally Anna had been proposed as a bride for Prince Carlos. But with Carlos dead and now Philip widowed for a third time, Maria decided that the resolution to her unmarried daughter and newly single brother was for the pair to marry each other. Anna was four years younger than Elisabeth, making her over twenty years Philip's junior, but no one really minded that much (if the bride did then no one cared).
Philip wasn't enthusiastic, but he knew his duty was to give Spain and the Netherlands a healthy male heir. While he griped and complained to his advisors and friends, he simultaneously threatened the Pope unless the latter granted a dispensation. The Pontiff reluctantly agreed, after publicly noting that perhaps some of Carlos' issues could have been avoided if the Habsburgs didn't insist on marrying close family members.
In November 1570 a 43 year old King of Spain married his 21 year old niece. Once again the marriage may have had a rocky start, possibly due to Philip's reluctance to marry in the first place. But like Elisabeth, Anna fell pregnant a few months after the wedding. Her place in Philip's affections was firmly secured on 4th December 1571 when a healthy baby boy named Ferdinand was born.
More boys followed. Carlos arrived in August 1573, Diego was born in August 1575, a third boy named Philip was safely delivered in April 1578, and they were neatly rounded off by girl named Maria in February 1580. But time proved why a royal family needed a brace of babies. Ferdinand died October 1578, possibly after contracting dysentery. He had already been predeceased by Carlos, who had died June 1575, and then Diego caught smallpox and died aged 7 in November 1582. In the end it was little Philip who came to the throne, something that would not have been foreseen when he was born the youngest of four boys (his little sister Maria died in 1583).
Along with her frequent pregnancies, Anna also appears to have been a devoted stepmother to the Infantas Isabella Clara, and Catherine Michelle. She and Philip created a close blended family, with all the children raised together. Philip and Anna were rarely apart, when circumstances forced them to live separately they regularly exchanged letters. When they were under the same roof Philip visited Anna's rooms several times a day.
In August 1578 King Sebastian of Portugal was killed in battle. Sebastian was only 24 and hadn't got round to marrying, so had no direct legitimate heir. The throne went to his great-uncle Henry, but as a Cardinal of the Catholic church Henry himself had never married or had legitimate children. On his own death in January 1580 the Portuguese throne became vacant, and Philip was the ultimate successor in claiming it.
While an army went in to Portugal to battle for Philip's rights, the Royal family relocated to the border down of Badajoz, and settled in to wait for news. Spain was victorious, although they failed to capture the Duke of Alba who was the other main contender for the throne. But Philip's joy was short lived. While the family made plans to progress in to Portugal, a bout of influenza swept through the area. Philip and Anna and several courtiers became ill, but while Philip survived, Anna did not. She died on 26th October 1580, she was thirty years old.
Philip sent his remaining children back to Madrid, where Isabella Clara and Catherine Michelle took charge of arranging the care of their younger half siblings. He considered marrying for a fifth time, especially when little Philip became the only boy left in the nursery. But his choice of bride, Anna's younger sister Margarita, decided to become a nun instead. With her refusal Philip appears to have decided to not remarry at all, and instead all focus was placed on raising his only surviving son to be a good King.
---
The image of Queen Mary I shown here is licensed under Creative Commons from the National Portrait Gallery. The image is Queen Mary I by Master John oil on panel, 1544 NPG 428.