Almost Queens: Cecily of York
Posted on
It's not often that an Almost Queen goes from the dizzying heights of a royal marriage, to plummeting down the social lists and marrying for love, but Cecily of York is one of a few exceptions to the rule!
At the time of her birth in March 1469, Cecily may have been a bit of a disappointment. On the one hand a healthy baby and her mother surviving the delivery were things to celebrate. But she was the third daughter of her parents, Elizabeth Woodville and King Edward IV of England. Edward had no male heir, and to get a third daughter in a row at a time when his throne was feeling a touchy wobbly was not necessarily the result that he was hoping for.
Baby Cecily was named after her paternal grandmother, Cecily Neville, Dowager Duchess of York. The elder Cecily was probably also her godmother. Her early life was one of disruption, her father lost his throne in 1470, forcing the pregnant Queen Elizabeth to flee in to sanctuary with her three daughters and her mother. It wasn't the first time that her father's throne had been under threat, and it wouldn't be the last time that Cecily went in to Sanctuary with her family.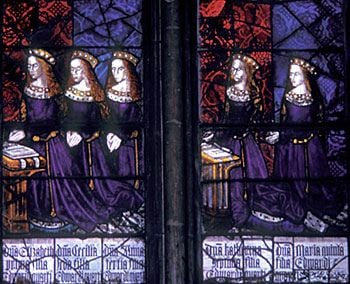 After King Edward reclaimed his throne in 1471 the Queen and her family came out of sanctuary and returned to a royal life. With his primary threat, the former King Henry VI and his son Edward of Westminster, now dead Edward would feel a little safer in his realm. While daughters couldn't necessarily inherit the English throne, they were still useful in diplomacy due to the marriages they could make. And plenty of English princesses, as well as some younger sons, had made international marriages with Castile, Portugal, and the Holy Roman Empire.
As the eldest daughter the Princess Elizabeth was given the most prestigious marriage her father could arrange – she was betrothed to the French Dauphin. The second daughter, Mary, was viewed as a potential bride for the heir to the Danish throne, or alternatively she could be held back in case Princess Elizabeth was felled by one of those unfortunate childhood illnesses that struck at random, in which case Mary could take her place with the French.
Princess of Scots
Cecily's future was seen as being much closer to home. In March 1473 Prince James, the heir to the Scottish throne, was born at Holyrood Abbey. Four years wasn't the worst age difference between a couple, and a treaty sealed by a marriage would help protect England's northern border. The betrothal between Cecily and little James was officially announced in October 1474, with a proxy betrothal ceremony held in Edinburgh in December that year.
To get her ready for her future Cecily was granted the title "Princess of Scots", an official recognition of the role she was expected to play as she grew older. But unlike some princesses and other noble girls, who were sent to live in the household of their future husband, Cecily was kept in England with her parents.
The specifics of her education aren't known, but like her sisters she appears to have been able to read and write. While Elizabeth was given French lessons, so she would be able to converse with her future husband, it's unknown if Cecily was educated in any foreign languages. She would have been taught music, dancing, and how to manage a household (even a future Queen needed to learn how to run her household, hers was just on a much bigger scale than most). She's known to have own several books, or part-owned them with her older sister, but her own particular tastes and favourites haven't been recorded for posterity.
She also took part in various court ceremonials and events. She saw her younger brother Richard Duke of York marry the heiress Anne Mowbray in 1478, and two years later she was officially made a Lady of the Order of the Garter. However her future as Queen of Scotland was already looking in doubt. Her future father-in-law was unpopular in his country, and a marriage between his son and an English Princess was equally unpopular.
As a result in 1482, Cecily's future was swapped. The betrothal to Prince James was broken, and instead she was betrothed to his paternal uncle Alexander Duke of Albany, a man fifteen years her senior and an exile from Scotland. Alexander was given the support of an English army and the help of Cecily's uncle Richard Duke of Gloucester. But his invasion of Scotland ultimately failed.
Cecily's future was still up in the air when her father died in 1483. She accompanied her mother and sisters back in to sanctuary when her uncle Richard seized the throne and declared himself King Richard III, and with the rest of her sisters, Cecily was declared illegitimate in 1484.
The Scrope marriage
Unlike his older brother, Richard was significantly lacking in the children department. He and his wife Anne Neville had one son, the delicate Edward of Middleham. With his nieces declared illegitimate the grand matches planned by their father were gone, but Richard still needed allies within England itself.
Cecily's second sister, Princess Mary, had predeceased their father. This meant that Cecily was now the second eldest princess, and as a result could stand in for Elizabeth if she also died. At one point she may have been suggested as a backup bride for Henry Tudor in the negotiations between Elizabeth Woodville and Margaret Beaufort, just in case Elizabeth succumbed to plague or another illness or infection.
When the family finally left sanctuary, their safety guaranteed by Richard, Cecily's movements became less well-known. She was certainly at court just before Anne Neville died, as she is noted as being there with her older sister.
Being at court may not have helped her in the long run. Historians have speculated at Henry Tudor's agreement to marry her in the event of Elizabeth's death, led King Richard arranging her marriage to Ralph Scrope some time in 1485. If it's true then her constant presence at court can't have helped, seeing her with her sister would have reminded Richard that she could cause just as many problems as the rest of her family.
Ralph Scrope was a younger son of Baron Scrope of Masham. It wasn't the worst marriage Richard could have arranged, but it was a clear humiliation for a young woman who had once been in line to become Queen of Scotland, and the Scottish court would have been wealthier than a mere Baron's estate. But Cecily and her remaining family were powerless to stop it.
Lady Welles
Cecily's marriage to Ralph Scrope was short lived, not because the groom died but because the engineer behind the match was killed at Bosworth Field. With Henry Tudor victorious and declared as King Henry VII, plans were slowly put in place for his marriage to Elizabeth and for arrangements to be made for Cecily and her other sisters.
Cecily's marriage to Ralph Scrope was annulled on King Henry's orders in 1486, and for a time she lived at court with her sisters. Elizabeth became Queen of England on her marriage to King Henry, but while she and her sisters were declared legitimate there was little in the way of financial support for them, or for the kind of dowries that would land them the marriages their father once envisioned for them. She was with her sister when Elizabeth gave birth to her first child, a son named Arthur, and was granted the honour of carrying her new nephew to the font at his christening, and then carrying him back to his mother once the ceremony was completed. Several months later she was given the important role of carrying Elizabeth's train at her coronation at Westminster Abbey.
Towards the end of 1487 Cecily was married for a second time. The match, arranged by King Henry and probably with a lot of influence from his mother Margaret, was to John, Viscount Welles. John was a maternal half brother of Margaret Beaufort, and was in his late thirties when he married Cecily. He had a long history of loyally serving her father, and had joined Henry in exile rather than serve King Richard. Again it wasn't the grandest of matches, but a Viscount certainly outranked a Baron, and by marrying in to a close confidante of the royal family Cecily was getting a position of security and continued access to the court.
By her husband Cecily had two daughters, Elizabeth and Anne, possibly named after her sisters. The dates of birth of both girls aren't known, but they weren't named or mentioned in their father's will and no marriages were ever recorded for them, so they are assumed to have both died in infancy.
A misalliance
Viscount Welles died in February 1499, leaving Cecily a widow. The nature of their marriage isn't known but they seem to have been happy together. At the very least John had great faith in his wife as he left all his estates and possessions to her, and also commanded that his place of burial and his tomb be arranged by her, with help from her sister and Margaret Beaufort.
Now a widow, Cecily returned to court and the company of her sister. She had estates to manage, but she was still a key part of the royal family. She attended the wedding of Prince Arthur to Katherine of Aragon, and sat with the Queen and the rest of the royal family during the tournament and celebrations that followed.
Perhaps the marriage of two young people reminded Cecily of what she was missing. She was only in her early thirties and appears to have been in good health, a long widowhood may not have appealed. Likewise a marriage arranged by her brother-in-law may have been similarly unwanted. We don't know what she thought of the King, although she does appear to have got along well with his mother. Henry had arranged for his eldest daughter Margaret to marry Cecily's former betrothed, King James IV of Scotland, but if Margaret died would Cecily have been expected to step in to her place? Perhaps it wasn't a calculation she was willing to risk.
Whatever her motivations, at some point Cecily entered in to a secret marriage with a man who was a social inferior to her and both her previous husbands. Thomas Kyme was so obscure that sources differ on whether he came from Lincolnshire, or the Isle of Wight. Because the marriage was secret the date it was held is unknown, it's believed to have taken place some time between 1502 and 1504. When he found out that Cecily had not only married below her station, but had married without royal permission to boot, the King was furious. All of her estates were confiscated, including everything left to her by her second husband, and she was banished from court.
Queen Elizabeth died in 1503, cutting off one of Cecily's key allies. Luckily for her Margaret Beaufort stepped in, allowed the couple to live in her property of Collyweston. Margaret also intervened with her son and managed to get the Welles estates restored to Cecily, giving her an income once more, but she was banned from leaving any of it to her husband or to any children they might have.
She also doesn't appear to have been welcomed back to the court, something that would probably have only happened if Elizabeth had lived. She was permitted to attend Elizabeth's funeral, but after that she seems to have lived quietly on her own estates, or possibly at her husband's property on the Isle of Wight. She may have had two children by Thomas, but they don't appear to have been acknowledged by any wider family and their fates aren't known.
While Cecily's date of death is recorded as being on 24th August 1507, her place of death is also a mystery. On the one hand she's recorded as dying on the Isle of Wight and being buried at Quarr Abbey. However she was also recorded as spending her last few weeks at Hatfield, and possibly being buried at Kings Langley. Quarr Abbey was destroyed during the Reformation, and if Cecily was buried at Kings Langley then no memorial to her has survived.
Ultimately it was a sad and obscure ending for a Princess who at one point looked set to become Queen of Scotland.
---
Last month's Almost Queen was Maria Josepha of Austria.