Almost Queens: Maria Josepha of Austria
Posted on
This month we take another look at the Holy Roman Empire for our latest Almost Queen. The death of a sixteen year old Archduchess ultimately led to a marriage reshuffle that saw her youngest sister end up in France, raising the question of what might have happened had she survived.
At her birth in March 1751, Maria Josepha was the ninth daughter of Empress Maria Theresa of Austria and her husband, Holy Roman Emperor Francis I, although three of her sisters had died in infancy. There would be another four children following after Maria Josepha, including her famous baby sister Maria Antonia.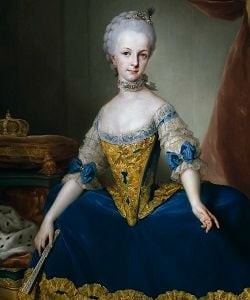 With so many siblings, Maria Josepha would not have been lost for playmates. The family tended to move between a few favoured residences, including the palace at Schonbrunn, and a hunting lodge at Laxenburg. The Emperor and Empress liked to have their family with them, so Maria Josepha would have travelled with her parents and her siblings and a large, noisy court.
Despite moving around a good education was still a necessity for Maria Theresa's children. Austria's geographic position meant that languages were a must. Many of her offspring were fluent in German, Italian and French, and there's no reason why Maria Josepha wouldn't have been held to similar expectations. Music also played a prominent role in court life, Maria Antonia's favourite instrument was the harp. Several music teachers were hired for the Archduchesses and their brothers, with a range of instruments at their disposal, one portrait of Maria Josepha depicts her at the harpsichord (possibly indicating her own favourite instrument). From a more physical point of view, dancing, riding and hunting were also staple entertainments and all the children were expected to be well versed in both ballet and partnered dances.
But for Archduchesses in particular there were two very important habits that the Empress demanded from them – duty and obedience. Every member of the family was expected to be aware of their duty to their country, but the girls in particular were expected to obey their mother without question, and that including submitting happily to the plans she had for their futures.
Maria Theresa famously sought to marry her large brood in to as many royal and noble European houses as possible. One particular target was the joint Kingdom of Naples and Sicily, which was overseen by the Spanish royal family. Originally Maria Theresa tried to secure the heir to the Neapolitan throne for Maria Josepha's older unmarried sister, Maria Amalia. The problem was the age difference – Maria Amalia was five years older than her prospective groom, the young King Ferdinand. King Charles III of Spain, the groom's father, refused to agree to a bride so much older than his son (probably because it was felt Maria Amalia would easily dominate a husband 5 years her junior), and demanded a new Archduchess, threatening to call off the entire match if he didn't get one.
With the age gap being the issue, Maria Theresa took another look at her collection of available daughters. Maria Josepha was just two months younger than Ferdinand, with a good education, a pretty face and an amiable personality. With the age gap issue settled to Charles' satisfaction, Maria Josepha was officially betrothed to Prince Ferdinand, and the Kingdom of Naples began to prepare for a royal wedding and a new Queen.
Smallpox had not been kind to Maria Josepha's family over the years. Her older sister Maria Johanna (possibly another competitor for Ferdinand's hand) had contracted the disease and died in 1762, and their sister-in-law Isabella of Parma had also died from it in 1763.
Now, in 1767, the disease returned to the Austrian court. Isabella of Parma's replacement, Maria Josepha of Bavaria, fell ill first and died in May that year. Maria Theresa had helped nurse her daughter-in-law, and caught the infection herself. Despite her age, she had just turned fifty, the old Empress survived, although it probably damaged her health forever.
Although the court was in mourning, marriage plans still needed to proceed. Once Maria Theresa was up and about again the focus turned to the Archduchess' upcoming nuptials. Final arrangements were made, everything Maria Josepha would need for her new life was purchased, and confirmation came that Naples was anxiously waiting to receive her, with a date for her departure set for October.
Of course leaving one's home required various ceremonies to officially say goodbye and to pray for a happy future. Maria Theresa insisted that Maria Josepha accompany her to the rather imposing Imperial vault, to pray before the tomb of her sister-in-law, the other Maria Josepha. The young Archduchess was reportedly reluctant (who would want to go and kneel in a tomb to "celebrate" a wedding?) but her mother insisted.
Two days later Maria Josepha broke out in a serious rash, which soon turned out to be the smallpox infection. She died on 15 October 1767, and joined her sister-in-law, her older sister Maria Johanna, and her other siblings in the Imperial crypt. Maria Theresa blamed herself for her daughter's death, believing that she must have caught the disease from the badly sealed tomb of Maria Josepha of Bavaria. In reality the appearance of the rash just two days after the visit suggests that the young Archduchess would have already been infected by the time she went to pray with her mother.
That left Ferdinand, sitting in Naples waiting for a bride who should have already left her mother's court. While Maria Theresa was grieving she was also pragmatic. She gave King Charles another choice of daughter – either the originally suggested Maria Amalia, or the young Maria Carolina who was also a potential candidate to marry the French Dauphin. King Charles chose Maria Carolina, Maria Theresa simply had one daughter's name crossed out and replaced with the other on the marriage treaty, and Maria Carolina was dispatched to Naples. Maria Amalia had to settle for the Duchy of Parma, and the French Dauphin was instead given the baby of the family – Maria Antonia.
---
Last month's Almost Queen was Caroline of Hesse-Darmstadt.