Almost Queens: Margaret of Nevers
Posted on
It's rare that you have two shots at any crown, let alone the same crown – poor Margaret of Nevers missed both!
When Margaret was born in late 1393, she was part of one of the most powerful duchies in Europe. Her father John, "the Fearless", was the Count of Nevers and heir to the Duchy of Burgundy. Her mother was Margaret of Bavaria, the daughter of the neighbouring Count of Holland. Margaret was her parents eldest child. She was followed by two sisters, one brother, and then a further four sisters.
The Duchy of Burgundy, led by Margaret's grandfather Philip "the Bold", was a key player in the political mess that was France at the time. The year before Margaret's birth King Charles VI had had his first signs of the mental illness that would lead to him being known as "Charles the Mad". With a King suffering from mental delusions (at one point he was convinced that he was made of glass and would shatter if anyone touched him), France descended in to chaos. Philip was Charles' paternal uncle, as the fourth son of King John II and his first wife Bonne of Luxembourg.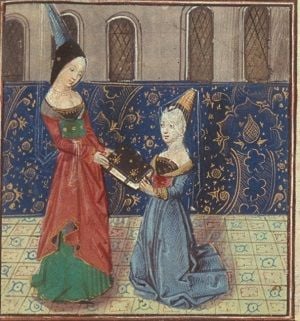 Philip and Charles came to an agreement in 1396 that saw Margaret being betrothed to Charles' eldest surviving son, also named Charles. The little Prince was only 10 months older than Margaret, but fate had already intervened once – baby Charles was the second of his name, his older brother had died at 3 months old.
It might have been expected that Margaret would go and live at the French court, to be raised by her future in-laws and carefully tutored for her future. But instead Margaret was kept with her parents and grandparents in Burgundy. They were reportedly a close-knit family, although this may have been promoted by some as a way to point criticism at King Charles' court. Charles' wife Isabeau was given some particularly scathing reviews for her poor household, with chroniclers recording that her own children (including Margaret's betrothed) were half-starved and neglected. It wasn't true, Isabeau's records show plenty of purchases of the things her children needed. But it was another way to show the corruption of the court thanks to the King's illness – even his children weren't looked after properly.
The first chance goes
In January 1401 the young Charles died, less than a month before his eighth birthday. Luckily for his parents the heir had been followed by two spares, Louis had been born in 1397, and John had arrived in 1398. The political alliance between France and Burgundy was still needed, so in May 1403 Margaret was now betrothed to six year old Prince Louis.
This time there was no patient waiting for the young couple to grow up. In August 1404 the French and the Burgundians celebrated a double wedding, designed to give both sides an interest in the same fight. Margaret and Prince Louis were married, and at the same time Margaret's brother Philip married Louis' sister, Princess Michelle. But sadly the architect, Margaret's grandfather Philip, had died in April that year and never saw the culmination of all his plans.
For five more years Margaret lived with her parents, who were now Duke and Duchess of Burgundy. In 1409 Louis turned twelve, and Margaret was dispatched to the French court to live with her husband and join her mother-in-law's household. But poor Margaret, who had been raised since birth with the knowledge that the French crown was her future, may have had a particularly miserable time. The French court was riddled with different competing factions, of which Burgundy itself was one. Her family were enemies to some, allies to others, and everything could change completely in less than a week. It was a horribly tense situation for a young girl to be thrown in to. Far from home and trying to find her feet in a new place, it can't have been easy.
The second chance goes
Although they were living together, and reportedly sleeping together, Margaret and Louis don't appear to have had an children together. As a result, when Louis died suddenly in December 1415, there was no longer a future for Margaret at the French court. Had she had a son by her husband then he would have been King of France himself, and she might have been able to claim a role as regent. But instead she was suddenly stuck in what was rapidly becoming enemy territory.
Margaret was retrieved by her family and returned to Burgundy, back to her mother's care. She was now twenty two years old, twice engaged and married and widowed once. The French crown was now beyond her grasp, her husband's brother John was married to her cousin Jacqueline of Hainault. When John died in 1417 the next heir was Prince Charles, who would marry Marie of Anjou in 1422. No one considered Margaret to be a suitable match for the French any more.
To make matters worse Margaret's father John was assassinated in 1419, almost certainly on the orders of Prince Charles. Her brother Philip "the Good" became the new Duke of Burgundy. In 1422 King Charles died, and the Prince became King Charles VII. However his accession was contested by the English, who declared their baby monarch King Henry VI as the true heir thanks to the Treaty of Troyes. This Treaty had seen Charles disinherited, and King Henry V identified as heir through his wife Princess Catherine. King Henry and the old King Charles had both died within two months of each other, and in King Henry's case his only son and heir was less than a year old.
A third betrothal, but no crown
Like his father and grandfather the new Duke Philip decided that the best way to deal with the increasingly difficult political situation was to seal some new alliances with another set of marriages. His sister Anne was betrothed to the Duke of Bedford, a paternal uncle of King Henry VI of England and the Regent of his continental lands. And Margaret was to marry Count Arthur of Richemount, the younger brother of the Duke of Brittany and one-time ally of the English.
But if Philip had thought that Margaret would quietly follow his wishes then he was wrong. Maybe she was still stung at the loss of her chance to be Queen of France, or maybe she hated the idea of leaving Burgundy again and trying to set up home once more in a new territory. Maybe she was sick of being a political pawn for the men in her life. Whatever her reason, she promptly told Philip that she wasn't going to marry Arthur.
Her argument against the match was that it would be a serious social climb-down for her. As Louis' wife she had been the Duchess of Guyenne, and still called herself Duchess as a result. All her sisters had married Dukes, Anne was even marrying the powerful Duke of Bedford. Why should she settle for a Count? She also pointed out that Arthur was hardly a suitable husband when he had been captured by the English at the Battle of Agincourt and still owed his ransom money.
But Philip was determined, and in the end he got his way. He sent his friend Renier to Margaret, with a series of arguments from her brother. Firstly Arthur was indeed in debt to the English, but they had also made him Duke of Touraine, so Margaret could use that title instead. Secondly, and more importantly, Philip himself had no heirs. His wife Princess Michelle died in July 1422 and the pair had never had children. Since Margaret was their parents eldest child and they had no other brothers, Philip's heir was Margaret. She needed to marry and produce children, and secure Burgundy for another generation.
It's hard to tell which of these arguments won her over, or maybe she realised Philip might arrange a worse marriage if she continued to protest. He could even demand she go in to a convent if he could particularly fed up with her. So she agree, and she and Arthur were married in October 1423.
Despite Margaret's reservations the pair proved to have a supportive marriage. She was a capable administrator of her husband's estates, and Margaret seems to have used her experience and connections at the French court to help her husband when he and King Charles clashed. Burgundy and Brittany ultimately swapped sides to join the French against the English. But as with Prince Louis, she and Arthur had no children together.
Margaret ultimately died in Paris in February 1442. While she had been an ally of the French, and supported her husband at court, it must have been hard to see Marie of Anjou sit on a throne that should have been hers.
---
Last month's Almost Queen was Bonne of Luxembourg.