Almost Queens: Bonne of Luxembourg
Posted on
Getting a crown can be all about the timing. Catch one little bout of plague at the wrong time, or wave your husband off as he goes to fight an unwinnable battle, and suddenly you're no longer a prospective Queen! In this case Bonne managed to miss out on a French crown by a mere year, after seventeen years of marriage.
On her entry to the world in 1315 she was neither born in Luxembourg nor named "Bonne". Her birthplace was the kingdom of Bohemia, while the name her parents gave her was "Jutta". The "of Luxembourg" part of her name comes from her father's family, John was a member of the House of Luxembourg despite being the son of the Holy Roman Emperor. Her mother Elizabeth of Bohemia had been a claimant to the Bohemian throne, and her marriage to John allowed him to be crowned King of Bohemia through her.
The convent life
Sadly Bonne's parents marriage was a deeply unhappy one. After Elizabeth appeared to plot against her husband, John had their three eldest children, including Bonne herself, removed from their mother's custody. Elizabeth died in 1330, when Bonne was fifteen years old.
As a result of her parents split Bonne appears to have been shuffled around between a variety of different households. In 1322 she was sent to live in Meissen, but by 1323 she was back in Prague where she was installed in the convent of St George. At the time convents could be used as places to educate noble daughters, and not just for life as a nun. Abbesses and other senior members of convents were themselves the daughters of noble families and thus had a good insight in to how to raise and educate such girls, and what a future husband would look for in a noble wife.
After three years in St George Bonne was dispatched to Luxembourg itself to marry the future Count Henry of Bar, as part of a treaty signed by her father. For whatever reason the marriage never went ahead, and instead she was transferred to the care of the convent of Saint-Esprit, also in Luxembourg. Instead in 1332 Bonne made a very grand marriage, to John Duke of Normandy, the new heir to the French throne.
Queen in waiting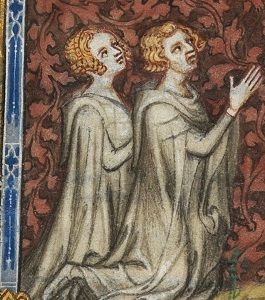 John's father King Philip VI of France hadn't originally been considered as a future King. But he claimed the throne after a succession dispute that saw the descendants of King Charles IV disinherited because they all claimed the throne through female lines, which Philip declared was banned through Salic law. One of those claimants as King Edward III of England, which ultimately led to the start of the Hundred Years War.
In order to gain allies to strengthen his claim Philip cast around for suitable marriages for his children. As a result Bonne, and Philip's eldest son John, were betrothed as part of a treaty that promised Bohemian support for Philip in the event of war.
Bonne married John at Melun in July 1332, when she was seventeen and he was just past his thirteenth birthday. Her birth name "Jutta" meant "good", and appears to have been swapped to the French equivalent (Bonne), if not by the whole court then at least by chroniclers.
After the wedding, the festivities for which went on for quite some time, Bonne settled down with the court in Paris. Her mother-in-law Joan of Burgundy, was a highly educated woman, who was a capable regent for her husband when war claimed his attention. Although Joan's assumption of power was frowned on, it would have given Bonne plenty of opportunity to witness what a woman could do if given the chance.
Due to Prince John's young age, and the struggles in his Duchy of Normandy, he and Bonne may have been kept apart for a few years, or at least weren't allowed to live together regularly. Their first son, Charles, was born nearly six years after their wedding, in January 1338. After this the pair appear to have been rarely apart, with Bonne giving birth almost every single year after Charles' birth. If anyone had criticised Bonne for failing to provide the necessary heir early in her marriage, then they were silenced pretty quickly after Charles. After a daughter, Catherine, who may have died soon after birth, a veritable cavalcade of "spares" followed. Louis arrived in July 1339, John was born in 1340, and Philip rounded things off in 1342. Five daughters (Joan, Marie, Agnes, Margaret, and Isabelle) then followed between 1343 and 1348.
Rumoured infidelities
But were they all John's children? In her book on Women and Manuscripts, Joni Hand recounts the story of Raoul of Brienne. Raoul and Bonne apparently had a very close relationship, with rumours circulating that they shared far more than an innocent flirtation. This culminated in Raoul's execution on John's orders the year after Bonne's death, perhaps suggesting that her protection had been all that stood between him and her husband's wrath. However it doesn't mean for certain that she and Raoul had an affair.
Some of the hatred for her mother-in-law may have been directed at her as well, with critics fearing that she would wield similar power when the time came for her to wear the consort's crown. Besmirching her reputation early on could help contain any ambitions she might have towards power. Alternatively Raoul, who was technically allied to France's enemy Savoy, may have been the true target of such rumours and Bonne was simply caught in the crossfire.
Similarly John also faced implications of unfaithfulness with a court favourite. He appears to have been quite close to Charles de la Cerda. The pair had been friends since childhood, and Charles appears to have been trusted adviser to John. However he was also eventually given the title "Count of Angouleme", a title that was contested by the King of Navarre. The rumours of the two men being lovers may have been started by Navarre, in order to create hostility against both Charles as claimant, and John for supporting him.
War and plague
Bonne's married life was significantly disrupted by the Hundred Years War. Her father, who had been blind for the last ten years of his life due to an untreated infection, was one of the many French noblemen killed at the Battle of Crecy in 1346, fighting on the French side against the English. John would continue to have problems with the English once he was King of France, but Bonne herself wouldn't live to see any of them. She certainly didn't live to see her husband's capture by the English after the Battle of Poitiers.
In 1349 the bubonic plague was ravaging Europe. At some point Bonne herself fell ill, and died on 11 September 1349. She was just 34 years old and her last child, Isabelle, had been born the previous October. Although the chronicles don't state that she was pregnant when she died, had she lived she and John could easily have gone on to have more children. Her mother-in-law Joan was also felled by the plague three months later, making it a hard year for the French royal family.
Her husband became King John II of France almost a year later when King Philip died in August 1350. John had married again soon after Bonne's death, to Joan Countess of Auvergne. This might have been a political match, or perhaps John felt that he needed the kind of capable Queen and supporter that his mother had been to his father. Perhaps he felt that his children, particularly his daughters, needed a mother to help care for them. Or perhaps he and Bonne had been genuinely close, and he wanted to try to recreate the happy marriage they had had together.
Whatever the reason, Bonne never became Queen Bonne, and instead France had another Queen Joan. Bonne didn't even get the traditional burial in St Denis. The plague meant that the dead had to be buried as quickly as possible, with little ceremony even for those who were related to the royal family. Her last resting place was the Abbey at Maubuisson. But she was in illustrious company nonetheless, several Kings and Queens of France had been buried there, including Blanche of Castile, and King Charles IV.
Many years later when her son Charles V died his body was buried in St Denis. At the time it was customary to have a two-part burial, with the body buried in one place, but the internal organs (which were removed as part of the embalming process) interred somewhere else. This could be in a church that the deceased had founded, or contributed significant sums to through their life. In a sign that Philip still thought of the mother who died when he was eleven, he requested that his organs be buried next to Bonne.
---
Last month's Almost Queen was Joan of Valois.