Almost Queens: Marie Adelaide of Savoy
Posted on
I've mentioned before in this series that France went through a period of multiple "almost queens" across several generations. One of these was Marie Adelaide of Savoy, whose arrival at the French court at the age of ten seemed to signify a fresh new start for an elderly, war-weary court.
Born in December 1685, Marie Adelaide was closely linked to the French royal family even before her marriage. Her mother Anne Marie was the youngest daughter of Philippe, Duke of Orleans and younger brother of King Louis XIV (Anne Marie's older sister was the deeply unhappy Queen of Spain, Marie Louise d'Orleans). Her paternal grandmother was also a cousin of King Louis, and had been raised in France.
Marie Adelaide was close to both her mother and grandmother, and as a result was well-versed in the way the French court operated even before a possible marriage was discussed, as well as being raised to speak the language. Her marriage was sealed as part of the Treaty of Savoy, which brought her father back onto the side of his French in-laws after originally fighting against them in the Nine Years War.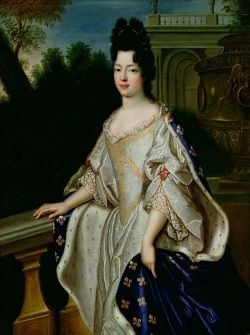 Since she was only ten years old at the time, the Treaty not only arranged Marie Adelaide's betrothal but also stipulated that she would be brought to France and educated there before the marriage. In the autumn of 1696 she was packed up with some of her belongings (French tradition demanded that a foreign bride bring very few clothes, she would be given appropriate garments in full French style on arrival) and taken by carriage to the French court.
The first person she met was King Louis himself, who travelled to meet her with her maternal grandfather and the Dauphin her future father-in-law. She was then escorted to Fontainebleau where the rest of the court, including her betrothed, were waiting for her.
At the time the French court was a mishmash of generations and competing family branches. The King's wife Maria Theresa of Spain had died years ago. In her place was no official Queen, but Francois d'Aubigne, the Marquise de Maintenon. Once the mistress of King Louis, she is believed to have secretly married him sometime between 1693 and 1694. As she was not a princess she was never acknowledged as the King's wife, and was never crowned or given the title of Queen, but she was a core member of his family and the court.
By his first wife the King had had six children, but only their eldest son had survived infancy. This was Marie Adelaide's future father-in-law, the Grand Dauphin. Like his father the Dauphin had married a Princess, Maria Anna Victoria of Bavaria, who had died in 1690 after providing her husband with three sons. And like his father again, the Dauphin had secretly married his mistress, who was also never formally acknowledged or granted a title.
While many of the King's legitimate children hadn't survived, more of his illegitimate children had, and many were now acknowledged as his offspring and had places at court as well as arranged marriages. Similarly Marie Adelaide's grandfather Philippe had remarried after his first wife's death and also had more children by his second wife, Liselotte.
The future groom for the little bride was the Grand Dauphin's eldest son – Louis Duke of Burgundy. Just over three years older than his wife, Prince Louis was not quite the handsome prince from a fairy tale. He may have had scoliosis, he reportedly had one shoulder a little higher than the other. He also had a pronounced nose and a receding chin. He was fiercely devout, even by French standards, but combined it with the violent temper of a spoiled boy who had been indulged and never taught to control his feelings. Marie Adelaide herself was considered to be too dark for French tastes, with poor teeth that ultimately rotted in her twenties and caused a lot of pain. However she did have the beautiful white skin that was desired at the time, and a very narrow waist. In her childhood she was described as "doll-like" due to her petite frame.
In to this myriad of favouritism, competing fortunes, and fierce protection of status and rights, Marie Adelaide had to quickly learn to sink or swim. Luckily for her she completely entranced the King and his wife and became a firm favourite quickly. Still a child, she was soon leading all the older generation in the games from their own childhoods. She was also enrolled in Saint-Cyr, the school founded by Madame de Maintenon, where her poor education meant that she had to start in the class below the rest of her age group.
The wedding between the young Duke and Marie Adelaide was held on 6 December 1697, her twelfth birthday, at the Palace of Versailles. Her silver dress was set off with diamonds and rubies, and a blue velvet cloak embroidered with the traditional fleur-de-lis. The pair had been strictly chaperoned since her arrival at court, meeting once a week under the watchful eye of their guardians. Even after the wedding ceremony they were forbidden from consummating the marriage for another two years, and were instead allowed to participate in formal trips out together – still with the all-seeing chaperones.
After two miscarriages in 1702 and 1703, Marie Adelaide gave birth to her first child, a son, in June 1704. Named Louis after his father, grandfather, and great-grandfather, and given the title "Duke of Brittany", the little boy died before his first birthday. Pressure was on Marie Adelaide to provide the heirs for the next generation, but a second son wasn't conceived for another two years. The second Louis, also given the title "Duke of Brittany", was born in January 1707. Another miscarriage followed in February 1708, before a third son (imaginatively also named Louis) was born in February 1710. Great-grandfather gave this little boy the title Duke of Anjou.
Her repeated losses, and poor health during her pregnancies, sapped a lot of the joy out of Marie Adelaide. But the King was notoriously selfish, and resented any hint that Marie Adelaide might be struggling with life at court. She was expected to be as cheerful, amusing and entertaining as the day when she arrived in court as a ten year old girl.
While she might struggle to be as amusing as she had been in her youth, she at least managed to maintain her place as the King's favourite, and used it to her full advantage. She was famous for going through the King's papers and reading any bits of correspondence, private or otherwise, that took her interest. As a result she could occasionally be found in tears when she found things, such as criticism against her favourite courtiers, that she shouldn't have stumbled on. While she was periodically rebuked by the King and Madame de Maintenon (who papers she also went through), they soon forgave her, and she was never scolded enough to put her off her nosey habit.
Occasionally her status as favourite meant that she could influence the King in some of his own favourites. In 1708 her husband the Duke of Burgundy had been sent out to join the French army in Belgium, where they were fighting the British. The French were heavily defeated at the third Battle of Oudenarde that July, and the defeat was roundly blamed by the commander, Vendome, on the Duke of Burgundy. Accused of cowardice and incompetence, Burgundy found the court an uncomfortable place to return to. In revenge Marie Adelaide managed to get Vendome banned from the Royal residence at Marley, which was considered to be an exclusive retreat, where only a select handful of courtiers would be invited to join the King and the royal family. Marie Adelaide cried in front of the King, declaring that it upset her too much to have Vendome there. The King capitulated, and Vendome found himself permanently removed from one of the key symbols of royal favour.
In 1711 the status of Marie Adelaide and the Duke of Burgundy changed. The Dauphin had been relatively healthy up to this point, and as a fifty year old man was generally assumed to be past the worst dangers that the period could hold. But in April 1711 he contracted smallpox and died on the 11th. Suddenly the Duke of Burgundy was the Dauphin, the new direct heir to the King, and Adelaide was the Dauphine. The position of Dauphine had been vacant since the death of Burgundy's mother, Marie Anne Victoire, in 1690.
The position came with responsibilities, especially since there was no Queen at court. The Dauphine was supposed to set a shining example of culture and fashion at court. But like her predecessor she had no real interest in such things. She was firmly rebuked by Madame de Maintenon for her lack of interest, but as usual this did little to change things.
Perhaps if she had had more time Marie Adelaide could have developed in to the kind of Dauphine that the King felt was appropriate for his court. On 5 February 1712 she fell ill, with a particularly high temperature. After several days she developed a rash and the doctors declared she had measles. Burgundy was distraught by her illness and refused to leave her side, the King and Madame de Maintenon visited regularly. Priests were summoned, as were multiple Parisian doctors, to tend to both body and soul. None of it did any good, and the actions of the doctors who repeatedly bled her almost certainly weakened her too much to fight off the infection. She died on 12 February 1712, less than a year after becoming Dauphine.
Burgundy was distraught without her. He was eventually banned from her sickroom in case he also caught the infection, but it was too little too late. Six days later he was also dead. His and Marie Adelaide's eldest son, the Duke of Brittany, also contracted measles and died in early March. The soul survivor was their youngest boy, the Duke of Anjou. The tiny two year old was also very sick, but his governess barricaded him with her in her rooms and refused to let the doctors try to cure him too. Ultimately it probably saved his life. He became King Louis XV in 1715.
The death in quick succession of both the Dauphin and the Dauphine meant that the pair were buried together at St Denis. It was reported that a decade later courtiers still wept at the memory of their deaths.
---
Last month's Almost Queen was Augusta of Saxe-Gotha, Princess of Wales.