Almost Queens: Margaret Stewart, Dauphine of France
Posted on
Princess Margaret Stewart was born at a time when the Scottish court was becoming a potentially useful ally for England's other enemy – France. As with so many women her politically-necessary marriage ended up being an unhappy one, and in the end didn't even lead to her gaining a French crown.
As a child Margaret may have accidentally ended up with unrealistic hopes of a romantic love match, as that was exactly what had happened to her parents. Her father King James I of Scotland had been captured by the English after fleeing Scotland (with France as his intended destination) in March 1406, aged just 11. His father died just weeks later and so James became an uncrowned imprisoned king. He was treated as an honourable hostage by King Henry IV, and by his successors Henry V and the regency council of Henry VI, but it was a long time before he was allowed to see home again.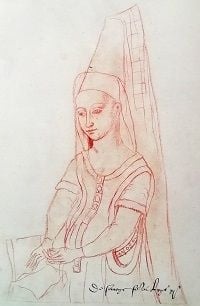 At some point during his imprisonment James became acquainted with Joan Beaufort, King Henry's niece. Her father, John Beaufort, was Henry's legitimised half brother, the son of John of Gaunt by his mistress-turned-wife Katherine Swynford. Joan was therefore a granddaughter of King Edward III, giving her enough royal blood to be considered suitable for a royal marriage. The pair reportedly fell in love, with one of James' surviving poems possibly written about or inspired by Joan herself. Her marriage helped further legitimise her family, and for the English crown having a relation married to the King of Scotland made good political sense.
King James married Joan in February 1424 and finally returned to his country that spring. Margaret was their first child, born on Christmas Day 1424 in Perth. Apart from Margaret, whose date of birth was probably noted because she was the first child from the marriage, the pair would have five more daughters and two sons. Margaret was followed (in order) by Isabella, Joanna, Eleanor, Mary, and Anabella, as well as twin brothers Alexander (died shortly after birth) and James. As sons Alexander and James' date of birth in October 1463 was also recorded, but the other daughters dates of birth were not kept for posterity.
There's little information about Margaret's early years. But as the eldest daughter of a Scottish King she was a potential wife for both European royal families and Scottish and English noblemen. Previous Scottish princesses had married Kings of England and Norway, but the majority had married in to noble families in Scotland such as the Earls of Angus and Douglas, or English lords such as the Earls of Kent and Norfolk. Given Margaret's connection to the English court through her mother there may have been interest from a variety of English families, had the French not got there first.
In 1428 King Charles VII of France opened negotiations with Scotland to renew the Auld Alliance. The terms included Charles' eldest son and heir, Louis the Dauphin, marrying Princess Margaret. James agreed, and in 1436 Margaret said her farewells to her parents and set sail for France. She and Louis met for the first time on 24 June, and were married the next day.
But after years of war against England the French crown was low on funds. Compared to some French royal weddings it was a bit of a let down. The ceremony took place in Tours castle, and Margaret's new father in law didn't bother to dress up for the occasion. Instead of the traditional, and expected, weeks of feasting, tournaments and courtly entertainments, a short wedding reception was held before Margaret's Scottish escort were sent home. There was little the Scots could do though except grumble about the disrespect shown to their princess with such a lacklustre celebration. Not only was there a treaty to honour, but Margaret's father King James was brutally murdered by some of his nobles in February 1437, less than a year after Margaret's wedding. Her mother Joan was seriously injured but survived. Margaret's six year old brother became King James II of Scotland.
At the time of their wedding Margaret was only eleven and Louis was thirteen, too young to consummate the marriage. Instead Margaret was assigned tutors and returned to her education, albeit under the control of her in-laws, while Louis travelled alongside his father. Despite the poverty of the French court Margaret seems to have had a good education. Although none of her work survives, she is believed to have had a talent for writing poetry. At her wedding she was described as looking like a doll, and as she grew these delicate features transformed in to a graceful beauty.
But a talented and beautiful wife wasn't enough to impress her husband. Louis was clever, quick witted, and thoroughly resented his father. He viewed Charles as a weak leader, unable to command the victories that the country needed and that Louis himself was sure he could win. Margaret on the other hand appears to have got along well with her father-in-law. It was reported that Louis already resented his wife for being foisted on him by his father, the fact that she refused to side with him only made things worse.
Once the pair were older they were permitted to live together. The ultimate aim was for Margaret to start providing the next generation of French royals. But she was reportedly scared of falling pregnant (who could blame her, childbirth could be fatal) and was believed to have tried eating foods that she hoped would prevent conception. Gossip against the princess swirled around the French court, possibly implying that Margaret was being unfaithful to her husband. She was depressed and unhappy at the court, but would never have been allowed to return to Scotland.
In August 1445 Margaret joined the court on a pilgrimage. The next day she developed a fever and was apparently diagnosed with inflammation of the lungs. Despite their poor relationship Louis may have been at her side as she died, as her younger sister Isabella owned a Book of Hours that have Margaret's last words to her husband recorded in the final page. A sign of her mental state can be shown from the story that when her ladies tried to convince her to fight against her illness and live, she refused.
Margaret died on 16 August 1445 at Chalons-Sur-Marne. She never became Queen of France. Her sisters Joan and Eleanor both arrived in France the month before she died, and after Margaret passed away it's possible that the plan was for one of them to take her place as Louis' wife. However the Dauphin seriously fell out with his father in September 1446 and was sent in to virtual exile. He eventually married Charlotte of Savoy in 1451, without his father's permission. Eleanor was already married to Archduke Sigismund of Austria, while Joan was sent home to Scotland sometime around 1456 or 1457 and eventually married a Scottish nobleman instead.
---
Last month's Almost Queen was Isabel Marshal.