Almost Queens: Maria Josepha of Saxony
Posted on
At one point the French monarchy went through a period of repeated Dauphin and Dauphine deaths. This led to several instances of the throne skipping a generation or two, and also gave history several "Almost Queens".
Maria Josepha of Saxony was born in November 1731 as the eighth child out of what would eventually be fifteen in total. Her father Augustus was the Prince-Elector of Saxony and would become King of Poland three years after her birth. Her mother, whom she was named after, was Maria Josepha of Austria, who was disinherited from the Austrian throne in favour of her cousin Maria Theresa.
Her parents appear to have had a happy marriage. Her mother was well educated and deeply pious, and travelled between Poland and Saxony, keeping up an extensive correspondence with her children while she was away from them. The young Maria Josepha therefore grew up with a model of queenship – a guide and support to her spouse, quietly carrying out an important diplomatic role behind the scenes, and dedicated to supporting charities.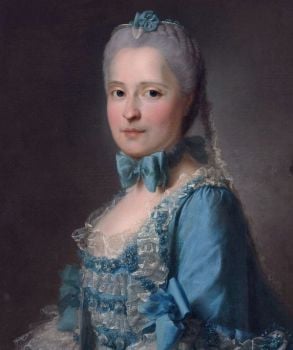 In 1746 the French court opened negotiations with Saxony for the hand of Maria Josepha. Her proposed groom was the recently widowed Louis, the Dauphin. They seem to have agreed their terms relatively quickly as the pair were married by proxy in January 1747 and Maria Josepha was promptly dispatched to her new home.
Maria Josepha's marriage didn't start out in the most promising way. The Dauphin was still grieving over the death of his first wife, Maria Theresa Rafaela. They had married in February 1745, and the Dauphine had fallen pregnant by the end of the year. A baby girl named Marie Therese was born in July 1746, but her mother had died a few days later. Louis had been grieving for less than six months when he was promptly shoved in to a marriage with Maria Josepha in February 1747, and was still publicly upset about the loss of his first wife. He spent most of his wedding night crying over her loss.
Not only that but his mother, Maria Leszczynska, wasn't happy about the marriage. Her father had been booted off his Polish throne by Maria Josepha's grandfather, and still viewed the family as usurpers. The bride had been selected following discussions with the King's mistress Madame du Pompadour, once again showing how little influence the Queen had with her husband.
But Maria Josepha must have had some excellent advice (possibly from her mother), or a smart head on her shoulders. She set about winning the approval of her mother-in-law by tactfully reminding the Queen that her family were now the bride's family too. She won over the King, who found her amusing, and slowly she won the affection of her husband as well. The Dauphin was a serious young man, and resented his father's mistresses and the disdain they showed towards his mother. At first Maria Josepha appears to have managed the balancing act of agreeing with her husband privately, without disagreeing with her father-in-law publicly. When the Dauphin's daughter by his first wife died in 1748 Maria Josepha commiserated with her husband and arranged for a portrait of her step-daughter to be painted and hung over the baby's cradle as a permanent memorial.
As time went on Maria Josepha found herself being drawn in to the animosity against Madame du Pompadour. Occasionally she managed to use excuses of illness to escape attending entertainments by the King's mistress, but often she had to pick between obeying her father-in-law or obeying her husband.
If diplomacy was one skill required of a future Queen, then quick decision-making in the face of crisis was another. In February 1752 the eldest Princess, Henriette, died at Versailles. Her final illness appears to have come on quite suddenly, leaving the family shocked. The King was deeply depressed and unable to make any decision, and it was down to Maria Josepha to order that the court be moved to Trianon. Likewise when the King was stabbed by a would-be assassin in 1757 the Queen and Princesses panicked, burst in to tears, or fainted. Maria Josepha attended to the more practical matters of ordering clean bedding and shirts as the whole court was packed up to move.
Despite the rocky start Maria Josepha and the Dauphin appear to have had a close, loving relationship together (if he ever took a mistress he was far more discreet than his father was). In total Maria Josepha had thirteen pregnancies during her marriage to the Dauphin, although sadly five ended in stillbirths. Their three eldest children all died in childhood, leading to their third son Louis Auguste eventually coming to the throne. Maria Josepha was therefore completely devastated when the Dauphin died of tuberculosis days before Christmas in 1765, aged just 36 and with their youngest child Elisabeth just 18 months old.
The King showed his thoughtfulness towards his daughter-in-law by rearranging the apartments at Versailles, so she wasn't forced to live in the same rooms she had shared for so many happy years with her husband. But sympathy only went so far. While the King sought her advice on a marriage for her eldest son Louis Auguste, he ignored her dislike of a marriage with one of Maria Theresa of Austria's daughters. Like her mother-in-law Maria Leszczynska, Maria Josepha's dislike was from the political background of her parents – Maria Theresa's claim to Austria had led to Maria Josepha's mother being disinherited.
In the end it didn't matter. Maria Josepha soon succumbed to tuberculosis, and died in March 1767. Her husband's death led to their son inherited the throne from his grandfather in 1774, becoming the ill-fated King Louis XVI of France.
---
Last month's Almost Queen was Alys of France.