Book Review - Margaret Tudor
Posted on
Margaret Tudor has intrigued me for a number of years. I often feel that Henry's sisters tend to be forgotten about in favour of their far more controversial brother and his multitude of wives. And yet both women were themselves controversial at the time. While they didn't quite reach the dizzying heights of six spouses, they did both marry several times each. And although Mary, Henry's youngest sister, died quite young, Margaret lived in to her early fifties and was also the mother of a future King. It was through her that King James VI of Scotland was able to claim the English throne.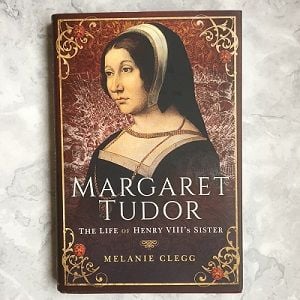 But because most of the focus is on Henry, Margaret does get left behind a bit. So I was very happy to receive a copy of Melanie Clegg's biography "Margaret Tudor: The Life of Henry VIII's Sister" from Pen and Sword. As you can no doubt tell from the title, this is a biography on the eldest Tudor girl. Named after her indomitable grandmother, Margaret Beaufort, Princess Margaret was the second child and first daughter of Henry VII and Elizabeth of York.
Clegg frames Margaret's story around the political considerations of the time. Her future husband supported Perkin Warbeck in his revolt against Margaret's father, which led to an alliance sealed by Margaret's marriage to the King. Like all of her siblings Margaret was a useful political pawn to keep hostile factions friendly (similarly her sister Mary married the ageing King of France). Along with using a variety of sources including court records of special events, Clegg also uses Margaret's own letters and quotes them throughout the book, which gives a nice sense of her voice and concerns over the years.
I particularly like how much Clegg focuses on Margaret's time at the Scottish court. Most of my knowledge of the time is very English-focused, primarily because everyone focuses on Arthur, Catherine and Henry. But this helped me get a more detailed view of King James, his court, and the Scottish nobles. There was a sixteen year age gap between the Royal couple, but they appear to have had a happy marriage together. The same certainly can't be said for Margaret's second marriage to Archibald Douglas. You can't help but feel sorry for Margaret, who did her best in a hostile court, and who was treated appallingly by her second husband.
The last 12 years of Margaret's life are a little bit rushed as they're covered by just one chapter. There was still plenty of drama in her life, she clashed with her son over his marriage plans (especially when he wanted to marry his mistress), and clashed with her brother over his treatment of her daughter by Douglas. Her life ended quite suddenly as she suffered a stroke shortly after retiring to Methven Castle, and died before her son could reach her. Even in death though her son was willing to ignore her wishes, and refused to hand over the personal belongings that Margaret had bequeathed to her daughter.
This is a lovely biography of a woman who has been neglected in favour of more "popular" figures. If you're a fan of the Tudors but want to read something a bit different, find out more about Margaret with this book!