Almost Queens: Alys of France
Posted on
Alys of France was never originally intended to be a Queen of England. And she never got to be one either, thanks to all those pesky rumours about what she got up to with her potential father-in-law, King Henry II of England.
Alys was born on 4 October 1160. Unusually we know her exact date of birth, even princesses didn't normally have their dates of birth recorded. However in Alys' case her mother died giving birth to her, cementing her birthday in history for all the wrong reasons.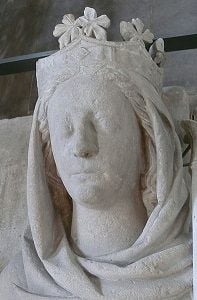 Alys' father King Louis VII of France was a man in desperate need of an heir. Alys was his fourth daughter from two wives. Her elder half-sisters, Marie and Alix, were Louis' daughters from his first wife Eleanor of Aquitaine. After divorcing Eleanor he married Alys' mother Constance of Castile (whose effigy is shown here, no image of Alys appears to have survived), who gave him Alys' older sister Margaret, and then Alys herself while dying inconveniently in the process.
The desperate need for a son meant that King Louis was striding down the aisle just five weeks after Constance's death (not to say that he wasn't grieving, chronicles at the time state he was deeply affected by his loss), this time with Adele of Champagne who was twenty years his junior. Alys was finally joined by the longed-for brother when she was five years old, and then another sister named Agnes.
Long before Alys came on to the scene her father had been at war, on and off, with King Henry II of England. While Louis needed a son to inherit his throne, his daughters were also important as diplomatic tools. Alys first played her part in January 1169, when Louis and Henry met to sign the Treaty of Montmirail near Le Mans. In this treaty Henry set out his future plans for his lands. His eldest son Henry, later known as "The Young King", would inherit the English throne (he had been married to Alys' sister Margaret in November 1160, the bride was just three years old). His second son, Geoffrey, was already betrothed to the heiress to the Duchy of Brittany, Constance, and through her would hold Brittany as a vassal to Prince Henry. As the third son Richard would inherit Aquitaine and hold it as a vassal to the French king. The treaty formed the official betrothal of Alys to Prince Richard, and agreed that she would be raised as a ward of King Henry, in the household of Queen Eleanor and her ladies.
At this point it's unlikely that anyone would have considered Alys to be a future English queen. Richard was third in line to the throne, his older brothers were both healthy and had survived the worst dangers of infancy, and their marriages would take place before his. Any sons they had would push him further down the line of succession. But Duchess of Aquitaine was still a good title for a Princess of France to hold, and Alys would be expected to promote good relations between her husband and her family.
Although she was only eight years old at the time, Alys was handed over the English court to be raised alongside her anticipated future sister-in-law Constance of Brittany, and her own sister Margaret. How much time she spent with her betrothed isn't really known. Especially since Richard and his brothers then got in to the bad habit of rebelling against their father.
As Alys grew up and the wedding with Richard didn't take place, rumours began to circulate. In 1177 King Henry was threatened with an interdict if he didn't go ahead with the marriage between Alys and Richard. At this point Alys herself was 17 years old, and Richard was twenty. Given that Alys' sister Margaret had been married at the age of three (against church law) and had begun to live with her husband when she was fourteen, this delay seems unusual. But Constance of Brittany didn't marry Geoffrey until she was twenty. Perhaps both women were reluctant to go through with marriages to men they barely knew or didn't like. Or perhaps Henry, always reluctant to cede power to his offspring, was reluctant to allow marriages that would confirm his sons were now men who needed their own lands to rule over.
But for Alys the delay in her marriage to Richard led to the destruction of her reputation. The rumours claimed that she had become mistress to King Henry, and thus could not marry his son. Henry's wife Eleanor of Aquitaine had been imprisoned in 1174 after supporting her rebellious sons (Alys and her sister were two members of the party that travelled from Normandy to England that year). Henry reportedly was considering getting an annulment for his marriage to Eleanor so he could marry his mistress "Fair Rosamund". However one chronicler claimed that Henry was actually considering marrying Alys himself. She was young, she was the daughter of a King of France, and her sons might have a potential claim to the French throne. It was even rumoured that Henry would disinherit his sons by Eleanor, and replace them in the line of succession with any sons he might have by Alys. It was even stated that Alys already had at least one child, possibly two, by Henry in the time she was his mistress.
By the time Henry died in 1189 the line of succession had changed twice. Henry the Young King had died in 1183, and Geoffrey died in 1186. While Geoffrey left a son named Arthur, he was only a baby and so the King's heir was now Richard. This meant that Alys was now betrothed to the King of England, and could have anticipated that she would become Queen Alys of England.
But Richard wasn't likely to pick up a woman who people said had slept with his father. While he agreed with Alys' brother King Philip that he would indeed follow through with the original plans, he quietly made other arrangements. When Richard left on the Third Crusade, planning to meet up with King Philip in Italy, his mother Eleanor travelled to Navarre. There she collected the princess Berengaria, and travelled with her to Italy. Alys was left behind in Normandy.
At Messina King Philip was horrified to be informed by Richard that the wedding with Alys would not be going ahead due to her relationship with his father. Philip left in a huff, Richard and Berengaria sailed on their merry way and were married in Cyprus.
Poor Alys on the other hand was virtually imprisoned, albeit honourably, in Rouen. Philip demanded her return several times, but Eleanor hadn't received any instructions about releasing her from Richard and so refused. If the rumours about Alys and Henry were true then Eleanor might have taken some satisfaction in stubbornly refusing to return the princess to her brother.
But Philip wasn't one to take an insult to his family lightly. He proceeded to cause problems for Richard and Eleanor. Prince John proved to be a useful and willing tool in Philip's schemes, and at one point agreed to marry Alys himself (before his death Henry appears to have proposed this same idea several times). Eleanor promptly put a stop to this plan, although not without difficulty. What Alys herself thought we don't know.
In August 1195, after several attempts by Philip to besiege Rouen and free her, Richard ordered that Alys be released and sent back to her brother. By this point she was thirty five years old. If she had had any children by Henry then they had probably died in infancy as nothing else is said about them (Henry's surviving illegitimate children appear to have been acknowledged in his lifetime, the silence around his possible children by Alys suggests they died very young, if they existed at all). Philip promptly arranged for her to marry Count William IV of Ponthieu. William was eighteen years Alys' junior, and given her age it was believed that Philip hoped she wouldn't be able to give William any children. By tying William in to a childless marriage, Philip would be able to claim Ponthieu through his sister. However Alys appears to have given birth to three children; Marie, Isabelle and John. However only Marie, who was born in 1199 when her mother was 39, survived.
Alys herself died sometime in the 1200s. William himself died in 1221, and Alys is believed to have died before him.
While Alys herself never became Queen of England, one of those curious quirks of medieval genealogy and marriage meant that one of her descendants did. Marie's eldest daughter Joan married the King of Castile in 1237. Her eldest daughter Eleanor married the future King Edward I of England. Thus Alys' great-granddaughter married King John's grandson, and became Queen Eleanor of England.
---
Last month's "Almost Queen" was Mary de Bohun.