Almost Queens: Mary de Bohun
Posted on
On her marriage in 1380 no one could have considered Mary de Bohun a potential future queen. While she was marrying in to the royal family, her husband's cousin was King and there was no reason to think that he wouldn't have sons of his own in time.
Mary de Bohun was the second daughter of Humphrey de Bohun, the 7th Earl of Hereford, and his wife Joan Fitzalan. She was born some time around 1369 or 1370, approximately three years after her older sister Eleanor.
When Mary was just three years old her father died, aged just 31. Humphrey held substantial lands around the country, and his death without a male heir left both Eleanor and Mary as heiresses. Their mother, Joan, never remarried and instead managed her own estates in Essex. Both girls probably spent time at their father's key property – Pleshey Castle in Essex. Humphrey had maintained a group of Augustinian friars to work on illuminated manuscripts for him, and Mary's own children would inherit several such texts themselves, suggesting that Mary grew up with some of her father's literary tastes.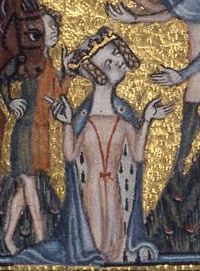 Mary and Eleanor grew up as Royal wards, with the King having the right to appoint their marriages. Edward III had generally tried to find heiresses to marry his younger sons. Lionel had married Elizabeth de Burgh and inherited extensive Irish estates through her, John of Gaunt was married to Blanche of Lancaster and took on the extensive Duchy of Lancaster, while Edmund had made a political match through marriage to a Castilian princess. This left the King's youngest son, Thomas of Woodstock, in need of a wealthy wife.
In 1374 Thomas married Mary's older sister Eleanor, who was just 11 years old at the time. Thomas was given Pleshey Castle as his main residence. Mary and Eleanor's mother, Joan, had at some point chosen Rochford Hall (future home of Anne Boleyn) as one of her main residences, and it's possible that Mary and Eleanor lived with her as Eleanor was too young to live with her husband.
Eleanor moved to join Thomas at Pleshey when she was fourteen, and Mary seems to have gone with her. Thomas was an ambitious young man, and an unpleasant story goes that he and Eleanor tried to persuade Mary to enter a convent and renounce her share of the de Bohun inheritance, so it would all go to them. However it's also quite possible that Mary genuinely considered becoming a nun, without any encouragement from her family. It wasn't unusual for young women from noble families to enter a convent, and in time a well-connected woman like Mary could have become Abbess without too much difficulty.
But even if Mary was willingly considering a retired life, others were less interested in her wishes. The story continues that John of Gaunt and Mary's mother Joan came to an agreement between them. Joan removed Mary from her sister's household and took her to Arundel Castle (the home of Joan's brother Richard FitzAlan). This may have been to keep her away from her sister's influence while John purchased the right to arrange Mary's marriage.
Sometime in the summer of 1380 Mary was married to John's only surviving son, Henry of Bolingbroke, possibly at her mother's home of Rochford Hall. John and Joan agreed terms of the marriage, which included Mary and Henry not living together until they were of a more suitable age, and John paying for Mary's living expenses. Thomas of Woodstock was reportedly so cross with his older brother for foiling his plan that it damaged their relationship for the rest of Thomas' life.
Mary spent several years living with her mother until she was deemed old enough to live with Henry. In September 1386 she gave birth to her first child, a son named Henry. Thomas followed in 1387, then John in 1389, Humphrey in 1390, Blanche in 1392, and Philippa in 1394.
However during these years it's unlikely that anyone could have predicted that her husband Henry would claim the English throne. His cousin King Richard II had no children, but generally indicated that his Mortimer cousins would be his heirs. Instead Mary and Henry settled in to family life. Although theirs was initially a political match, it does seem to have developed in to love. Henry was well educated, They shared a love of music, both were talented musicians and Mary seems to have tried her hand at some composing. When he was travelling through Europe in 1392 and 1393 the list of souvenirs he brought back for his wife included a parrot, which he purchased for her in Italy. While all we really know about Mary is that she didn't travel with her husband, his absence abroad no doubt gave her an opportunity to manage his estates (including the share she'd brought to the marriage) on his behalf.
In 1388 Mary would have seen even less of her husband. A group of Lords, including Thomas of Woodstock, moved to have some of King Richard's favourites removed from the court. Henry eventually joined them, and even took part in the armed rebellion that eventually came about. While we don't know Mary's whereabouts at the time, or the kind of influence she had over her husband, it must have been concerning to have him rebelling against his King. However the return of Henry's father John helped patch things up, and Richard appeared to forgive Henry.
Mary never saw the serious political troubles her husband became involved in in 1399, nor did she live long enough to see him become King of England. Shortly after giving birth to Philippa on 4 June 1394, Mary died. Her exact date of death isn't known, so historians are unsure if she died during childbirth, or was killed by an infection in the days or weeks after Philippa's delivery. Mary's step-mother-in-law, Constance of Castile, had died in March and was still unburied. In the end Constance's funeral was held in Leicester on 5 July, and Mary's was held the day after. Many years later, when her eldest son became King Henry V, he ordered a copper effigy to be created for her tomb. (Alison Weir suggests that Mary's date of death was 4 July, as this was the date that her "obit" was celebrated. However this would only give two days for her remains to be appropriately dealt with, let alone transported from Peterborough, where she's believed to have died, to Leicester.)
At her death Mary had four healthy sons, and thus gave her husband a collection of male heirs. With her interest in music and literature she could have been a very good queen, as she would have had an opportunity to be a patron of musicians, writers and artists. But in the end Joan of Navarre became Henry's Queen, and was even buried beside him at Canterbury Cathedral. Mary's own grave is no longer visible, the church she and Constance were buried in was destroyed in 1548, and the exact location of their bural is unknown.
While her husband became King of England, Mary's two daughters also had prestigious futures. Blanche married Louis, son of the Elector Palatinate, but sadly she died aged 17 while pregnant with her second child. Philippa became Queen of Denmark, Norway and Sweden on her marriage in 1406, and even acted as Regent of Denmark on her husband's behalf.
---
Last month's "Almost Queen" was Matilda of Anjou.