Book Review - Forgotten Royal Women
Posted on
Being a big fan of Royal women's history (as you've probably noticed from the Unlucky Princess and Royal Mistress blog series), I couldn't wait for Erin Lawless' new book to come out! I got it off Amazon a few days after it was released and it promptly went to the top of the "To be read" pile.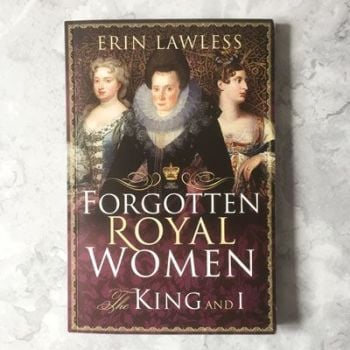 Forgotten Royal Women is a series of biographies on women who were connected to various royal families around Europe. Some were princesses by birth, some married in to a royal family, and some were descended from royalty without necessarily being accorded the title "princess".
Lawless has picked a lovely collection of women across history, starting with the almost mythical Scota, and the Celtic Cartimandua, going all the way through to poor Princess Charlotte, whose untimely death led to Queen Victoria inheriting the British throne. In between she stops off at the Anglo-Saxons, runs through a few Plantagenets, and rolls through some Tudors before finishing off with the Hanovers.
Although the running theme is connections to the British Isles I really liked the fact that Lawless didn't just stick to English-born or French-born royalty (which would have been easy, there's plenty of royal women that get forgotten) but has also included Scottish, Welsh, Irish and German. I also really liked that she's covered a huge historical timeframe. It can be very easy to focus on one period, with the Tudors being a big favourite, but Lawless has a nice balance between popular time periods and the bits that most people ignore a bit.
My only complaint is a tiny one – there's no bibliography! I love checking bibliographies to see if there's anything I can add to my Amazon wishlist. But that's just my preference, and in some ways it's nice to not have a huge chunk of the end of the book taken up with endless footnotes and the like.
This is a really great introduction to some lovely historical figures that, as the title suggests, tend to be forgotten about. I highly recommend this read, especially during Women's History Month!
---
You can also find out more about Erin Lawless' work, including her HarperCollins novels, at her website.