Royal Mistresses: Alice Perrers
Posted on
For centuries Alice Perrers has been portrayed as an ugly but intelligent woman, who seduced a King, took him for all she could get, and then disappeared in to a quiet retirement. But recent work by historians, particularly around documents held at the National Archives, have managed to draw out a more rounded picture.
Alice's origins are unknown. Originally it was believed that "Perrers" was her maiden name and that her father was Sir Richard Perrers, a knight from Hertfordshire. Professor Ormrod of the University of York has uncovered National Archives documents that name her as the wife of one Janyn Perrers, and that she had a brother named "John Salisbury". Chroniclers on the other hand insisted that she was a peasant nobody and the daughter of a thatcher. Whatever her origins at some point she is believed to have been a "Demoiselle" (ladies maid) to Queen Philippa. Not only did this give her access to the court but it also put her in the orbit of King Edward (although some records suggest that Edward made her a maid in his wife's service in order to cover for their affair. How the pair had originally met isn't made clear in that version of the story).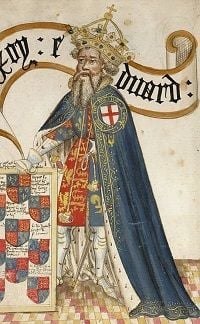 King Edward had a reputation for liking women, he had had multiple mistresses during the course of his marriage. However he had always returned to his wife. Alice was different. She came in to his life at a time when Philippa was beginning to suffer from ill health. Slowly becoming bedridden, with a broken collar bone that never healed properly and suffering from dropsy or possibly gout, Philippa could no longer travel around the country to be at her husband's side.
Alice on the other hand was young and in good health. Chroniclers claimed she was ugly but intelligent, but the comment on her looks were probably an attempt to discredit her. She had her first of three children by Edward, a son named John, some time between 1364 and 1366. Two daughters named Jane and Joan followed but their dates of birth aren't know, nor is where they lived and who raised them. Edward had been relatively discreet with Alice so it's unlikely their children were raised at court, the insult to his wife would have been too much. Alice's contemporary Katherine Swynford raised her illegitimate children, by Edward's son John of Gaunt, at the estate of her late husband in Lincolnshire. Alice might have had a similar hideaway, or if they were alive then she could have left her children in the care of her parents or her brother's family.
In 1369 Philippa died with her husband and several of her children at her bedside. With the wife dead there was no longer any point in Alice being discreet. Edward had already given her gifts through the early part of their relationship, but now Alice had presents virtually rained down on her. Edward granted her jewellery that used to belong to Philippa, even over-riding her will to give Alice jewels that had been left to another woman. She received grants of manors and land, accumulating enough to make her the wealthiest woman in England.
By 1372 Alice's reputation was cemented. The award of the Queen's jewels to a mere mistress shocked the court. Now Edward and Alice proceeded to shock the public. At a tournament at Smithfield Alice was presented out as "The Lady of the Sun", taking pride of place next to the King. This was a shocking break in etiquette. In the absence of the Queen the first lady at court should have been the wife of the heir to the throne, in this case Joan of Kent, or one of the King's daughters should the heir's wife be absent. Mistresses did not take the Queen's place in public. Alice was even accused of sitting at the Court of the King's Bench in order to get cases awarded in favour of her friends and relations, or those who bribed her. Later complaints about her show that people felt that if they brought a case against her then they would fail.
Alice's enemies gathered. In April 1376 the "Good Parliament" demanded that a council be set up to advise and help the King, and brought charges of corruption against various Royal servants, and the King's mistress. Alice was dismissed from court by June and banned from going near the King. The old man was furious to see his mistress treated in such a way but ultimately powerless to stop it. Their separation didn't last long however, by October Alice had been pardoned and allowed back at court by John of Gaunt. But it had given her an indication of what was to come.
It was around this time, as Professor Ormrod shows, that rumours that Alice had married began to circulate. Janyn Perrers had probably died before her affair with Edward began, leaving Alice as an independent woman. But a woman on her own is only as powerful as the relationships she cultivates, and Alice didn't have any key allies other than the King himself. At some point around this time she seems to have taken a calculated risk and secretly married Sir William Windsor. Windsor was known at court, he was King's Lieutenant in Ireland and had returned to England in time for the Good Parliament. Ormrod has suggested it was a match based on politics more than affection. Windsor needed support at court and who better to fight his corner than the King's mistress? Likewise Alice needed a shield and Windsor had had a relatively solid career at court. The rumours may even have reached Edward himself, who was apparently upset by the news. However Alice and Windsor both denied that they were married. Edward seems to have believed her since he welcomed her back with open arms. She even managed to get a good marriage for her son by Edward, John Southray. In January 1377 he married the heiress Mary Percy and was knighted by the King.
Edward died on 21 June 1377 at Sheen Palace in Richmond. The hostile chronicles recorded that the only person with the King was a priest. All his servants had left him, as well as Alice who stole the rings from the poor man's fingers as she abandoned him. Froissart on the other hand recorded that Edward's surviving sons were at his bedside as he passed. Whether Alice was in the next room waiting for news of her royal lover, or halfway down the road with the family silver tucked in her knickers, she was now extremely vulnerable.
The new king, Richard II, was only nine years old but was persuaded to move against Alice. At Richard's first parliament, which began in October 1377 and finished in December that year, she was put on trial (effectively for interfering in state business), found guilty, and had her lands confiscated and a sentence of exile handed down.
But she didn't leave. In 1378 Windsor declared to the court that he had secretly married Alice before King Edward's death. Alice should not have been tried as an independent woman, leaving a procedural loophole in the case against her. In the following months she was pardoned for not leaving the country. Ormrod has suggested that rather than go in to exile Alice was delivered in to Windsor's custody. The court decided to believe the rumours of marriage and so treated Alice as a married woman, even if her trial wasn't carried out along those lines. But as Ormrod points out – how much of this suited Alice's own plans? Was she working in tandem with her husband, or was he now her jailer and the usurper of her properties?
Ormrod also points out that although Alice received a pardon for not going in to exile, she was never actually pardoned for her result of her trial in 1377. An appeal was lodged by Windsor but was never formally heard or completed. Alice was left in legal limbo. Instead Alice's lands were granted to Windsor in March 1380. Windsor had already agreed to take up the role of constable of Cherbourg and join in with a military campaign to Brittany. Overall this was a useful situation for both crown and husband. Man gets wife's lands, crown gets useful man to control is problematic wife, and he agrees to take part in and partially fund a military campaign. If the wife doesn't like it, who cares?
Windsor's death in 1384 once again changed things for Alice. She was now once more a widow, with legal rights as an independent woman. However Windsor had left some of his lands, and some of those that had belonged to Alice, in a trust. Ormrod suggests this trust may have been created to support Alice, preventing the lands being used to pay his debts. However the beneficiary was Windsor's nephew and if he was supposed to use the money to support Alice he failed. Alice proceeded to take legal action against the trust and try to regain the portion made up of her own estates. It was a fight that wouldn't be resolved in her lifetime. Her only success was to have the original judgements handed down on her in the 1370s revoked and some of her lands restored to her own control. The legal fight over remaining properties, and her legal status, raged right up until the end of her life.
Alice's exact date of death isn't known. Her will was made around late summer 1400 and proved in early 1401, suggesting that she died over the winter of 1400. But the chroniclers no longer cared about where she was or what she was doing, and so failed to notice or record her death. Her son by Edward, John, is believed to have predeceased her. Instead her fight against Windsor's nephew was picked up by her daughters Jane and Joan.
Alice was buried at Upminster but sadly the location of her tomb, like much of her life, has been lost to history.
---
If you're a fan of Alice Perrers, check out her badge!
Sources
Ormrod, W. Mark. "The Trials of Alice Perrers." Speculum, vol. 83, no. 2, 2008, pp. 366–396
Ormrod, W. M. "Who Was Alice Perrers?" The Chaucer Review, vol. 40, no. 3, 2006, pp. 219–229
Heroines of the Medieval World by Sharon Bennett Connolly
Katherine Swynford by Alison Weir
Joan of Kent: The First Princess of Wales by Penny Lawne