Unlucky Princesses: Claude of France
Posted on
Reportedly shy with an interest in religion, not to mention severe health problems, Claude probably would have lived longer if she had been able to dedicate her life to a convent. Instead necessity led to a political match that put her on her mother's throne, and a series of pregnancies that considerably shortened her life.
Born in October 1499 Claude was the eldest daughter of Anne of Brittany and her second husband King Louis XII of France. Anne had been married to the previous King of France, Charles VIII, and his death without a surviving male heir saw his cousin Louis claim the throne and marry his wife. Both men were keen to ensure that Brittany became part of the French kingdom. But this would only happen if Anne, the last Duchess of Brittany, had a son who was both King of France and Duke of Brittany.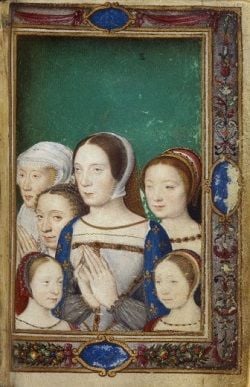 While the birth of a daughter may not have been ideal for Louis, it gave Anne a way out for her beloved Duchy. Claude's gender made her ineligible to inherit the French throne, but it didn't stop her inheriting Brittany. Behind the scenes Anne manoeuvred to get Claude a husband from beyond France's boundaries. Just before her second birthday in 1501, Claude was officially betrothed to the 18 month old Charles Habsburg. Charles would eventually become Holy Roman Emperor, Duke of Burgundy, and King of Spain, Duke of Brittany would have been an added bonus. That was without the rest of Claude's dowry, rights to a collection of lands in France and Italy would have significantly added to the Emperor's domains.
But in France itself Anne was facing opposition. As the years went by and a male heir failed to appear King Louis looked around for a back up plan. The next potential heir was Francis d'Orleans, who was five years Claude's senior. He was being raised by his mother Louise of Savoy, who was was far from keen to see her son's inheritance reduced by Queen Anne. Louise reportedly persuaded the King to promise her that Francis and Claude would be married. Louis fell sick in 1505 and at one point may have feared for his life. He set up plans for Francis to be helped by a regency council that included both Anne and Louise, and called off Claude's betrothal to Charles. Instead she was officially recognised as the future bride of Francis. When her father died she would be Queen of France, and her son by Francis would inherit Brittany through her.
Queen Anne's following pregnancies all ended in miscarriages until Claude was finally joined by a baby sister, Renee, in 1510. When Anne had married Louis she had included a clause in their marriage contract that Brittany should be inherited by the second surviving child, boy or girl. In January 1514 she suffered a severe kidney-stone attack. As it became clear that she wasn't going to survive she dictated her will, in which she granted her beloved Brittany to Renee. Louis cancelled the bequest, gave Brittany to Claude, and married her to Francis four months after Anne's death.
Anne hadn't even been dead a year when Louis married again, to Mary Tudor the younger sister of King Henry VIII of England. Mary was Queen of France for three months before Louis died, and Claude stepped up to her mother's throne.
Sadly for Claude her ill health meant that she couldn't play the key role she might have hoped for. Francis was close to his family and had his mother and older sister Marguerite at court with him. Both women were clever, sophisticated, beautiful and elegant. They commanded attention and carried out the kind of patronage that should have been expected of Claude. But the young Queen appears to have been rather shy. This wasn't helped by her health problems. She was quite short and had such severe scoliosis that she reportedly had a hunched back, along with a problem with her hips (possibly dyplasia) that she inherited from Anne.
Francis notoriously had a number of mistresses, but seems to have been relatively discreet. His and Claude's first child was Louise, born in August 1515 and presumably named for her paternal grandmother. Charlotte, Francis, Henry, Madeleine, Charles and Margaret all followed over the space of another 8 years. In fact Claude was pregnant for most of her marriage. Her pregnancies made her health worse and she grew increasingly obese. Of her children Henry eventually inherited the throne from his father, Madeleine became a short-lived Queen of Scotland, and Margaret became Duchess of Savoy. The others all died young or before they were married.
Sadly Claude never saw her children grow up. She died on 20 July 1524 just six weeks after giving birth to Margaret. Her cause of death was never recorded. It could have been a postnatal infection, or an underlying health problem that was made worse by successive pregnancies. There was even some suggestion from sources that Francis had given her syphilis, which had caused her death.
Although he was devastated by the news Francis himself was too busy preparing to go to war to arrange the kind of funeral a Queen required. Claude's remains were embalmed and sealed in a lead casket and left at Saint-Calais church in Blois. She was finally buried at St Denis in Paris in November 1526. Her daughter Charlotte, who had died 2 months after her from measles, was buried at the same time.
---
If you've enjoyed this post you might want to check out the rest of the Unlucky Princess series.