Almost Kings - Prince Albert Victor
Posted on
After surviving the usual childhood illnesses, as well as a stint in the Royal Navy, Albert Victor was virtually a shoe-in to one day become King Albert I. Unfortunately a winter chill changed everything.
Born two months premature in January 1864 at Frogmore House in Windsor, at the time of Albert's birth his grandmother, Queen Victoria, was still on the throne. He wasn't Victoria's first grandchild, but he was the first of her eldest son Edward, Prince of Wales. Therefore Albert was second in line to the throne from birth.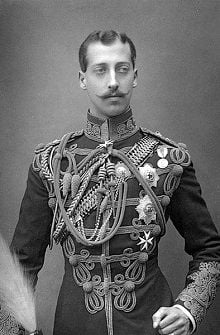 Albert and his brother George, younger by seventeen months, were given the same tutor and same education. Neither of them did particularly well, something which could be blamed on poor teaching. But as he grew up Albert showed little interest in anything academic. He learned Danish, but struggled to pick up French and German, languages his parents and grandmother were fluent in. In 1877 both Albert and George were signed up to the navy and sent to the training ship HMS Brittania. Albert fell ill with typhoid but recovered, and by 1879 he was ready to be deployed. He and George spent 3 years travelling the world as crewmen on HMS Bacchante. By the time they returned the pair had seen more of the British Empire than their father and grandmother combined.
On returning to Britain, Albert was enrolled in Trinity College Cambridge. He still wasn't particularly academic, but he was excused from taking exams so it hardly mattered. He was finally awarded an honorary degree by Cambridge in 1888, three years after he left. Instead of continuing his education he was enrolled in the army, in the 10th Hussars. He trained at Aldershot before being promoted to captain in 1887. But again his lack of talent prevented him going further than Major, and then his classmates proceeded to be promoted above him. He may also have contracted an STD by this point, as letters to his doctor refer to him taking medication that was generally used to treat gonorrhea.
As an adult Albert was a diffident young man. He was considered to be perfectly affable and good natured, but with no talent and no occupation he quickly grew bored. He might have been given Prince Albert's name, but he was as far as one could get from the kind of King that his grandfather would have wanted. He had inherited his father's interest in card games and pretty women, but unlike Edward he lacked any kind of work ethic.
In July 1889 the police raided a male brothel in Cleveland Street, London. During interrogation the names of the clients were soon divulged, including Albert's equerry, Lord Albert Somerset. Although Albert's name was never mentioned by any of those arrested, it wasn't long before the association between the two men led to a rumour that Albert also visited the same establishment. This wasn't helped by Somerset's lawyer, who claimed that if his client went to court he would reveal the name of one "P.A.V." (Prince Albert Victor) who also visited Cleveland Street. Somerset himself fled abroad and refused to condone the rumours about Albert.
In the end Albert's father the Prince of Wales intervened and made sure that none of the clients would end up in court. For some this is proof that Albert had indeed visited the brothel and his father covered it up as a result. It may be that Albert was bisexual, or followed expectations at the time and been firmly in the closet. Alternatively Somerset's lawyer may have spread the rumours himself to take the focus off his client. But the scandal was enough to prompt the family to step in and draw a line under the matter, and to start hunting for a suitable bride.
A further scandal enveloped Albert's life long after his death. In the 1960s it was suggested that he could have been Jack the Ripper. However papers from the time show that Albert was no where near London during several of the murders. It's also generally accepted that killer had some kind of surgical skill, well beyond the capabilities of Albert.
The search for a bride for Albert started as early as 1889. His cousin Princess Alix was considered to be the frontrunner. But when he proposed she declined. She would go on to fall in love with and marry Tsar Nicholas II of Russia. A year later Albert was quite over her, and instead had fallen in love with Princess Helene of Orleans. Originally Queen Victoria was against the match, but the young couple convinced her that they were in love. Always sentimental at heart when it came to love, and with a soft spot for Albert, Victoria decided to give her blessing.
But other family members were less forthcoming. The Princess' father in particular was opposed to the match, and the Prince of Wales wasn't thrilled either. Helene had offered to convert from Catholicism in order to marry Albert, but her father refused to accept this as a condition. In a desperate attempt to get around her father, Helene even travelled to Rome to appeal to the Pope in person. Why she thought this would work is a mystery, naturally the Pope refused to give her permission to convert from the Church. Ultimately the pair gave up, Helene would go on to marry the Duke of Aosta in 1895.
But a bride had to be found for Albert, and there was a shortage of suitable women. Apart from his European cousins, Queen Victoria reportedly complained that other potential continental brides were too stupid or too ugly to be considered. However waiting in the wings at home was another relation – Princess Mary "May" of Teck. Mary's mother was a cousin of Queen Victoria, as she was another granddaughter of King George III. Mary was beautiful, educated, down to earth and well liked. She took an active interest in charities and good works, and was considered to be a practical, sensible young woman. The hope was that she would help reform Albert, who was entertaining himself with actresses.
The Prince was quite taken with his pretty potential bride, and proposed to her in December 1891. Unlike Princess Alix, there was no refusal from Princess Mary. A public announcement was made that the pair were engaged, and the wedding was set for February 1892. Together they moved on to Sandringham to spend the festive season with Albert's family, the Prince and Princess of Wales held Christmas at Sandringham every year. However early in the New Year Albert felt ill while out on a shooting trip in the cold January air. He quickly fell sick with the flu. He struggled through his birthday celebrations on 8 January, but took to his bed shortly after. As his temperature rose he reportedly cried out for Princess Helene. Flu developed in to pneumonia, and he died on 14 January 1892. His death shocked the nation. The sudden loss of a healthy twenty eight year old heir to the throne came out of the blue. He was buried in St George's Chapel at Windsor Castle.
In similar style to Arthur Tudor and Catherine of Aragon, Albert's younger brother Prince George took both the throne and the bride. Mary was still considered good enough to be a Queen Consort, and she had merely been engaged to Albert. George and Mary became close during their period of mourning, and were married in July 1893.
---
Last month's Almost King was Henry Stuart.