Unlucky Princesses: Juana la Beltraneja
Posted on
Technically known to history as "Juana of Castile" (a name that would later be taken by one of her nieces), Juana la Beltraneja's more well-known name comes from the questions that surrounded her birth. Her mother Joan of Portugal was a Queen Consort of Castile as the second wife of King Enrique IV of Castile. Enrique had had his first marriage dissolved after thirteen years on the basis that it had never been consummated due to impotence (caused by a curse).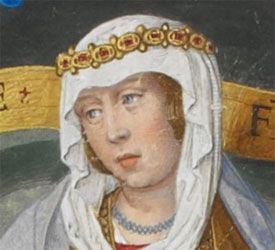 Juana's birth on 21 February 1462 was something of a miracle, assuming her father's rumoured problem was true. Castilian nobles on the other hand attributed her not to God, but to court favourite Beltran de la Cueva. Much of what was written about Enrique came during the reign of his half-sister Isabella, who needed to legitimise her own actions. Juana's epithet thus comes from her potential father Beltran.
Despite the apparent rumours Enrique was happy to recognise the baby as his own. When she was three months old he officially named her as the heir to the throne and gave her the title "Princess of Asturias" - the traditional title held by the heir. But various members of the Castilian nobility refused to recognise her as heir, favouring Enrique's younger half-brother Alfonso. In 1464 civil war broke out, and Enrique was forced to acknowledge Alfonso as his heir. The one compromise that was agreed to was that Alfonso would marry Juana when she came of age, uniting the two competing claims to the throne.
Alfonso's death four years later should have given Enrique an opportunity to promote Juana again. Instead he agreed to support the claim of his half-sister Isabella. Juana was still excluded. Her claims weren't helped by the actions of her mother. Joan had been dismissed from court by Enrique and ended up moving to a castle belonging to the Bishop Fonesca. She fell in love with the Bishop's nephew and had two illegitimate children with him. Not only did this give Enrique an excuse to divorce her too, but it also added to the rumours about Juana. Clearly her mother was an adulteress at least once, why not twice?
On Enrique's death in 1474 it looked as if Juana's cause was completely lost. Although her mother tried to support her from her exile, her death in 1475 put paid to any assistance she could have given her daughter. Juana herself had been raised by a succession of noble Castilian families, and her future marriage had been carefully considered by her father. French and Burgundian alliances were considered, but in the end she was betrothed to King Afonso of Portugal. Enrique's death led to the War of Castilian Succession. Isabella was supported by her husband, Ferdinand of Aragon. In May 1475 Afonso of Portugal invaded Castile and promptly fulfilled his betrothal by marrying Juana.
Afonso brought with him an army from Portugal, combined with the Castilians who supported Juana. It wasn't enough though, after the Battle of Toro Ferdinand declared an overwhelming victory.
It wasn't quite true, but it was enough to convince the Castilians to side with Ferdinand and Isabella. Afonso tried and failed to secure support from France, and effectively gave up the fight. He abdicated the Portuguese throne in 1477 and retired to a monastery. Juana's marriage was annulled a year later, and Isabella gave her a choice – become a nun or wait for another decade to marry Isabella's infant son Juan, and again potentially unite the two claims. Juana chose the convent, and officially renounced her claim to the Castilian throne. However she spent the rest of her life signing letters as "Juana the Queen". After a number of years in a convent she was allowed to move to Lisbon, where she resided in the Castle of Sao Jorge, supported by her mother's family.
Juana outlived Isabella by twenty six years, dying in Lisbon in April 1530. Ironically it's reported that after Isabella's death her husband Ferdinand proposed to Juana, in a desperate attempt to keep control of Castile. Unsurprisingly Juana declined.
---
The previous Unlucky Princess was Marie Louise d'Orleans.
If you like the Unlucky Princess series you might like my eBook series - 30 Women in History.