Unlucky Princesses: Marie Louise d'Orleans
Posted on
Marie Louise d'Orleans really drew the short straw when it came to a Royal marriage. This poor French princess was sacrificed on the altar of political necessity, and married off to the last Habsburg king of Spain – King Carlos II.
Born on 26 March 1662 Marie Louise was the daughter of Philippe, Duke of Orleans, and Henrietta Anne of England. Her father was the younger brother of King Louis XIV "the Sun King" while her mother was a younger sister of King Charles II of England and the future King James II. She grew up in the ostentatious luxury of the French court, travelling with her family between various palaces and staying with her grandmothers – the Dowgar Queen of France Anne of Austria, and Dowager Queen of England Henrietta Maria.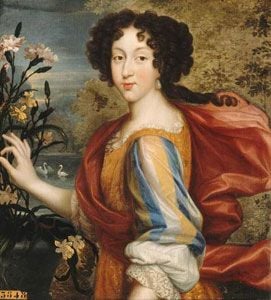 When Marie was eight her mother died. Poison was suspected by some, but it was probably an infection from a perforated ulcer. Philippe remarried a year later to Elizabeth Charlotte "Liselotte" of the Palatinate, and again Marie Louise fell on her feet. Liselotte was not a stepmother out to cause trouble between her husband and his elder children, and she developed a close relationship with both Marie and her sister Anne.
But when it came to marriage Marie Louise was less lucky. Although a marriage with her cousin the Dauphin was considered to be the best match a girl could want, it was France's on-going battles with Spain that won out. Carlos had become king at the tender age of three on the death of his father King Philip IV. Such an inheritance at such a young age was difficult enough, but it was made worse by Carlos' severe mental and physical disabilities. Generations of inbreeding between the two sides of the House of Habsburg meant that Carlos' parents were uncle and niece. Philip IV's parents had also been first cousins, in total eight of Carlos' great-grandparents were descended from Philip Habsburg and Juana of Castile.
Carlos' health problems were well known around Europe. Unable to speak until he was four and unable to walk until he was eight, his deformed jaw and overly large tongue meant that he could barely chew his food. He had a minimal education, his doctors feared that mental exertion would lead to his early death. Marie Louise would not have been ignorant of these issues, and reportedly spent most of her time after the proxy marriage ceremony in floods of tears. Liselotte travelled with her for part of the journey to Spain, and kept up an active correspondence once she left France.
Life in Spain was about as bad if not worse than Marie Louise may have imagined. Carlos was fascinated by his beautiful wife and fell in love with her, and she developed a good relationship with her mother-in-law Mariana. But in all other aspects it was a miserable existence. A young woman used to the beautiful opulence of the French court, Marie was now trapped in the austere residences of the Spanish court. She was expected to follow Spanish etiquette, highly formal and with strict rules about what Queens must not do. She wasn't even allowed to look out the window, lest a common citizen catch a glimpse of her. Spanish Catholicism was very different from French Catholicism, as Queen Marie was expected to witness the burning of heretics by the Inquisition. The courtiers and the Spanish people hated their French-born Queen and both Marie and her attendants from France were accused of plotting against the King.
Marie Louise never fell pregnant, and this was also blamed squarely on her. Infertility was inevitably blamed on the woman, even when the husband was as clearly ill as Carlos was. Marie even confided to the French ambassador that she was sure she would never have a child, indicating that she was well aware it was Carlos' health problems that were the root cause.
After a day out riding in February 1689 Marie Louise complained of a pain in her stomach. After two days of agonising stomach pains she was dead. Like her mother's untimely death, poison was suspected and her mother-in-law was accused of having her killed off so a more fertile woman could marry Carlos. Modern belief is that she died from appendicitis or food poisoning. She was only 26 years old, she had never seen France since leaving it for her wedding.
---
If you like the Unlucky Princess series you might like my eBook series - 30 Women in History.