On This Day: Death of Blanche of Castile
Posted on
On 27 November 1252 the Regent of the French throne died. Not an uncle or brother or other male relative of King Louis IX but his mother, Blanche of Castile. With her son on Crusade she had proved to be an able regent, but this surprised no one. It wasn't the first time Blanche had been required to take care of France for her son, and she came from a line of highly capable women.
Granddaughter of Eleanor of Aquitaine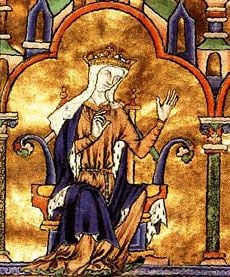 Blanche was born in 1188, the daughter of King Alfonso VIII of Castile. Her mother was an illustrious princess, Eleanor of England, the daughter of King Henry II and Queen Eleanor, Duchess of Aquitaine. She was the sixth of eleven children, although her three older brothers had all predeceased her.
In her mother Blanche had an excellent example of a highly educated woman, able to wield the kind of control often denied to women at the time. The Queen had been gifted control of her dower, specific towns, ports and villages whose rents went towards the upkeep of her court. King Alfonso trusted his wife's judgement and named her in his will as Regent should his eventual heir, Prince Henry, be too young to rule in his own right. Queen Eleanor also supported several monastic houses in Castile and maintained a shrine to St Thomas Becket, providing Blanche with an example of the religious influence a Queen could wield.
When Blanche was twelve the court of Castile received a visit from her grandmother, the dowager Queen of England – Eleanor of Aquitaine. Another strong woman, Eleanor had been sent to assist in the negotiations for the hand of a Castilian Princess for the heir to the French throne. In theory the honour was to go to Blanche's older sister Urraca, but Eleanor chose Blanche (Urraca had to settle for the King of Portugal instead). As spring came Eleanor and Blanche crossed back in to Gascony, where a sick Eleanor handed the custody of her granddaughter to the Archbishop of Bordeaux and then retired to the convent of Fontevrault.
Queen in Waiting
Blanche and the crown prince Louis were married in May 1200 in Port-Mort. Louis' father, King Philip II of France, had had his Kingdom placed under an interdict due to his treatment of Ingeborg of Denmark. The terms of an interdict meant that no religious services, including baptisms, marriages and burials, could be carried out. Port-Mort was owned by King John of England, Blanche's maternal uncle, and was therefore not under any religious interdict.
Blanche had her first child, a daughter also named Blanche, in 1205. The baby didn't live long, but a boy followed in 1209. Blanche gave birth to a total of thirteen children, including four sons who all lived past infancy.
There wasn't much scope for Blanche to wield any kind of influence. With King Philip firmly in charge there was little for the heir to the throne and his wife to do. King John's own problems with his barons in 1215 led to Louis being offered the English throne in right of his wife. Blanche was his only supporter in this endeavour, along with raising money from her father in law she also organised a fleet of ships to assist her husband. The French were eventually paid to leave England, Blanche's fleet had already been destroyed by the English off the coast at Sandwich, but it showed Louis that his wife could take charge when needed.
Queen Regent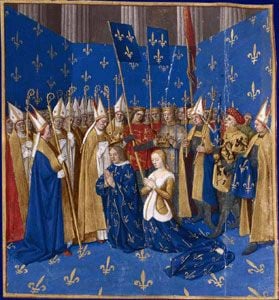 King Philip eventually died in 1223. After two decades of waiting Blanche was finally Queen of France alongside her husband, King Louis VIII. But it was to be a brief reign for the King. In 1226 Louis rode south to fight Count Raymond of Toulouse, leaving a pregnant Blanche behind. The King succeeded in taking Avignon, but on the journey home he contracted dysentery and died before he could reach home. France was suddenly left with a twelve year old King and his pregnant mother in charge. Almost immediately a group of French nobles began to consider a revolt, a pregnant woman was no match for them.
The best thing the dead king could have done for his son was leave his mother as ruler of France in her own right until their son came of age. Despite her condition Blanche moved quickly to have Louis crowned at Rheims, which would show her who was loyal and who was not. Sure enough in the following years, those barons who avoided the coronation led several rebellions against the new King. But they were unsuccessful, and by the time he came of age Blanche was able to hand a secure kingdom on to her son.
The unpleasant mother-in-law
Strong, determined, and clever, Blanche was no match for any disobedient noble. But the qualities that made her a good regent didn't do quite so well in the personal sphere. She arranged for Louis to marry a young woman from the county of Provence, Marguerite the daughter of Count Raymond and his wife Beatrice of Savoy. But Marguerite's presence at court led to a reduction in interest in Blanche. Marguerite's beauty and gentle nature were praised, Blanche was sidelined. More importantly Louis quickly grew close to his wife, and this was a lapse in influence that Blanche could not allow to happen.
Her treatment of Marguerite was reportedly couched in terms of concern. The new Queen failed to become pregnant quickly enough, so Blanche dispatched her on a public pilgrimage to a variety of shrines. She did everything possible to stop Marguerite and Louis meeting privately during the day, even assigning servants to watch the young woman. Louis was a King and Kings were busy ruling the kingdom, surely the new Queen could understand that she couldn't be bothering her husband during the day? Marguerite was reportedly deeply unhappy at her treatment at the hands of her mother-in-law, but Blanche was still too powerful at court for anyone to go against her, including Louis himself. He still needed her advice on matters of state, and was dependent on her for assistance. It was only when Marguerite gave birth to her first child, a daughter named Blanche in 1240, that the King's mother finally move to her own household and gave her son and daughter-in-law some peace. Albeit with Louis still needing her advice on matters of policy.
The unwilling Regent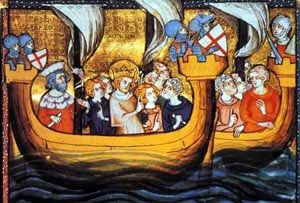 In 1244 Louis fell seriously ill, he had contracted dysentery two years before and this may have been a relapse. Blanche and Marguerite spent days praying at his sickbed, and at one point he was close to death. When he recovered Louis demanded he be given the cross, a sign that he would take up a Crusade in the name of God.
Blanche spent months trying to persuade him to not go, even getting the Bishop of Paris to intervene. But Louis was determined, and Marguerite decided to go with him too. Blanche would be both Regent of France and the guardian of three infants (baby Blanche had died, as had a son named John, but by the time they were ready Isabella, Louis, and Philip were all in the French royal nursery). It was probably the first time that the King had openly defied his mother.
Blanche was now sixty years old and dreading the responsibility her son was placing on her. After celebrating the start of his crusade with a Mass in Notre Dame the court travelled to Blanche's home in Corbeil. There the King said his farewells to his mother, who reportedly said to him "Alas, my fine son, I will never see you again in this mortal life."
During her second period as Regent, Blanche faced problems on multiple fronts. Raymond VII of Toulouse died just as the crusade left. As her son Alphonse was due to be the new Count of Toulouse (he had married Raymond's only child, a daughter), and was also on the Crusade, Blanche had to arrange for the smooth transition of power to the French crown. In Gascony English influence was leading to problems on the border. Blanche appealed to the Pope for aid, and got an extension on a truce already agreed with England, but English soldiers in Gascony could cause all manner of problems.
Then Blanche received the worst news possible. The crusade had started well with the capture of Damietta. But after an attack on Egypt had gone badly wrong the French forces had been slaughtered, King Louis had been captured, and his brother Robert of Artois had been killed. Blanche suddenly found herself mourning the loss of a child and having to find an enormous sum of money for Louis' ransom. While trying to raise the money she wrote to Louis, begging him to return to France. Louis refused her request, sending back his two remaining brothers in his place. They both wanted to return and commanding them to go allowed Louis to save face. He wasn't being abandoned by his brothers, he was sending them to help their mother.
The sum of money needed to free Louis was so large that Blanche refused to divulge the total, in case it led to a rebellion. After raising the money from the church and increasing the taxes on the towns she had it shipped to Acre. But it was all for nothing, the ship carrying the treasure sank in a storm and Blanche had to raise the money all over again. Louis was even writing to her asking her to raise a new load of troops for another crusade, but no one was willing to sign up.
As she predicted Blanche never saw Louis again. In November 1252 she was taken ill while visiting Melun. After taking the veil and receiving the last rites from the Bishop of Paris, she died on 27 November 1252. She had requested to be buried in her crown, with her ermine robes, and her nun's veil over the top. Her two sons Charles and Alphonse carried her funeral bier back to Paris and had her interred in Maubuisson abbey, one of the Cistertian monasteries she had founded in 1236.
Even his mother's death couldn't stop the King's desire to remain in the Holy Land. Louis finally arrived back in France in July 1254.
---
If you're a fan of Blanche of Castile you can find her badge here.