On This Day: Death of Noor-un-Nisa Inayat Khan
Posted on
On 13 September 1944, four women were executed at Dachau Concentration Camp. All four of them; Yolande Beekman, Elaine Plewman, Madeleine Damerment, and Noor-un-nisa Inayat Khan, were agents from Special Operations Executive. A Dutch prisoner at the camp reported that Noor in particular had been singled out and beaten badly before being shot. It was a sorry end for a short life that had started out with wealth and privilege, whose course had been significantly changed by the outbreak of the second world war.
The quiet child
Noor-un-Nisa Inayat Khan was born in Moscow on 2 January 1914 as the eldest child of Hazrat Inayat Khan and Pirani Ameena Begum. Hazrat came from a noble Indian family related to Tipu Sultan, Pirani was an American who changed her name from Ora Ray Baker after her marriage to Hazrat. Noor's family moved around Europe, her father taught music and Sufism while her mother was a prolific writer of poetry.
Noor was only a few months old when the family left Russia for England, where they spent the First World War living in London. In 1920 the family, now expanded by two sons and a second daughter, moved to France where they lived in Suresnes in Paris. The family had a talent for music, Hazrat would sing to his children, especially when they couldn't sleep. Noor learned to play the harp and piano, her brother Hidayat played the violin and eventually became a Professor of Music, and her sister Khair-un-nisa learned the piano.
Noor's father died in 1927 shortly after choosing the site of his tomb in India. Noor was just thirteen years old. In the following years the family would travel to India to see the creation of Hazrat's tomb, and travel around Switzerland. Noor also spent time in the Hague as guest of two of her father's disciples. After this visit Noor also travelled to Italy, and spent time travelling around Spain with one of her brothers. She had excelled in languages in school, fluent in English and French and also studying German and Spanish. She also studied Child Psychology at the Sorbonne, which led to her writing a variety of books for children, and working with Radio Paris on a series of children's programmes. The financial support from her father's disciples meant that Noor had received an excellent education and the opportunity to travel. She had been raised to believe that lying was one of the worst sins one could commit, and she was described as being a bit of a "dreamer".
Joining SOE
At the outbreak of the Second World War Noor and her sister Khair trained as Red Cross nurses. The hospital they were stationed at was evacuated as the Germans advanced, in the end the two women hurried back to Paris to join their mother and brothers. Together the family fled to the south of France, where they eventually managed to get a spot on a Belgian cargo ship that took them to England.
For the first time the Khan family found themselves poverty-stricken. Their supporters were mainly based in Europe and were unable to send money across to England to support them. After some discussion with her brother Vilayat, the pair decided that although their father had always preached for pacifism, the threat that Nazism posed meant that they should both join the fight. Vilayat joined the RAF while Noor signed up for the Women's Auxiliary Air Force (WAAF) in November 1940. She spent several years in the WAAF as a wireless operator, reportedly earning the nickname "Bang Away Lulu" due to the noise she made during Morse key tapping.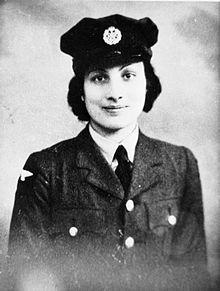 In October 1943 Noor had her first SOE interview. The danger of such work was highlighted repeatedly to her during the interview, but she still volunteered to undertake SOE training. She was considered to be an ideal candidate, she was calm, unflappable and appeared to have thought deeply about the potential consequences of the work. She had even discussed the work with her mother and had come to the conclusion that her family would adapt to the worry of her being abroad. They would also benefit from the pay she would received as an SOE agent, her family were struggling financially and the wages for SOE were better than in the WAAF.
She entered in to the training programme but the reports about her progress suggest that a few problems were identified quite early on. She was a fast runner, always a useful skill to evade capture, but she was clumsy. Training with weapons was essential but they scared her, and in some cases she preferred to give in rather than confront a problem and deal with it. She also disliked the idea of becoming friends with a person purely to gain information from them, and repeatedly stated that she couldn't tell a lie (which was doubted by people higher up who seemed to think that would change once she realised the danger she was in).
Noor's "defects" were eventually raised by other agents, but were mostly dismissed by command. In some cases she had earned a few fans through her quiet, generous nature, she was keen to get along well with everyone and showed an interest in the people she worked with. In other cases it was felt that her faults were not that big a problem. By June 1943 she was considered ready to be sent out to France. She was given the codename "Madeleine" and her cover civilian identity was "Jeanne Marie Renier", who had trained in Child Psychology and worked as a nanny in Bordeaux during the first half of the war. She landed in France on 16 June 1943 and was in Paris the next day.
Within a week of Noor's arrival one of SOE's biggest networks in northern France, the PROSPER network, saw mass arrests with over 170 agents caught by the Germans. She was able to prevent one arrest by warning the agent in advance that other PROSPER agents had been arrested, but it put other networks in danger. Several of the earliest people that Noor had met in her earliest days in Paris were also arrested. Noor's own network, CINEMA, continued to operate and Noor herself sent and received messages about drop-off points and circuit orders. She appears to have assisted in the evacuation of airmen shot down in France and also co-ordinated messages about agents arriving.
However some of the earlier weaknesses about Noor were already starting to show. She was scolded in her early days in Paris for leaving her codes in the reception area of a building she was staying at. But she managed to evade the Gestapo several times, once by directly confronting them when they questioned her about a briefcase she was carrying (it contained her wireless equipment but she told them it was a projector and crossly asked if they'd never seen one before). The danger meant that Noor had to constantly change location when sending and receiving messages, but this made it more difficult for the Gestapo to catch her. Now that PROSPER had fallen she was the only SOE wireless operator in Paris, a vital lifeline between London and the remaining networks in the area.
Arrest and imprisonment
By early 1943 Noor's life was considered to be in serious danger. Later in the year she was ordered to return to Britain but instead argued that she should remain in Paris and simply lie low for a month. The Gestapo knew where she was operating from and kept a close eye in order to catch her, but she was ultimately betrayed by a Frenchwoman whose flat she had been staying in. She was arrested in October 1943, and here the earlier problems with her training came back out. In her room at the flat the Gestapo found a notebook she had kept detailing exactly that information. Although agents had to refer to previous messages, they were expected to hide such information properly, or give it to another agent. With no other agents nearby Noor had to keep hers herself, rather than hide it she had simply kept it in her bedside cabinet. It has also been suggested that Noor may not have been given full training on SOE security procedures, she was used to operating under WAAF guidelines and therefore didn't realise the significance of keeping detailed written records.
The capture of her codes meant that the Gestapo could pick up her work, pretending to be her and communicating with London. Although it was reported to SOE that she had been captured, the Gestapo did such a good job impersonating her that SOE dismissed the report until 1944. She was recommended for both a George Cross and an MBE in early 1944, with the reports stating she had evaded capture several times, the people who nominated her were unaware that she was now a prisoner. Sadly this also meant that several agents, including Madeleine Damerment, were dropped in to France straight in to the hands of the Germans in February 1944. All of them were executed in the following months.
Noor was originally interred in a cell at a building on Avenue Foch. She made her first escape attempt shortly after arriving by climbing out of a bathroom window on the fifth floor, but was quickly recaptured. She then made a further escape attempt with two other prisoners, Bob Starr and Colonel Faye. The three loosened the bars in the windows and escaped one night. Unfortunately Noor's weren't as loose as she had thought and it took her a further two hours to remove them. Shortly after she escaped an air raid siren went off and the subsequent check by guards meant the alarm was raised and all three were recaptured before they'd left the neighbouring buildings they were hiding in. Throughout her imprisonment she had refused to answer questions about her work or about SOE, although she did give away details of her childhood which were used by the Gestapo to convince SOE she was still free.
Due to the two escape attempts Noor was dispatched to Pforzheim prison in Germany. She was kept in solitary confinement with the smallest possible rations, with her hands and feet chained. After the war a neighbouring prisoner reported that he heard her being beaten by the guards, and that during her imprisonment there she was never allowed out of her cell.
Execution
There was some confusion over Noor's death. It was originally believed that she was taken to Natzweiler concentration camp in July 1944 with several other women SOE agents and executed there. In 1947 it was finally revealed that Noor was transferred to Dachau on 12 September 1944. On the morning of 13 September the women were dragged out of their cells, shot in the head, and cremated. One of the prisoners from Dachau reported that Noor was beaten shortly before her execution.
In the following year Noor received several posthumous awards, the Croix de Guerre with Gold Star in 1946, and the George Cross in 1949, and a memorial bust was unveiled in 2012 in Gordon Square Gardens in London.
The citation for her George Cross commended her for her "conspicuous courage".