On This Day: Death of Philippa of Lancaster
Posted on
When Philippa of Lancaster died on 19 July 1415, her adopted country of Portugal was plunged in to mourning. Philippa was a popular consort, known for her charity, benevolance, and for being a good influence on a court that had been viewed as being corrupt in the past. But her legacy would live on for multiple generations through her children, grandchildren, and even one particular great-granddaughter…
An English Princess
Philippa was born a Princess of England, as a beloved grandchild of King Edward III and his wife Philippa of Hainault. The young Philippa was the first child of John of Gaunt, one of the King's younger sons, and his wife Blanche of Lancaster. Through his wife John had claimed the title Duke of Lancaster, along with the vast lands and enormous wealth of the duchy.
Philippa grew up in a wealthy household with a succession of siblings following her, including a sister named Isabella and a brother named Henry. At the age of nine she lost her mother to the plague, which must have been devastating as Blanche appears to have been a dedicated mother. Although John of Gaunt was deeply affected by the death of his wife, he still remarried two years later to Constance of Castile. The connection between Constance and Philippa seems to be a bit remote, Constance herself was only six or seven years older than her new step-daughter. But Philippa and her sister Isabella also gained a new governess, Katherine Swynford, who had served in the ducal household during their mother's life, and would have been a familiar woman in their lives.
Katherine was also a familiar woman in John's life, as she became his mistress some time after his marriage to Constance. It's difficult for historians to guess whether Philippa and Isabella were aware of their father's relationship with Katherine while they were children, or whether they knew that her occasional returns to her home in Lincolnshire were to give birth to their illegitimate half-siblings. But the scandal that eventually broke when the public learned about Duke John's extra-marital relationship was a sharp lesson for Philippa. A good reputation would be hard to earn, and all too easy to lose.
Despite the scandal caused by Katherine's relationship with John, she seems to have been liked by Philippa and her siblings. Philippa received an excellent education for a medieval woman, learning her lessons from a variety of well-known names at the time, including Geoffrey Chaucer and Jean Froissart. Duke John was also able to ensure that she received a good collection of books to read from, including from classical writers such as Pliny. Philippa may have been fluent in several languages, including latin.
Queen of Portugal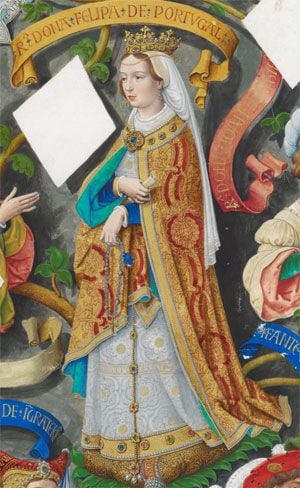 Any upper-class medieval woman would have known that her marriage would be a political act, and Philippa was no exception. With all her paternal aunts either dead or married off, it fell to Edward III's granddaughters to lead the way in political alliances. France was allied with Castile, which threatened English interests on the continent. In return England decided to seek an alliance with Castile's neighbour, Portugal. King John I of Portugal was happy to get an alliance, but may have been less happy to seal it with a marriage, he already had a beautiful mistress and three children. However he had no legitimate offspring, and a grandchild of the King of England would be a suitable bride for a King of Portugal.
The alliance was used by Duke John as a way to springboard his invasion of Castile and claim the throne in right of his wife Constance. When English ships landed in Portugal in 1387, they carried not only the Duke and Duchess of Lancaster (Katherine Swynford had been left at home), but King John's new bride.
Philippa was in her late twenties when she married, old for a woman on her first marriage. She may not have been popular with the Portugese public, who questioned whether such an "old" woman would be able to give them the legitimate heir to the throne that they wanted.
But if she'd learned one thing at home, it was how a woman could earn a good reputation. Philippa was quick to make some changes in the court of her new home. King John's long-term mistress was sent off to a convent, where she eventually became Prioress thanks to Philippa's influence. She had John's surviving children, Alphonso and Beatrice, raised at the Portugese court, and arranged for Beatrice to make a good marriage to the Earl of Arundel back in England. Such graceful treatment of her "rival" and the children improved her standing in the eyes of the court, who may have expected a temper tantrum from the Queen and banishment to some remote rock for the mistress and children.
She also proved that she was able to bear children very quickly. Her first child, a daughter named Blanche, was born in 1388, followed by a son named Alphonse in 1390, and a second son named Edward in 1391. Young Edward was clearly named for his paternal grandfather, and it is through the unfortunate vagaries of childhood illness that he inherited the throne, becoming King Duarte I, instead of his older brother Alphonse, who died at the age of ten. In total Philippa would have nine children by King John, six of whom would live to become adults.
As mother of such a brood, Philippa became known as a dedicated parent, paying particularly close to attention to her children's education and upbringing. As adults the six surviving children would become known as the "Illustrious Generation" due to the political and economic changes that happened in Portugal during their lifetime, including the first expeditions that would eventually lead to the foundation of the Portugese empire.
Death
Philippa contracted the plague in July 1415, and summoned her sons to her bedside. The official report of her death stated that she gave her sons some deeply symbolic gifts, jewelled swords and pieces of the True Cross, gifts that she may have been intending to give to them in the future if she had lived. She was reportedly conscious right until the end, praying with her priests, and stating that she wasn't in any pain. Given that plague was meant to be a particularly agonising death, it may have been that such a report was meant to gain her some particular favour from the Catholic church such as a sainthood. Today Philippa's tomb can be seen Batalha Monastery, where she rests alongside her husband King John.
Although she wouldn't become a saint, Philippa left her own enduring legacy, the strong women that followed her. Her only surviving daughter, Isabella, became Duchess of Burgundy on her marriage and acted as an effective regent for her husband when he was absent. Through her younger son John, Philippa also became grandmother to Infanta Isabella of Portugal, who married King John II of Castile in 1447. Isabella would have two children by her husband, a son named Alfonso who died aged fifteen, and a daughter also named Isabella. This princess, Philippa's great-granddaughter, would inherit the Castilian throne, marry the King of Aragon, and help unify Spain as Queen Isabella of Castile, mother of Catherine of Aragon.