Advent Day 25 - St Paul Beyond the Walls
Posted on
I'll admit, this may be a little short because I'm writing it on the evening of Christmas Eve, unlike a lot of my earlier posts, which were drafted in November. It's also a little short because today is Christmas Day, and I doubt there are many of you who are reading it (if you are then thank you!)
Today's church is St Paul Beyond the Walls in Rome. It was founded during the reign of Emperor Constantine I, who believed that the site was where St Paul had been buried after his martyrdom. It's outside of the city centre (we ended up having quite a long walk to get to it) and as a result, isn't a consideration for many tourists. But this church is really beautiful, and well worth a trip out from the usual Roman sites.
It's also very special to me and my partner, as it's where he proposed to me back in May.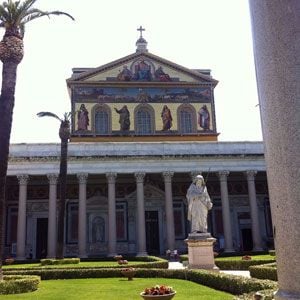 After the church burned down in the 1820s, a massive appeal was launched asking people to donate towards the replacement building. The interior of it is gorgeous, as it includes alabaster pillars donated by the Viceroy of Egypt. The windows are also made with thinly cut alabaster, rather than stained glass, which gives an unusual look to them. The apse is decorated with a gorgeous gilt mosaic depicting Christ and four of the Apostles; Peter, Paul, Luke and Andrew. Along the top of the pillars is a painting depicting each Pope, with the current one illuminated with a separate light.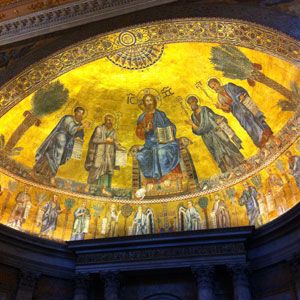 There was also a side chapel to St Benedict, and a wooden model of the church. The outside has been modernised, with a display of some Roman stonework that was excavated, plus toilets, a giftshop and a nice little café.
Even if you don't want to propose to someone, I'd definitely recommend visiting this church. The queue was certainly shorter than the Vatican!