Advent Day 23 - Little Hormead Church
Posted on
If I'm going to write about St Nicholas at Great Hormead then it seems only fair that I write about St Mary at Little Hormead as well, over the years the smaller church has suffered in attention compared to St Nicholas.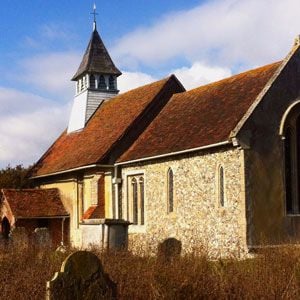 Which is ironic when you consider that St Mary's is actually the older of the two churches. Built in the 11th century, it gets a note in the Domesday book as it had a priest who served the communities of Little Hormead and Great Hormead (both of them manors). The chancel was rebuilt in the 13th century, and a bellcote (rather than a tower) was added in the 15th. There are only two bells, but one of them is over 2 feet wide and is believed to date from the early 1400s, so would have been installed as soon as the bellcote was built.
For such a small church, St Mary's has some unique history evident in it. It bears a single piece of medieval graffiti – a head with a 15th century headdress carved into the wall next to the south door (the church website suggests that it could have been done by a pilgrim making their way to Walsingham in Norfolk). There is also a well-preserved door dating from the mid-1100s, which includes lovely iron decoration across the surface. There is also a Royal coat arms above one of the arches, although sources differ over whether it's Charles I or Charles II. Either way, it suggests that during a time when Royalist sympathies were frowned upon, the people of Little Hormead weren't afraid to show some support for their King.
The church went through a small restoration in the 1800s, the bulk of the church seems to have been in decent condition, at least compared to other churches in the area. However Little Hormead remained a small village, and with the larger church of St Nicholas a short walk away, the parishes of Great and Little Hormead were merged in the late 19th century. The church is now under the protection of the Church Conservation Trust, while part of the churchyard is being turned in to wildlife area, sown with wild meadow flowers.
The Church Conservation Trust is raising £5000 for the continued conservation of the 11th century door. You can find out how to donate on their website.