Advent Day 22 - St Margaret's Chapel
Posted on
If you're walking around the glorious Edinburgh Castle, then you might be forgiven for walking past one of the smaller buildings, dismissing it as nothing important. However despite it's size, you should still pay attention to it, as you're looking the oldest surviving building in Edinburgh – St Margaret's Chapel!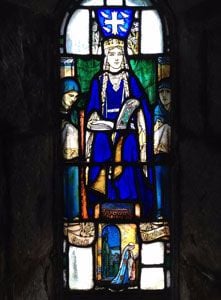 St Margaret of Scotland is a former Queen of Scotland, and is English by birth. Originally a Princess of the House of Wessex, Margaret was born in Hungary, where her father ended up after being exiled following the Danish invasion of England in 1016, when he was just a boy. Margaret was born around 1045, and in 1057 her father was summoned back to England by Edward the Confessor, possibly to be acknowledged once again as heir to the Anglo-Saxon English throne. However Margaret's father died soon after their arrival back in England. The family appear to have lived at court until the Norman invasion of 1066. By 1068, they'd ended up in Scotland, where Margaret became the bride of King Malcolm III.
Margaret appears to have married Malcolm around 1070, and together they had six sons and two daughters (Margaret also became stepmother to Malcolm two sons from an earlier marriage). Margaret was reportedly very devout, and devoted a lot of time and energy to charitable works. She and Malcolm appear to have been very close, her death on 16 November 1063 came three days after Malcolm and their eldest son were killed in battle at Alnwick. She was already ill, but the shock of the news of this loss may have contributed to her death.
It was originally believed that this small chapel was a place where Margaret had worshipped, but later studies have shown that it was built around the time her son David held the throne as King David I. It's difficult to see how a chapel so small could hold a whole court, so I have to wonder if it was built as a more private sanctuary for the King and his family, especially since it was originally part of older Royal buildings. Margaret wasn't canonised until 1250, but I couldn't find a source stating whether the chapel was dedicated to her before she was canonised, or was originally built for a different saint.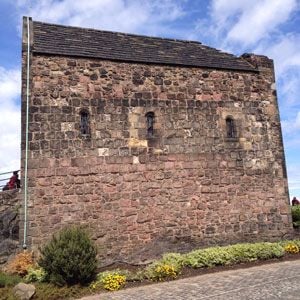 The chapel survived the destruction of Edinburgh Castle by Robert Bruce's men in 1314, and went on to be used a place of worship. After the Reformation the chapel became redundant, and was instead used as a storage space for gunpowder! During the Victorian period the original history of the chapel was discovered, and the chapel was restored with Queen Victoria's agreement. Today this tiny but timeless building has a beautiful series of 20th century stained glass windows, depicting four Scottish saints (including Margaret) and William Wallace. It's still used for weddings and baptisms.