Advent Day 21 - Great Hormead Church
Posted on
At this time of year it seems to appropriate to have at least one entry on a church dedicated to St Nicholas, so I've gone for the one at Great Hormead in Hertfordshire.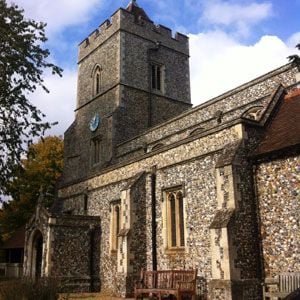 There are two churches rather close to each other, and St Nicholas at Great Hormead is the larger one. It's also the younger one, as an earlier church had already been founded up the road at Little Hormead. Both churches were built close to their respective manors, suggesting that the people in the manor near St Nicholas really couldn't be bothered to walk down the road (or across the field as it probably used to be).
St Nicholas was founded in the early 13th century, and considerably extended in the 14th, including the creation of the tower. The corbels in the roof reportedly date from the 13th century, and are therefore from the original building. Inside the tower has a peal of six bells, with the oldest dating from 1606, and the final one added almost a century later in 1701. The church underwent a full restoration in 1873, which along with rebuilding the chancel also saw the addition of an organ chamber and the south porch, as well as new stained glass windows. A more recent 20th century addition is a further extension at the back of the church, providing a kitchen and toilet facilities.
Sadly the church appears to be devoid of any medieval brasses or older memorials. One interesting one from 1696 details the bequest of William Delawood of Hormead Hall. His will left provisions for a donation to be made to the poor of the Parish "upon every feast day of the nativity of our Lord". The will also stated that a "table" be inscribed with his bequest and hung in the church, so that the parishioners would be aware that he had left money for the poor, and "see if duly performed" – perhaps he didn't trust that the money would reach the right people! It also mentions that a copy of his will "in parchment is now deposited in a chest in this church forever to be kept there", this now appears to be deposited at the Hertfordshire Record Office, and the original version has been digitised and appears on the National Archives catalogue under PROB 11/431/144.