Advent Day 20 - Holy Sepulchre, Cambridge
Posted on
The church of the Holy Sepulchre seriously stands out. For many it is the only round church they will see, and it sits in the heart of Cambridge, near the corner of St John's College. Today it is one of only 5 surviving round churches in England.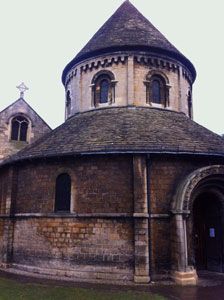 The church was built in 1133, approximately 100 years after the founding of nearby St Bene't. The unusual circular style was based on the interior of the church of Holy Sepulchre in Jerusalem, and thus also took it's name from it. Originally it was a church for those travelling along the main road, but it was eventually taken in as a parish church by Barnwell Priory, a wealthy priory in Chesterton.
Like the church at Thriplow in Cambridgeshire, Holy Sepulchre was damaged by William Dowsing in his anti-Popery crusade, and various pictures, statues and inscriptions in Latin were damaged or destroyed. In the following centuries the church fell to ruin, until a partial collapse in 1841 prompted a restoration, with architect Anthony Salvin commissioned to carry out the work. Salvin was an expert in medieval buildings, and spent most of his career working on restoration projects, including castles and manor houses. Part this included replacing the 15th century bell tower with the original roof, as the bells were proving to be too heavy for the walls to safely support them.
Older surviving parts of the building include the doorway, pillars and arches, which all date from the Norman period, and parts of the chancel date from the 15th century. The restoration work in the Victorian period included new stained glass windows, some of which were destroyed when Cambridge was bombed in July 1942, and replaced in 1949. Today the church is too small for the local congregation, instead it's open to tourists (for a small fee), and hosts talks and small musical concerts.