Advent Day 18 - St Maria in Trastavere
Posted on
Although most of this blog series has focused on English churches, there are also a few Italian churches I've visited as well. Today we have the church of Santa Maria in Trastavere. Quite close to another famous Trastavere church, St Cecilia, St Maria doesn't have any evocative sculpture, but does have some beautiful art.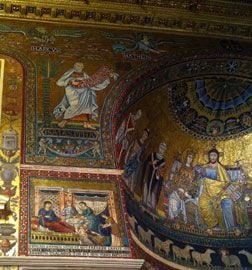 The church is one of the oldest in Rome. It's believed to have been founded in 221 by Pope Callixtus I, and has been rebuilt several times since. Most of the current structure dates from the mid-12th century, when Pope Innocent II had the old church pulled down and rebuilt using materials from the Baths of Caracalla. Many centuries later some of these materials (the pillars in the church) were defaced when pagan images of Roman and Egyptian gods were identified on them.
The covered portico at the front of the church is very interesting, as the walls are inlaid with Roman and medieval inscriptions and grave markers. These are apparently fragments of the original churches that were on this spot, and they given an interesting insight in to the people that worshipped and were buried here hundreds of years ago. You could spend a good few hours alone photographing and translating the Roman inscriptions and images along the front.
The inside of the church features a series of beautiful 13th century mosaics by the artist Pietro Cavallini. The heavy use of gilt in the mosaics makes the whole end of the church glow. As you 'd expect from a church dedicated to the Virgin Mary, the mosaics depict scenes from her life, such the annunciation. There's also a series of 16th century frescoes, particularly in one of the chapels, where the Council of Nicaea is depicted.
Among the notable burials at this church is Cardinal Lorenzo Campeggio. Cardinal Campeggio has an important part in England's history, as he was the legate sent to England to rule on the validity of the marriage between Henry VIII and Catherine of Aragon.