Advent Day 17 - Thriplow Church
Posted on
Thriplow church stands on a small hill overlooking the Cambridgeshire countryside, close to the site of a Bronze Age tumulus (burial mound). The current church dates from the 13th century, as records show it was "given" to Peterhouse (the earliest College in Cambridge) in 1284. However Thriplow has been in existence since before the Norman invasion, so the current building was probably erected in place of an earlier Anglo-Saxon church. The font is believed to date from the Norman period, and some pillars and windows also suggest Norman origins.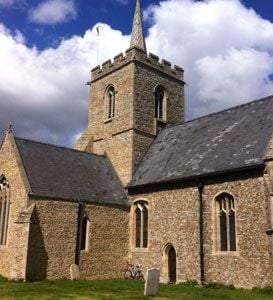 The Thriplow Society notes that the church was used several times as a place of sanctuary by people accused of committing crimes. Possibly the most shocking one they report is that of Peter de Cambere, who killed a young boy "when shooting arrows" – no indication if he was practising archery or deliberately firing them at people! He claimed sanctuary in the church, possibly from a mob intent on revenge, and eventually chose to go in to exile as punishment for his crime.
In later centuries Thriplow was once again a target – but not for sanctuary. The church was one of many in the area visited by famous iconoclast William Dowsing, who travelled around Cambridgeshire and Suffolk mutilating any church that contained what he considered to be "Popish" symbols. Thriplow was damaged, Dowsing kept an extensive diary where he noted the work he carried out and mentions Thriplow in it.
A south porch was added in the 18th century, and several of the memorials in the church date from this time. But in the following decades the church suffered from neglect, the British History website shows a list of parish vicars who were in charge of several other parish churches at the time, and since Thriplow was so small it appears to have been used for special services, instead of a regular communion. It didn't help that Thriplow also appears to have a high proportion of dissenters, who refused to attend the Anglican church. Frequent services, including Sunday schools, began to be held in the early part of the 19th century, and Sir Gilbert Scott was employed by Peterhouse to carry out a restoration during the late 1800's. This included rebuilding the 18th century porch and replacing the roof, which was then painted, as it would have been before the Reformation.
Like Anstey church in Hertfordshire, Thriplow is built in a cruciform shape, with a central tower that holds a peal of five bells. Although it's quite plain inside, it does have some interesting memorials (including two 13th century coffins), and the village itself is nice to walk around. If you're interested in the history of Thriplow and the church, a Daffodil Festival is held every year (2017 will be 18 & 19 March) and includes talks held in the church itself.