Advent Day 6 - St Cecilia in Trastavere
Posted on
The church of Saint Cecilia is in Trastavere, a beautiful part of Rome that's filled with tiny alleyways and old buildings. The church is down one of those alleyways, our guidebook had to give us pretty precise instructions for us to find it, and we were glad that we went out of our way to track it down.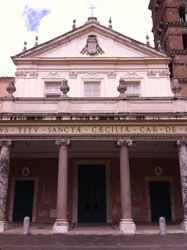 On a sunny day the 17th century façade positively glows due to the white marble and paint. The front wall under the portico is painted with a shade of terracotta, and inlaid with a variety of grave markers and monuments, most of them marble and worn smooth from people walking over them when they were in the floor. We couldn't find any information about them, but given the number of restorations of the church over the years they could have been there for several hundred years.
Inside the church is the usual collection of painted frescoes, a painted ceiling, and marble statue memorials. A church has been on this site since the 3rd century, but it has been rebuilt several times over the centuries. Despite the restorations there are still some early medieval remains, including the ciborium (canopy supported by columns up near the altar) which dates from the 13th century.
The most visually stunning part of the church though is the unusual carving of St Cecilia herself. It was carved in the 17th century by the sculptor Stefano Maderno, and depicts the uncorrupted body of St Cecilia herself. Maderno claimed that the statute perfectly depicts St Cecilia's remains as he saw them in 1599, when her tomb was opened. The statue is quite eye-catching due to the way Cecilia's body has been posed, lying on her side with her arms out as if she's only just been killed. Although her hands and feet are visible, her face and hair are covered by a shroud. Seeing it without realising that it was there was a little bit creepy as the carving has been done really well and looks a little too lifelike for comfort.
Although the interior of the church isn't quite as spectacular as some of the others you might find in Rome, it's still worth visiting, if only for St Cecilia's statue!