Advent Day 4 - Heydon Church
Posted on
One of the great things about driving around the countryside is that you often find very odd buildings or additions that mean you just have to stop and take a photo. If you are driving around the Cambridgeshire/Hertfordshire border then you might stumble on the tiny village of Heydon, and it's very odd red brick church tower.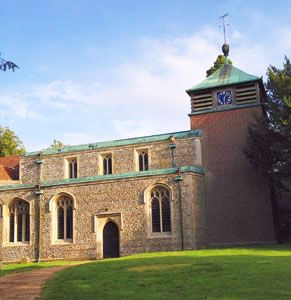 A church has been on the site since at least 1298, probably even as far back as the mid-12th century. Like many churches in this area it was heavily restored in the 19th century, but the tower itself is much more recent than that. In 1940 the church was bombed by a German plane, probably trying to remove some weight before it returned home. Cambridge itself was bombed several times during the Battle of Britain, and the countryside of Hertfordshire and Cambrideshire featured many little airfields (such as Nuthampsted and Fowlmere) that were used by the RAF which could also have been targets.
The bomb that hit the church destroyed the tower and caused serious damage to the nave and north aisle. When it was rebuilt the main body of the church was done in the same stone as the surviving part of the building so that it matched. But the tower was rebuilt with bricks, topped with wooden slats and a simple cross "spire". I'm not sure why the tower was done in this way. Perhaps it was too expensive to rebuild the whole thing in the same stone, or maybe it wasn't the fashion - the 1950s do seem to have an odd sense of what kind of architecture would look good in later years. But I think it works well as it instantly draws your eye to it, and if you're not familiar with the bomb story then you how to Google it to find out why the tower looks so different.