Advent Day 3 - Anstey Church
Posted on
The church of St George stands in the village of Anstey in Hertfordshire. A church has been on the site since Saxon times, but was rebuilt by the Normans after the invasion of 1066, and then restored in the late 19th century by William Butterfield. Despite this restoration there are still remains of the old Norman structure, including part of the tower. Unusually for the area, the church is built as a cruciform, with the tower in the middle of the building. A south porch was added in the 15 century, and there is also remains of 14 century work, such as the corbels.
The easily spotted remaining Norman work, is the beautiful stone font. This is also unusual, as it was carved with the figures of mermen holding their tails. The church also has a variety of medieval graffiti, which was thankfully not destroyed or plastered over during Butterfield's restoration. Images that can be found include coats of arms and animals.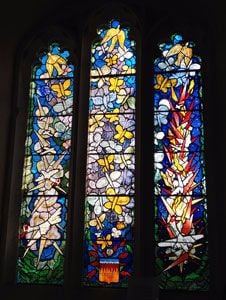 One of the more recent additions to the church is also one of the most stunningly beautiful. During the Second World War the nearby village of Nuthampstead was home to the 55th Fighter Group, and then the 398th Bombardment Group, both part of the United States Airforce. While Nuthampstead has a memorial to the men from the USAF who died, the village itself has no church where they can be commemorated. Instead in June 2000 Anstey Church had a new stained glass window installed in memory of the men from 398th who died in the war. The window was designed by Patrick Reyntiens. Rather than use just Christian imagery, as some of the 398th group were Jewish and some were agnostic, Reyntiens used the Old Testament for the left and right panels, and the symbolism of butterflies for the centre. The wings of the butterflies are inscribed with the names of those who died, so you can get close and see the detail.
As far as a memorial goes, it's a beautiful piece of work dedicated to those who died, and was unveiled during a visit from the 398th veterans.