On This Day: Birth of Sophia Dorothea of Celle
Posted on
On 15th September 1666 the sole heir to the Duke of Brunswick-Luneburg was born, and it was a girl. Named "Sophia Dorothea", the little Duchess would go on to have a deeply unhappy marriage to a man who would then imprison her for thirty years, the future King George I of England.
Illegitimate?
At the time of her birth, Sophia Dorothea's parents were unmarried due to the differences in their status. Sophia's mother was Eleonore d'Esmier d'Olbreuse, from a minor noble French family. She had served as a lady in waiting to the Duchess of Thouars, and met her future husband on a trip to the German state of Kassel. Duke George William on the other hand was the son of the Duke of Brunswick-Luneburg, and inherited the Duchy on the death of his older brother. He resided in the province in Celle, giving a good portion of his inheritance to his younger brother Ernest Augustus. As part of the deal, Ernest married Sophia of Hanover in place of George William, and George himself promised to not marry or have any heirs who would threaten Ernest's inheritance.
When he met Eleonore, George appears to have fallen completely in love with her. She became his mistress, and their daughter followed in 1666. When Sophia Dorothea was ten her parents finally married officially, but the origins of her birth (including her mother's lower-nobility status) still caused problems for Sophia.
"I will not marry the pig-snout!"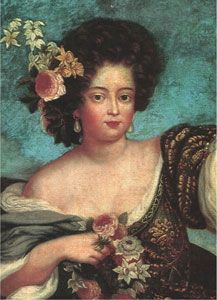 Sophia Dorothea was originally considered for a match with her cousin, King Christian V of Denmark, but in the end she was considered unsuitable by the King's mother. A match was then made with the Duke of Brunswick-Wolfenbuttel, but again this fell through.
At the age of eleven Sophia Dorothea was considered as a possible bride for her cousin George Louis, Ernest and Sophia's eldest son. The idea may have been suggested by Ernest himself, who saw that by marrying his cousin, George Louis would then inherit his uncle's rights and titles through his wife, and the lands split between George William and Ernest would be reunited.
The proposal was rejected by both Eleonore, and the potential groom's mother. Both women could see that the pair were not a good match, and they both did their best to persuade their respective husbands that such a marriage would only lead to misery. Unfortunately, Ernest was not a man who had ever listened to his wife's advice, and George William appears to have been similarly dismissive of Eleonore's concerns. It was therefore declared that George Louis would marry his first cousin, in spite of the mother's reservations.
On being told that she was to marry George Louis, Sophia Dorothea reportedly declared "I will not marry the pig-snout", an unfortunate nickname that George-Louis had picked up in Hanover. She had absolutely no choice in the matter. The stress of her forced marriage led to her collapsing repeatedly, first when meeting her future mother-in-law, and second when meeting George-Louis himself. If she felt that such dramatic fainting fits would persuade her father to call off the match, then she was sadly mistaken. The marriage took place on 22 November 1682, and Sophia Dorothea was whisked off to Hanover with her husband.
Disastrous Match
The match was destined to fail from the start. Sophia of Hanover disliked her daughter-in-law, telling friends that she had only agreed to it due to the huge sum of money that George William was paying the family each year as part of the dowry agreement. George Louis was considered to be dull and rather haughty, Sophia Dorothea on the other hand was lively and bright, and enjoyed taking part in the various entertainments put on at the court by her father in law. Luckily George Louis was away frequently, he was a military man and often left the court to manage the Hanoverian army, leaving his wife behind with his family.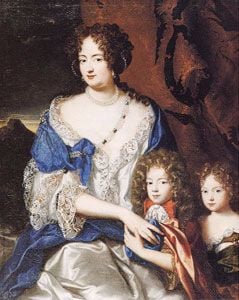 Sophia Dorothea gave birth to their son, George Augustus, in November 1683, who was followed by a daughter also named Sophia Dorothea, in March 1687. But at some point George Louis had taken a mistress, Melusine von der Schulenburg. Husband and wife frequently argued, and Sophia reportedly began to cause public scenes that were considered to be an embarrassment to the family. Feeling neglected and unwanted by her husband, Sophia Dorothea turned for comfort to the Swedish Count Philip von Konigsmarck.
It's difficult to tell when their affair started. The pair had known each other as teenagers, and renewed their friendship in 1688. Despite Konigsmarck leaving the court to serve in various armies, the pair kept up their relationship. The pair were indiscreet, Sophia Dorothea's parents even heard rumours about their daughter's behaviour, and the whole court hummed with the gossip that she was planning on leaving her husband and fleeing with the handsome Count.
Imprisonment
The fate of Konigsmarck remains a mystery. He disappeared in 1694, and was reportedly murdered after trying to help Sophia Dorothea escape Hanover. In August 2016 it was reported that a skeleton had been found under Hanover castle, which historians theorised could be the remains of Konigsmarck. However the story at the time was that his remains had been cast in to a river.
Sophia Dorothea herself was divorced by George Louis in 1694, when he became King George I of Great Britain, there was no wife to be made Queen at his side. Rather than let her return to Celle, he had her imprisoned in the castle of Ahlden, and had images of her at the court removed and destroyed. She never saw her children again, and since her own father was complicit in her imprisonment he refused to see her. Her mother on the other hand, spent decades begging for her daughter's release. Sophia Dorothea's son was deeply upset at the loss of his mother, and hated his father for her imprisonment.
Although it was a genteel imprisonment, she was given a good income, a comfortable home and plenty of servants, it was still a terrible way to treat a former wife. Sophia Dorothea reportedly kept a large collection of portraits of her family members, especially her children. On 13th November 1726, she died while still imprisoned in Ahlden castle, she was sixty years old, and had been locked up for 33 years.
Her coffin was kept in the cellar at Ahlden castle for several months after her death. It was only in May 1727 that Sophia Dorothea was finally freed of her prison, when she was buried in Celle's church, next to her parents.