On This Day: Death of Bertha von Suttner
Posted on
On 21st June 1914 the first woman to be awarded the Nobel Peace Prize, Bertha von Suttner, died in Vienna. She was the second woman, after Marie Curie, to become a Nobel laureate, and like Marie Curie her life was one of frequent turmoil.
Impoverished Childhood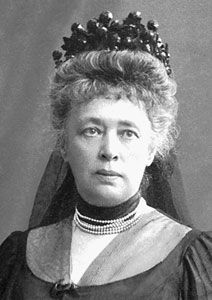 Bertha was born on 9th June 1843 in Austria. Her father, who predeceased her, was a younger son of a prominent Austrian aristocratic family, but her mother was the daughter of a "mere" cavalry officer. As a younger son, her father hadn't inherited any property or wealth that he could leave to his wife and child, and as a result they lived in the household of Landgrave Friedrich zu Furstenberg, along with Bertha's aunt and cousin.
Bertha had a decent education, despite living as a poor relation, and became fluent in multiple languages including English and Italian. But after the Landgrave died the family finances grew more precarious, not helped by Bertha's mother, who frequently gambled away what little money they had in a desperate attempt to turn the family fortunes around. Bertha received several marriage proposals from older wealthy men, but she declined all of them. Instead she went to work as a tutor in the home of Karl von Suttner, whose daughters needed a companion. It was here that Bertha met and fell in love with the brother of her charges. Arthur von Suttner. The family were scandalised by the relationship, not only was Bertha from a poor family but Arthur was seven years younger than her.
She moved to Paris where she spent a short period of time working as a secretary for Alfred Nobel. But while she developed a friendship with Nobel, she was committed to Arthur, and she returned to Vienna for a secret wedding.
Exile
The elopement meant that the newly married couple decided to leave Austria and relocate to Georgia. Through Bertha's aristocratic connections, they were received by the ruling Prince Niko of the Dadiani family, but they didn't receive the patronage they might have hoped for. They earned money through teaching the children of the local aristocracy, and writing for Austrian newspapers on the on-going political crisis between Russia and Turkey. In the following years they moved several times and had to find more creative ways to earn money, including accountancy, design, and further newspaper and magazine articles.
Bertha in particular was a keen writer, and slowly began to work on more political articles. In 1883 her first political work "Inventory of the Soul" was published, in which Bertha put forward her own pro-disarmament views. Her mother died in 1884, but this made their financial problems worse as Bertha became responsible for the payment of her mother's debts. As hostilities in Georgia increased, the couple grew increasingly anxious for their safety. Luckily by this point the Von Suttner family had come round to the idea of their son's marriage, and they were invited back to Austria, settled at Harmannsdorf.
Fighting for Peace
By now Bertha was committed to the cause of peace, and dedicated the rest of her life to the pacifist movement. In 1889 her celebrated novel "Lay Down Your Arms!" was published, eventually being translated in to 12 languages and covering 37 editions. She kept up an active correspondence with philosophers and activists, and became co-founder and chairwoman of the German Peace Society. With her husband's death in 1902 she had to leave Harmannsdorf and return to Vienna, from where she travelled to Berlin for the International Congress of Women and then the United States for a peace conference in Boston.
In 1905 she received the Nobel Peace Prize, founded by her old employer Alfred Nobel. She was only the second woman to become a Nobel laureate, and it's generally believed that it was her friendship with Nobel that led to him including the Peace Prize in his foundation plans. She continued to campaign for peace even as Europe ground closer to war, attending further conferences in the Netherlands and collecting signatories to petitions for peace.
Perhaps it was a blessing that she died just weeks before the First World War broke out. Despite suffering from cancer, she had been planning on attending another peace conference in Vienna. Although she is often forgotten as a Nobel Prize woman laureate (in favour of Marie Curie) her contribution to the peace movement, through her writing and tireless campaigning, was enormous.
If you want to learn more about women in history, you can check out my ebooks!