On This Day: Birth of Isabella of Castile
Posted on
On this day in 1451, Isabella of Castile was born. At the time of her birth she would have been seen as nothing more than a future wife for some foreign king, but she would go on to set up a new role for women in the medieval period; determined, forceful, and a ruler in her own right.
Childhood
Isabella's father, King John II of Castile, died when Isabella and her younger brother Alfonso were just three years old and less than a year old respectively. The children and their mother, Isabella of Portugal, lived in the castle at Arevalo. Isabella's older half brother, Henry, was now King, but he appears to have kept his step-mother and her children in relative poverty. The household was frequently short of money, but historians are unsure if this was deliberate policy on Henry's part, or simple incompetence.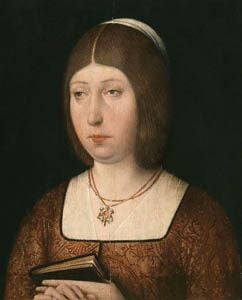 At the age of ten Isabella and Alfonso were summoned back to the Spanish court. Henry's wife Joan was due to give birth, and the impending arrival of a new heir to the throne meant that the King wanted to keep a closer eye on his half-siblings, who were also in the line of succession. The legitimacy of Henry's daughter was questioned from the moment the pregnancy was announced. It had taken the couple seven years to conceive their first child, and there were rumours that Joan had taken a lover, to make up for her husband's lack of fertility.
It would have been in the middle of this politically turbulent time that Isabella would have begun to understand just how important a daughter or sister could be. Should Henry die without a legitimate male heir, then her younger brother Alfonso would be King, and she would be first in line after him. When Alfonso died in 1468, Isabella became the new focus of Henry's opposition.
Unwanted Husbands
As part of a political settlement between Henry and Isabella, the subject of her marriage fell to a mutual agreement. Isabella would not marry without her half-brother's permission, and Henry would not force her to marry against her will. Henry quickly betrayed his promise, putting immense pressure on Isabella to agree to marry King Alfonso V of Portugal. When this failed, he attempted to force her to marry Charles, Duke of Barry, a brother of Louis XI of France.
Instead Isabella went behind Henry's back, and arranged her own marriage. She had been betrothed to Ferdinand of Aragon as a child, and the Aragonese royal family were still keen for this match to go ahead. At a time when she should have obeyed her brother, as her nearest male relative, Isabella turned her back on generations of tradition. Announcing that she was visiting her brother Alfonso's tomb, Isabella left Henry's court, travelled to Valladolid, and married Ferdinand in October 1469.
The Warrior Queen
Isabella's defining image in history, is as a woman who was not afraid to be near battles. After Henry's death, she had to spend several years of her life fighting for the Castilian throne. She was pregnant at least seven times, giving birth to five live babies, one boy and four girls. She was considered Queen of Castile in her own right, and had to balance reviving a kingdom that was worn down by years of war and neglect, with being a wife and mother, and facing opposition from those who didn't want a woman in charge.
At the same time, she and Ferdinand dedicated years to the work that would come to define their lives. With Castile and Aragon, two of the largest kingdoms in Spain, now unified by their marriage, they began to look at dominating the rest of Spain. The "Reconquista", as it became known, saw them conquer more and more cities in Spain, and drive out the Muslim population that had been ruling them for generations. Isabella was part of the discussions on the war, she travelled with her husband when he went out to battle, and she ensured that their troops were supplied with everything they needed on the way. She was seen wearing armour and riding out among her soldiers, encouraging them to the build-up to battle. Although she didn't fight herself, she was certainly for more active that many women in a similar position, who were expected to stay at home and wait for news.
There were more unpleasant sides to Isabella's character. She was raised in a strict, religious household, and once the Reconquista was complete she would allow on-going persecution of Spain's Jewish population, as well as expelling all Jews and Muslims who refused to convert to Catholicism. It was through Isabella and Ferdinand that the Spanish Inquisition gained it first foothold in the country, leading to decades of persecution, torture and murder of people who were considered to be not Catholic enough.
Despite this, there is no doubt that Isabella was an incredible woman for her time. No one would have expected it at the time, but the tiny baby born on 22 April 1451, would go on to show the world a different kind of Royal woman.
(If you found this blog post interesting and want to learn more about women in history, you can check out my eBook series!)