On This Day: Death of Richard the Lionheart
Posted on
On this day in 1199 King Richard I of England died in France. Although historically he has been seen a popular King, he virtually bankrupted the country, and his early death probably did more to save his reputation than expected.
Younger Son
Richard wasn't supposed to become King of England. When he was born in September 1157 he had a healthy older brother, Henry "the Young King", who was the designated heir to the English throne. Instead Richard was raised to be the future Duke of Aquitaine, helped by his mother Eleanor. Following his childhood in England he spent an increasing amount of time in Aquitaine, where his mother had him officially recognised as her heir, and even toured the region with him so the people would become used to their new ruler.
When Young Henry rebelled against their father, King Henry II, Richard joined in on his brother's side, encouraged by Eleanor. Although they were defeated, the boys were treated with a certain leniency. Richard was allowed to return to Aquitaine to punish the lords who had helped his rebellion. Eleanor, on the other hand, was imprisoned in England. Over the following months and years, Richard faced his own rebellion from within the territory, and then from his brothers Young Henry and Geoffrey. But Young Henry's death in 1183 catapulted Richard in to a previously unconsidered position; heir to the English throne.
King of England
In the six years that followed, Richard fought his own father several times. Henry was determined that now he was due to inherit England, Richard should give up Aquitaine to his youngest brother, John. But Richard had dedicated too much of his life to Aquitaine, and was adamant that he would rule a united empire. Richard even went so far as to form an alliance with King Philip of France. When Henry died in July 1189, it was with the knowledge that his own son had allied himself with his old enemy.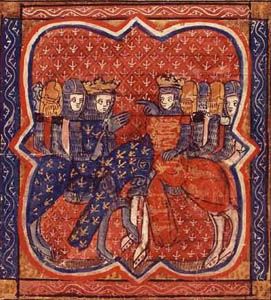 As King, one of Richard's first orders was for his mother to be released from captivity, and while he set about putting his affairs in order in Normandy, Eleanor began preparing for his return to England and the resulting coronation. Richard was crowned in September 1189 at Westminster Abbey, and quickly began preparations for a Crusade. He had already "taken the cross" two years earlier, but problems with his father had prevented him from leaving the continent. Now he was King there was no one who could talk him out of going, and he spent vast sums of money on weapons, supplies, armour and recruiting an army to accompany him. When he set off for the Middle East in 1190, he hadn't even been in England for a year.
While in Italy Richard once again met up with his mother Eleanor, who brought with her Berengaria of Navarre. Richard had been betrothed to Princess Alix of France for years, but had no intention of marrying her, and instead contracted a marriage to Berengaria. Alix's brother King Philip, Richard's old friend and supposed ally on the Crusade, was so angry at this repudiation of his sister that he took his army and left for the Middle East ahead of schedule. Richard followed a more leisurely pace, stopping at Cyprus to marry Berengaria.
Richard arrived in Acre in 1191, and after contracting dysentery, arguing with his allies, defeating Saladin and then discovering his brother John was leading a rebellion in England, he left in 1192, sending Berengaria on ahead of him. The journey home proved to be difficult. Berengaria made it back to Europe safely, but bad weather meant that Richard was forced to abandon his plan of travelling by sea, and had to go across land instead. He was captured near Vienna, and handed over to the Holy Roman Empire, who promptly held him for ransom. Richard's mother eventually gathered together the money that was needed by imposing heavy taxes on England and Normandy. Richard and his wife Berengaria were already estranged by this point, and it was up to Eleanor to negotiate the release of her son and payment of the ransom money.
Death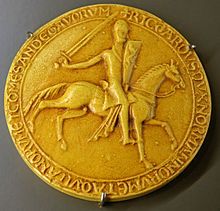 By the time Richard was released in February 1194, Philip and John between them had caused plenty of damage to his empire. Philip had attacked and captured parts of Normandy, and John had encouraged English nobles to rebel against his brother. After his release from captivity Richard spent a few months in England, shoring up support and gathering money, before he collected a new army and left for his territories in France. King Philip had done his best to capture as much of Normandy as possible in Richard's absence, and he was determined to get it back. As part of his reconquest, Richard besieged the castle of Chalus-Chabrol. One evening he walked out to view the work being carried out by sappers, who were trying to undermine the castle walls, when an arrow fired from the castle landed in his shoulder.
The wound was not instantly fatal, Richard managed to make it back to his tent without causing too much alarm. But the arrow proved difficult to remove from his shoulder, and the necessary "surgery" led to the wound becoming infected. As gangrene set in it became obvious to everyone that Richard was dying. His mother Eleanor was summoned from the convent, and raced to her son's bedside. Richard officially named his younger brother John as his heir, and died on 6th April.
Through his crusade, ransom and fighting in Normandy, Richard had financially ruined his empire. Although many people blame John entirely for the mess of his reign, the foundations of some of it were down to Richard.
(If you're a fan of Richard I, check out his badge!)