On This Day: Birth of Mary Tudor, Queen of France
Posted on
On 18th March 1496, Henry VII and Elizabeth of York became parents to a second daughter. The baby girl was named Mary, and like her older sister Margaret and her brother Henry, she would go on to have an interesting marital history.
Queen of France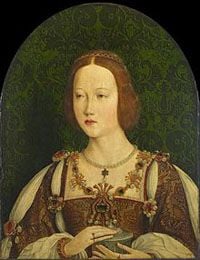 Like many English princesses, and like her siblings Arthur and Margaret, Mary was required to play a key role in the political aspirations of her father. England's traditional enemies were Scotland in the north, and France in the south, while the old kingdom of Castile had been both ally and enemy, and the duchy of Burgundy had been a long-term friend and trading partner. It was natural then that Henry would want to bolster England's standing by contracting marriages that would neutralise it's enemies, while bringing it's old friends in to a closer relationship.
For Arthur it was the famous marriage to Catherine of Aragon, daughter of Queen Isabella of Castile and King Ferdinand of Aragon. Arthur and Catherine were distantly related, and their marriage was a way of reaffirming England's old ties to Spain. Margaret on the other hand had been earmarked for Scotland in her infancy, a potential marriage between her and King James IV had been discussed for the first time when she was just six years old, and their marriage was celebrated in 1503.
For Mary there was less certainty. Originally she was betrothed to Charles Habsburg, the future Holy Roman Emperor Charles V and the nephew of Catherine of Aragon. Mary was four years older than her intended husband, and had to wait until he was considered old enough to marry her. This meant that she was still unmarried at the age of seventeen, when the match was called off in favour of a peace treaty with France. In 1514 the eighteen year old princess married King Louis XII of France, who was fifty two years old and had already been married twice.
Mary became step-mother to two girls, Claude and Renee, but Louis had no living son at the time of his third marriage. She would no doubt had known that there was a lot of pressure on her, but luckily for Mary she didn't need to face the same worries as her sister-in-law Catherine, as Louis was dead nearly three months after their wedding in January 1501.
Duchess of Suffolk
Since Louis had died without a male heir, the French throne went to his cousin Francis. The new King of France was keen to arrange Mary's second marriage in a way that would benefit him, while in England Mary's brother was determined that it would be arranged to suit himself. However Mary took matters in to her own hands and married Charles Brandon, the Duke of Suffolk, in secret just months after Louis' death.
Charles was a close friend of Henry, but originally it looked as if even that wouldn't be enough to save his life. Henry was furious that his sister had been married without his permission, and the English court was horrified by the idea of Brandon marrying a woman with such a high social status. There was even talk of Brandon being executed for his behaviour, but in the end his old friendship with Henry and Mary's own close relationship with her brother won out. He and Mary had to pay an enormous fine, but they were allowed back in the country and were given a second wedding ceremony at Greenwich Palace, with Henry attending.
Mary settled back in to life in England, spending most of her time on her husband's estate in Suffolk. Through Charles she once again became a step-mother to two girls, and she had four children of her own. When at court she appears to have been a friend of Catherine of Aragon, in later years she would side with the Queen of England against Anne Boleyn. But she didn't live to see her brother's on-going marital dramas. She died in June 1533, and was buried at Bury St Edmunds. It was through her that Lady Jane Grey would eventually make her own claim to the English throne, as Mary's eldest daughter Frances was Jane's mother.