Book Review: The Final Season
Posted on
(This review contains an Amazon Affiliate link, clicking it takes you to the book on Amazon but will not cost you any extra money to buy it)
Last Christmas I bought "The Final Season: The Footballers Who Fought and Died in the Great War" by Nigel McCrery, as a gift for my Dad. With the official start of the First World War Centenary, a lot of books about this period in history were released in time for the festive season. My Dad loves football and has always found history interesting, so this seemed like the perfect combination of interests. I also checked the index and found that his football team, Queens Park Rangers, got a small mention.
He always gets a lot of books at Christmas and for his birthday a few months later, so this was put in the "to be read" pile. As a result I forgot about it, until I spotted him reading it a few weeks ago. Once he was finished I decided to borrow it, and I'm very glad that I did.
Football and The First World War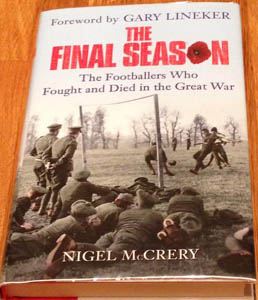 This book starts out a foreword from Gary Lineker, which I actually enjoyed reading more than I thought I would (my thoughts were "bloody football pundit gets everywhere"). It then starts off right at the beginning of the war, and gives some context with explanations about the way they leagues worked at the time. Professional and amateur players, the role of the FA, the capped wages, are all dealt with concisely, so you get a good background without getting bogged down. It then moves on to the role that football played in the first months of the war, and the pressure that was put on players to sign up for the armed forces.
After this the book proceeds pretty chronologically, tackling the main battles and theatres of war that we all know. But rather than look at the military side, the author instead puts the focus on the football players who were fighting at these different times and places. He gives you a quick background of their lives, moves on to their playing careers, and then raises their military history. Many of the men he discusses were killed, with one or two surviving but not able to play again.
A Good Read?
This book is not a good read. It is an excellent read. I struggled to put it down, I read it on the bus, in my lunch break and before I went to bed.
I must admit, I'm struggling to put my finger on why I enjoyed it so much. It's very well written, if you don't know a great deal about football at the time then the opening chapter soon clears up a lot of misconceptions you may have. It also doesn't get bogged down in long explanations about military operations or War Office decisions. A few points are explained, but always quickly, and the focus is soon back on the men.
I suspect though that the reason why I enjoyed this book so much, is because of the wide range of teams and areas that are mentioned. This is not a book that is focused on Chelsea, or Manchester United. It doesn't point solely at London as the centre of the footballing world. I bought it for my Dad because QPR got a small mention, but so many other teams are included too. Half of them probably don't exist anymore, or if they do they're merged with other local teams. The Welsh and Scots get a fair amount of attention, and goalkeepers and midfielders are discussed alongside record-creating strikers. For one last time these men are brought to life, before they are consigned to their memorials.
At the end of the day this is a terribly sad book to read. Quite a lot of these men, heroes in their time for their antics on the pitch, have no known grave. The author explains which memorial they are recorded on, and highlights any family they had left. There are two who were awarded the Victoria Cross for their acts of bravery, several more were awarded the Military Medal. Some have been commemorated in recent years with statues and memorial plaques at their former clubs.
If you want a book for a football fan this Christmas, I cannot recommend this one highly enough. Even if they have only a passing interest in history, they will find this a good read. It doesn't preach about the rights and wrongs of the war, or go in to dull detail. It simply highlights the lives of men who ran out on to green pitches to cheering crowds, and who ended their lives far from home, deep in mud and surrounded by the sounds of guns, just like many other men who fought with them.