Book Review: Elizabeth of York
Posted on
One of my Christmas presents was Alison Weir's book "Elizabeth of York". This is the second of Weir's books on medieval women that I've read and reviewed, the first being her work on Katherine Swynford. I was really excited about this book as I was thoroughly disappointed by Philippa Gregory's "The White Princess", and really wanted to read something that gave a true picture of Elizabeth and her life.
Elizabeth of York
For those of you who are less historically inclined; Elizabeth of York was a daughter, wife and mother of Kings of England. Her father was King Edward IV, she was his eldest child by his wife Elizabeth Woodville (which Weir gives the old spelling; Wydville). Her husband was Henry Tudor, who became Henry VII, and by him she had several children including the future Henry VIII.
Elizabeth is believed to have been a rather submissive figure, weighed down by her husband's paranoia and his mother's dislike of her. While she certainly appears to have been more passive than her predecessors, Weir gives a much more rounded view of her, and explains some of the circumstances around her life that may have helped shape that side of her.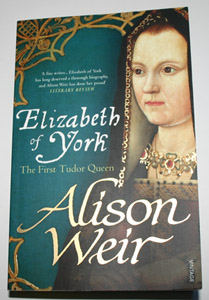 The Book
Weir starts this book in the tumultuous years leading up to Elizabeth's birth. The Wars of the Roses, Edward IV claiming the throne and his marriage to Elizabeth Woodville are all dealt with in the first chapter. Each chapter follows a similar pattern for the first part of Elizabeth's life, Weir sets the contextual scene and then explains how the events affected the young princess. In some cases she is able to use direct sources, but mostly it has to be conjecture based on other sources of the time. As a princess of England, Elizabeth was a valuable dynastic match. As a girl however she was of little interest to our sources, featured only in relation to her father's plans for her.
This changes about a third of the way through the book. Edward IV died when Elizabeth was a young woman, and her role starts to become more prominent due to her age and her sudden significance in the reigns of Richard III and her husband Henry VII.
One thing I like about this book is that Weir doesn't shy away from trying to get to the bottom of common controversies about Elizabeth. She doesn't just explain her own theories, she also explains what sources others have previously used to support the controversial viewpoints. Her pro-Elizabeth bias is obvious in certain parts, but she doesn't ignore the arguments of others. You start to understand where such legends and controversies come from, and how prevalent they have been over the centuries. Reading this book, I certainly came to see it as dismissing some of the things that Gregory put in "The White Princess". Whether Weir read it while she was writing this book, or merely heard about it, I can't say. But to me at least, I suspect she was as annoyed by the book as others are.
So what didn't I like about this book? Like her book on Katherine Swynford, Weir dedicates a large amount of page space to the men in Elizabeth's life, to the point where parts of it more a biography of Henry VII than his wife. I know that this is because many of her readers need the context, and there are limited sources on Elizabeth herself, but there were parts where I wanted to skip ahead to where Elizabeth was next mentioned. I also wish she had mentioned more about Elizabeth's relationship with her children. Although she comments that Elizabeth regularly visited them, there's no other indication of what kind of parent she was. Again, this is probably due to lack of evidence, but I would have preferred it if there had been some acknowledgement of this. There were also one or two fact and spelling errors that should have been caught before publishing, but when you've been working on something for a while you do become a bit blind!
Overall this is a really good read, and I would recommend it to anyone who is interested in Elizabeth of York. Weir does a really good job of writing a biography that is very readable, and even though it's quite big you'll still struggle to put it down!